What do Brock Long and Lt. Gen. Robert Ashley have in common besides being awarded the App State Distinguished Alumni Award by the App State Alumni Association? They are both cabinet officials for President Trump.
Long, director of the Federal Emergency Management Agency, and Ashley, director of the Defense Intelligence Agency, were confirmed to Trump's cabinet in June and August 2017.
Long graduated from App State in 1997 with a bachelor's of science degree and graduated in 1999 with a master's degree in public health, according to his FEMA bio.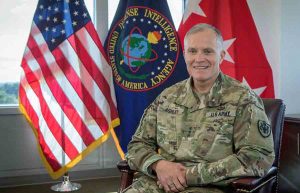 Ashley graduated in 1984 with a degree in political science, according to his DIA bio.
Both men were awarded the Distinguished Alumni Award during homecoming week.
"I am incredibly honored to receive this award," Long said. "My time at  Appalachian State were some of the best and formative years of my life. The university didn't just provide me with an education, but the tools and foundation I needed to pursue my passion."
Patrick Setzer, executive director of alumni affairs, said from November 2017 to Feb. 28, 2018, nomination forms were posted online for anyone to nominate someone for one of the three awards.
Setzer said the Office of Alumni Affairs receives the nominations. Once all nominations are compiled, they are shared with the awards committees, which are composed of six to eight members.
Long hasn't gone without controversy as director of FEMA. In September, a Washington Post story detailed how Long used government vehicles on 40 personal trips.
"As the leader of this agency, I accept full responsibility for any mistakes that were made by me or the agency," Long said in a statement on Sept. 21 reported by the Washington Post.
His trips, including an aide driving him to pick up his kids at school, cost taxpayers over $150,000, according to the Inspector General Report obtained by the Washington Post.
Homeland Security Secretary Kirstjen Nielsen ordered Long to pay the government back as appropriate and allowed him to remain on the job.
Ashley was made the 21st director for the DIA on Oct. 3, 2017. Ashley also served as the Army Deputy Chief of Staff. He was a senior adviser to the Secretary of the Army and Army Chief of Staff, according to the DIA.
"I think one of the things we all share is an absolute love for Appalachian State University," Ashley said in a video created by University Communications. "I mean the memories that we all have are just incredibly positive."
Setzer said the Outstanding Service Award was awarded to Carole Wilson, class of 1975, and the Young Alumni Award was awarded to David English, class of 2004-06.
Story by Moss Brennan
Photos courtesy of courtesy of Marie Freeman Appalachian State University Communications
Featured photo caption: Brock Long, a recipient of this year's Distinguished Alumni award. Long is the current director of FEMA and graduated from App State in 1997 and 1999.