The Turchin Center for the Visual Arts, located on King Street next to Appalachian State's campus, is a lively center for young artists to get involved and observe others' works. The Turchin Center engages everyone from both the university and the surrounding area to get involved in an interesting and dynamic way to help inspire those wishing to create art. Through the use of outreach, educational and collective programs, artists of all ages are encouraged to come and visit in hopes of receiving inspiration.
On Sept. 20, App State students gathered together for a weekly open studio session located within the Turchin Center. Students were encouraged to participate in the collaborative creation of art using various supplies provided by the hosts and the Turchin Center. At the open studio, students were inspired by other people's arts and activities and the creative aura could be felt all around the room.
"It's truly an incredible environment," Creston Morrison, a freshman graphic design major said. "The creative and artistic expression flowing around the room definitely helped other people to make their own art."
Morrison was inspired by the works of Dan Eldon, an artist and photographer most famous for his social work and journals about the conditions of Africa. Creating his own piece, Creston cut up pictures from a newspaper and plastered them onto a page, creating an artistic journal-like piece during his time at the open studio. Eldon's inspiration can be seen within Morrison's work as the piece as displays the dark feel of Eldon's journals and collage work during his time in Africa.
Devin Frakes, a freshman computer science major, also created a piece at the open art studio at the Turchin Center. "It's a picture of me, about anxiety that causes me to have sleep paralysis. There are objects circling around my head and the piece is supposed to represent the types of anxious dreams I used to have," Frakes said.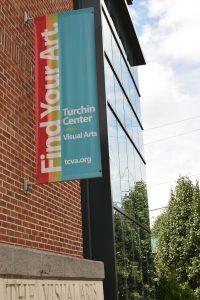 Frakes also used supplies provided by the open studio to create his work of art. Water color pencils, charcoal, paint brushes and canvases were passed around as everyone worked for hours to create their art.
"The open studio is a great place to be whenever someone feels stressed out. The studio is very expressive and calming and overall a great place for artists to get their creativity flowing," Nikki Hendrix, a freshman art and visual culture major, said. "I like using colored pencils the most because coloring for me is the best way to calm down and relax. Making art is definitely a go-to stress reliever for all students."
Not only does the Turchin Center provide an open studio for the public, but there are several other activities happening every week right on King Street for artists of all types. On Friday, Oct. 6, visitors will be able to view two new exhibitions opening up at the gallery.
One exhibition entitled "Taking Tea" will transform the Turchin Center into a tea house formed completely from old tea bags and loose tea leaves, creating a quiet and scented environment for all tea lovers. The tea house was created by Judith Gregory and will be open for viewing in Venue Gallery A.
Another exhibition that will be opening is entitled "Spectacle and Scaffolding: Contemporary Photography Muses Hierarchy," which revolves around photographs representing the hierarchy and power structures people live with today. The exhibit shows the interworking relationships between the nation and working citizens and interactions within the social hierarchy. The exhibit features several different photographers including Mark Curran, Elin O'Hara Slavick, Trevor Paglen and Greta Pratt.
Stop by the Turchin Center for more information about upcoming events and artistic opportunities.
Story By: Amber Grant, Intern A&E Reporter
Photos By: Adrienne Fouts, A&E Editor