Raining Sunshine Co. is an upcycled clothing company created by two best friends, Sarah Grace Paul and Montana Goldsmith, who have a passion for thrifting and upscaling. They have been friends since Paul's 13th birthday party.
Paul, a sophomore at Appalachian State, was homeschooled until her freshman year of high school. Her mother never bought her clothes that she liked. Instead, she received hand-me-downs from her cousins or siblings, which led her to learn how to sew.
"I got a sewing machine for my 11th birthday," Paul said. "I always really wanted to look like Nancy Drew, so I would always sew my clothes to look like her."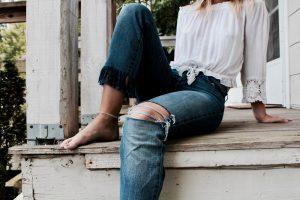 Her mother and aunt were always super supportive of how she made clothes, even if they were not the best, Paul said. With time and practice, Paul perfected sewing, designing and making clothes.
"So I wanted to start an art store for upcycled art, and I wanted to be an art therapist and teach classes, specifically for kids with autism," Paul said.
Once Paul got to college, she switched to pursuing speech pathology with a concentration in art and a minor in Spanish.
This past summer, Paul called Goldsmith, a sophomore exercise science major, about her idea of buying old things and making them new again. When Paul enlisted Goldsmith, she was happy to help.
"Sarah Grace will tell me what to do and I'll just do it," Goldsmith said.
For the creative process, Paul and Goldsmith go to Goodwill and ask themselves if they can do anything with the clothes they find. Paul also gets many clothes from her grandma.
"It's a mad frenzy of creativity. It hits you all at once," Paul said.
Their company, Raining Sunshine Co., is different than others because they take old textiles and make them new again.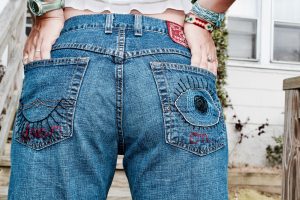 "Recycling is breaking something down and making it new again. Upcycling is building something up and making it into something new without breaking it down," Paul said.
Their fashion influence comes from whatever is trending at the moment and from family. Paul and Goldsmith also are inspired by clothes at Anthropologie.
"To me, fashion would be what makes you feel the most yourself and the most comfortable," Paul said.
"It's also a way of expressing yourself," Goldsmith said.
Fashion goes in and out of style constantly. Paul and Goldsmith try to stay at the forefront of fashion. Their favorite brands include Anthropologie, Free People and Boden.
As a goal, Raining Sunshine Co. said they would love to be able to sell things so that Paul and Goldsmith can use their creativity to bless other people, do something they enjoy and make extra money through college.
Their company is different, Paul said, because they often get girls of all different shapes and sizes to model their clothing.
"Whenever our models wear our clothes and get photographed, oftentimes they say they aren't photogenic," Paul said. "It's really cool watching girls who do not think they are beautiful come alive and feel beautiful with what they are wearing and how the pictures turn out. It's a really cool experience. Our clothes make people feel beautiful, which is more important than the way you look."
As far as finding models, Paul and Goldsmith think about who they know fits the size of the clothing. Sometimes, people message them and ask if they can model their clothes.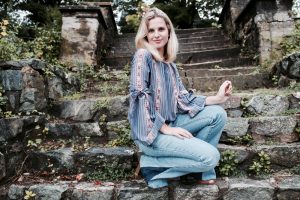 Hayley Hughes, a sophomore exercise science major, has modeled for Raining Sunshine Co.
"It was cool to model the clothes because they are truly one of a kind and they made me feel so beautiful," Hughes said.
According to Paul and Goldsmith, Appalachian State students' style is Birkenstocks, wool socks, T-shirts, flannels, headbands and Nike shorts or high-waisted shorts.
"Appalachian style is incredibly freeing because I feel like there is not a lot of hate for the way you look, which is so nice. That says a lot about Appalachian State University," Paul said.
In Paul's opinion, the next big thing in fashion is Dansko nurse clogs, but according to Goldsmith, the early 2000s are coming back.
"We are dressing like the '90s right now and we are slowly progressing to the 2000s," Goldsmith said.
Paul and Goldsmith stay up-to-date on fashion by looking on Pinterest, Instagram and on campus.
"In some ways I follow fashion, but a lot of the things that I make are classic pieces. These pieces are not necessarily in one generation or another. They are just classic," Paul said.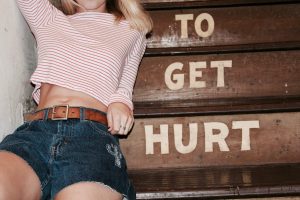 One of the reasons Paul and Goldsmith work well together is because Goldsmith follows trends and Paul is the opposite.
"If this continues and becomes a good way of sourcing my creativity, I would love to try to work out a way to use speech pathology with creating things regardless of whether it is clothes or not. I want to connect different worlds— brain, hands and speech," Paul said.
Their clothes can be found on their Etsy shop called Raining Sunshine Co. and on Poshmark. They also have an Instagram account, which can also be found under Raining Sunshine Co. Raining Sunshine Co. often sells crop tops and anything denim. Paul and Goldsmith use all platforms to promote their work.
"We both have a lot of Instagram followers and we post about it. We also send the pictures to the models and then they will post about it and tag us," Goldsmith said.
Soon, Raining Sunshine Co. will be putting business cards up in Crossroads and will also start selling headbands there.
"I hope that wherever our clothes go, that it is raining sunshine," Paul said.
Story By: Julianne Blaylock, A&E Reporter
Photos courtesy of Sarah Grace Paul