In February, 25 students and faculty members associated with United Students Against Sweatshops walked a letter to Chancellor Sheri Everts' office. Now, a living-wage clothing brand, Alta Gracia, is now available in the University Bookstore after collaboration between USAS and the Office of Sustainability.
Alta Gracia is a clothing brand formed in the Dominican Republic in 2010 that produces clothing for universities, according to Alta Gracia. Alta Gracia is affiliated with USAS and Mackenzie Morgan, senior anthropology major and USAS organizer, met workers and learned about the company at the national USAS conference in November 2017.
"We knew about it and we knew other universities had it," Morgan said. "We knew we wanted it here."
Soon after the February letter-drop at the Chancellor's office, USAS met with John Eckman, director of auxiliary services, and an Alta Gracia buyer to select products to be sold in the bookstore.
The Alta Gracia campaign is not the first action USAS has taken to promote social sustainability at App State. In 2015, USAS campaigned for App State to affiliate with the Worker Rights Consortium, a company that conducts investigations and defends workers' rights, according to Worker Rights Consortium. In 2016-2017, USAS campaigned for the university to break their contract with Nike.
"This campaign wasn't as much of an uphill battle because it wasn't us asking to cut a contract because workers are being exploited," Morgan said. "It was positive. It was us saying that we wanted to support this brand because they're doing the right thing and they are a good company."
The Office of Sustainability also worked with USAS to sell Alta Gracia products in the bookstore. The office supports student ideas about sustainability on App State's campus, and recognizes social justice as an important part of sustainability, Lee Ball, chief officer of sustainability, said.
"Sustainability in all its forms needs to be a reciprocal, win-win relationship," Ball said. "If we're carrying a product that has demonstrated providing a living wage throughout the supply chain, then we've succeeded."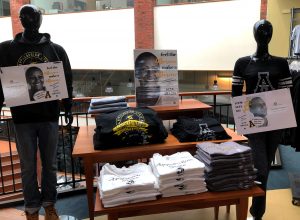 The Office of Sustainability is a place for students to communicate their ideas about sustainability on App State's campus before reaching out to administrators, Ball said.
"Alta Gracia aligns with our values and demonstrates that we care," Ball said. "Despite what some people think, we really do care. We try to make the right decisions, but when you're working with a really large state entity, change can sometimes be a very time-consuming endeavor."
The Alta Gracia products in the bookstore fill two shelves and one rack. There are male, female and unisex styles of clothing. Articles of clothing vary from T-shirts to sweatpants and were purposely selected across price points, Trixie Wilkie, visual merchandising and marketing director for the bookstore, said.
"We are trying to do everything right and to see if students are interested," Wilkie said. "We all want to make moral choices but sometimes the pocketbook has to weigh in. The nice thing is that students get to speak through their purchases, and the money they spend here, stays here."
App State's bookstore is independent and profits from the bookstore go toward funding student scholarships. This means that the bookstore is able to take product suggestions from student groups and provide products that will specifically benefit students, faculty and family members, Wilkie said.
"The student population is interested in sustainable products, and one of our goals is to meet the students' needs," Wilkie said. "The presence of Alta Gracia also educates students and exposes them to ideas that they might not have been aware of."
The bookstore also stocks other sustainable products, like reusable straws and utensils, which have sold out and been reordered in the past month. Another new addition to the bookstore this year are Cotton of the Carolinas T-shirts from TS Designs, a company based in Burlington. Each part of creating the T-shirts from growing the cotton to printing water-based ink designs happens in North Carolina, according to TS Designs.
After the success of their Alta Gracia campaign, this year will be the first year in three years that USAS has not had a year-long campaign.
"I think this year is just going to be more about raising awareness in general about the garment industry," Morgan said. "We're going to try to get people thinking about where their clothes come from."
Alta Gracia is the only student-ignited product available in the University Bookstore, but the store is always open to App State community members' requests, Wilkie said. Students can make requests for products on the bookstore's website, www.bookstore.appstate.edu.
Story by Nora Smith
Photos by Nora Smith 
Featured photo caption: Marketing materials hang from the neck of a mannequin wearing an Alta Gracia sweatshirt. Alta Gracia is a Dominican Republic-based company associated with United Students Against Sweatshops that produces clothing for universities. All workers of the company are paid a living wage.