Vandals Vandalized
App State football returned home to The Rock this weekend to defeat the Idaho Vandals (4-4, 2-2 Sun Belt) 37-19 in their annual Homecoming matchup moving to 40-13-2 on Homecoming weekend.
Coming off their best performance of the season last week, a 24-0 routing of UL Lafayette, the first time the Ragin' Cajuns have been shutout since 2002, App State (5-2, 3-0 Sun Belt) put on another strong defensive performance moving to 22-4 in their last 26 games and 16-1 in their last 17 Sun Belt games.
A defensive battle for the third week in a row, the Mountaineers allowed only 19 points including a meaningless fourth quarter touchdown from Idaho.
"The defense played well again today, held them out of the end zone except for the last play," head coach Scott Satterfield said. "That is three conference games giving up one touchdown and that was with four seconds to go in the game."
Getting on the board first after a 25-yard run from freshman Darrynton Evans, junior quarterback Taylor Lamb punched in the score with a two-yard rushing touchdown.
Freshman cornerback Clifton Duck had the biggest plays of the game recording his third and fourth interceptions of the season, including his first career pick-six.
"I actually saw the route coming from our film," Duck said. "A.J. [Howard] made a great check and when the ball was thrown and Devan [Stringer] hit the receiver, that was all she wrote."
Taking a 20-6 lead, the play was a big moment for Duck.
"That play was a little bigger for me because of people always wanting to come at me because I am the freshman," Duck said. "I take jump balls seriously because people say that I am undersized."
Starting slow on the offensive side in the first half, with 169 yards of offense and 10 points scored, the  game was dominated by kicking, with seven field goals between both teams.
"We didn't score like we wanted in the red zone," Satterfield said. "I am proud of  [Michael Rubino] for kicking the ball like he did today."
Despite going six-for-six in the red zone, App struggled to score touchdowns, settling for field goals on three occasions after promising drives stalled out. Two of App State's three offensive touchdowns came after the game had effectively been decided.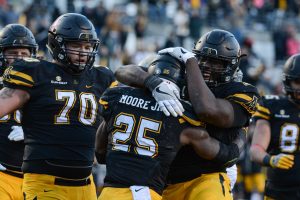 The Mountaineers heated up during the second half with Lamb completing three long passes to senior wide receiver  Shaedon Meadors in a succession to open play.
App State recorded 113 yards of offense in the third quarter alone on an eight-for-eight for 127 yards line from Lamb after having only 85 passing yards in the first half.
"Last week was a big confidence booster for me and the wideouts," Lamb said. "We were just in sync from the start of the game to the finish of the game."
Meadors lead the team in receiving with a career-high seven receptions for 106 yards. Junior college transfer Zy Letman also stood out with five receptions for 68 yards, including a 30-yard catch in traffic near the goal line.
"If they were doubling Shaedon [Meadors] we knew that we had guys on the back side that could go and get the ball," Lamb said. "We have guys like Mock [Adams] and Zy [Letman] who have big bodies and know how to use them.
Having a comforting lead, backup sophomore quarterback J.P. Caruso saw playing time late in the fourth quarter, completing both of his passes, including an 18-yard touchdown pass to Dante Jones, the third of his career to seal the win.
Capping off an all-around win even with senior linebacker John Law and running back Marcus Cox not playing, App State pushed their winning streak to fives game with a short week before their next game.
App State will travel to Statesboro, Georgia to face long-time rival Georgia Southern on Thursday night at 7:30 p.m.
Story By: Brooks Maynard, Sports Reporter
Photos By: Dallas Linger, Photo Editor