Vanquishing the Vandals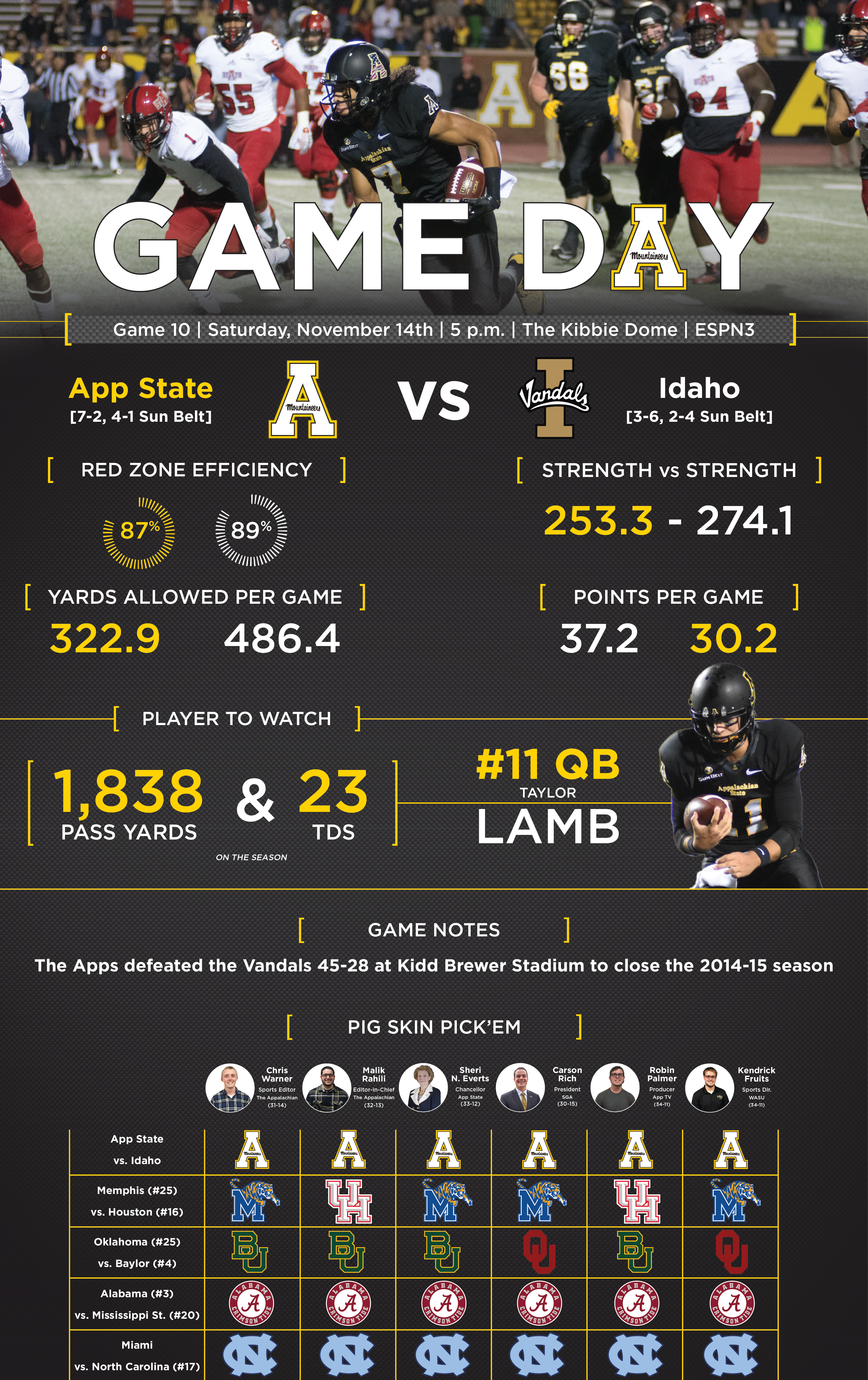 Bouncing back
It's been a tough two weeks for the Mountaineers, losing to now-Sun Belt conference leader Arkansas State after squeaking out a home win against a sub .500 Troy team the Saturday prior. But an away game against a struggling Idaho team might be just want the doctor ordered to turn their fortunes around.
Idaho is reeling from back-to-back losses to New Mexico State (their first win in two years, mind you) and South Alabama in shootouts, losing 48-55 and 45-52 respectively, after a strong start to their season.
I expect App State to be looking to make a statement in the Kibbie Dome that they're still the team we've come to know and expect this season: one with a strong defense and a dominant rushing attack. Don't be surprised if this game has a wide margin of victory.
Turning off the power
Idaho's record is not a reflection of an inability to score points and generate offense.
They lead the Sun Belt in first downs, averaging 23.3 per game. They average 274.1 passing yards per game, good for second in the conference. And at 30.2 points per game, they also rank among the top 5 in the conference in scoring.
Even with the dismissal of the team's leading receiver Dezmon Epps, who was removed from the team Monday after an indefinite two-week suspension for off-field incidents, the Vandals still boast versatile weapons in junior tight ends Deon Watson and Trent Cowan, as well as junior receiver Callen Hightower.
Combine that with the production of senior running back Elijhaa Penny, who has posted similar numbers to Marcus Cox this season, and you can see how the team has been able to move the ball.
The last thing App needs is to enter a shootout like their performance against Troy. The defense will need to be geared and ready to go, fortunate that Epps, the Sun Belt leader in receiving prior to his dismissal, won't be taking the field – one less problem for them to worry about.
Minimizing mistakes
Last week turnovers killed the Mountaineers, as two early fumbles led to 14 points off turnovers for Arkansas State. When you consider that the margin of victory for the Red Wolves was only 13 points, the importance of avoiding turnovers becomes even more evident. Quarterback Taylor Lamb also threw an interception, contributing to the mess.
All season long App State has been atop the Sun Belt leaderboard in turnover differential, so this should be an easy fix, but the Mountaineers need to prove this week that it was a blip on the radar and not a growing trend.
Story by: Chris Warner, Sports Editor