When App State baseball infielder Matt Vernon was in high school, he had all the accolades a big-time college recruit could receive. A four-year letterman at Davie County High School in Advance, North Carolina, Vernon received all-conference and all-state honors twice.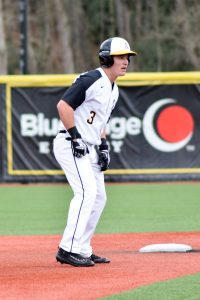 Taking part in the North Carolina vs. South Carolina All Star Game during his senior year, Vernon was rated as the no. 32 third baseman in the country by major recruiting services.
"I played for the Dirtbags, which is a showcase team in North Carolina and they really helped me get exposed," Vernon said. "I played tournaments at App and all over the place."
Showcase teams are relatively new to the baseball world but are an essential tool in modern recruiting. Players are brought in from programs around a given area, sometimes as large as a state, and play tournaments against other showcase teams.
This is specifically for the purpose of showing off their individual skills to college and professional scouts that are in attendance.
"I committed to N.C. State going into my junior year of high school," Vernon said. "I played a year there and it just wasn't the right fit so I ended up at Florence-Darlington [Tech]."
As a freshman for the Wolfpack, Vernon appeared in 19 games and started six, coming to the plate 22 times and collecting three hits, two for extra bases. His fielding was flawless at 1.000 percent fielding percentage, but had only four putouts and one assist.
Playing for Florence-Darlington Tech as a sophomore, a junior college in Florence, South Carolina, Vernon developed and improved his game. This time around, he produced 43 hits in 161 at bats for an average of .267, a dramatic increase from his .136 clip from the year before.
He went yard six times, scored 32 runs, knocked in 33 runs and struck out just 19 times, only six more than the previous year in over seven times the at bats. He was named second-team all-region for his work. After a year of junior college ball, Vernon was ready to return to the Division I arena, and was drawn to App State.
"I had a couple guys on the team who were pretty good buddies," Vernon said. "Some promises were made and it was a good opportunity so I had to take it."
His beginnings as a Mountaineer were arguably tougher than his time with the Wolfpack. He posted a batting average of just .095 through his first 12 games, going hitless several times and unable to stay in the starting lineup consistently.
But before long, Vernon found his groove. After his rough start, he hit over .300 for the rest of the season, as well as hitting over .360 during the ninth inning. He put up 17 multi-hit games and even got it done defensively, recording 101 putouts and finishing with a fielding percentage of .942.
At the end of year, he was App State's best hitter, leading the team in several offensive categories, including batting average, hits, runs, RBI's and home runs.
Vernon also ranked 13th in the Sun Belt Conference in hits, seventh in home runs, tied for seventh in RBI's and sixth in slugging percentage. He was named second-team All-Sun Belt in 2016 for his efforts.
"He kind of just looked terrible for us at the start of the year, I'm not going to lie," Vernon's roommate and App State outfielder and pitcher, Brian Bauk, said. "But then all of a sudden he starts getting one, two hits a game. He really just fed into this season. He was killing it last season and it never slowed down at all."
So far in 2017, Vernon has posted a team-leading .303 batting average, with 40 hits in 132 at bats. His eight doubles, one triple, 62 total bases and 22 runs scored are all a team best, and his four home runs, 18 RBI's and .470 slugging percentage are good for second on the team. He's improved his defensive play as well, carrying a .944 fielding percentage.
From a Sun Belt perspective, Vernon ranks ninth in hits and total bases, tied for 13th in doubles, tied for 14th in triples and fifth in at-bats. With 18 Sun Belt games remaining in the year, Vernon appears poised to make all-conference honors for a second consecutive year.
"Matt's had a good season, there's no question he's a very talented player," head coach Kermit Smith said. "I think the guys expect for him to come out and be really consistent every day."
Bauk's final words seemed to really sum up how Mountaineers feel about their slugger.
"He's fun to have around, I think everyone loves him," Bauk said. "It's just a bummer that he's only got two years here instead of four."
Story By: Brooks Maynard, Sports Reporter 
Photos by: Lindsay Vaughn, Staff Photographer