The Visual Art of Creating Written Words
Lee Taekyeom, assistant professor of graphic design at Appalachian State University, is writing his own history with the aid of machinery. Taekyeom has built his own 3-D printer with a clay extruder. With this machine, Taekyeom is able to create ceramic typographic sculptures. Typography is the visual art of creating written words.
Everything started with Taekyeom's academic research for his thesis. Taekyeom created 3-D typography using an unconventional material and technique, which was ceramic. He has made 3-D ceramic type as a series of typographic explorations to create tangible type in 3-D space. The title of Taekyeom's thesis project was "Manual Pixeling."
"At the time I had to do ceramic pieces by hand. I had to do everything by hand, piece by piece," Taekyeom said.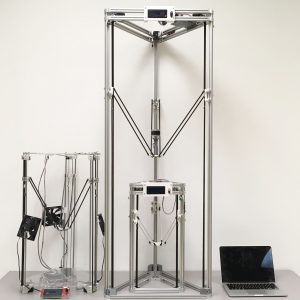 After Taekyeom graduated from the University of Illinois, he lost access to the ceramics studio he had been using. He could not use any casting tables, mold makers or other equipment.
Other people were printing clay without using a casting table, mold or other equipment, so Taekyeom decided to combine 3-D printing, typography and ceramics. That way, he did not need equipment or access to the clay studio at his school.
Taekyeom has two different types of machines. One machine was built from a do-it-yourself kit, and the rest he built from scratch.
His ceramic 3-D printer was based on a delta style 3-D printer. Taekyeom bought a DIY 3-D printer kit and tested it with the open source 3-D printers to figure out what he could do with the new technology.
"After working with 3-D printers, I figured out that I could also write something with the machine," Taekyeom said.
According to Taekyeom, 3-D printing has been out in the world for quite a long time. Because there was no ceramic 3-D printer available to him, he had to build his own. He created his own tools for something he could not create with his own hands.
Originally, a lack of knowledge in engineering slowed down Taekyeom's projects. Luckily, ever since Taekyeom was young, he liked to take machines apart and rebuild them, curious of how they were organized and assembled.
"When I was a kid, if there was an interesting toy, I liked to take it apart and see what was inside. Then, I would try to put it together," Taekyeom said. "I really liked the tools as they are the extension of our hands that enable us to do something new. I am very curious, which has helped me learn about other things. If you keep that curiosity, you can still learn new things that will drive you to a creative area."
Taekyeom is willing to deal with endless troubleshooting. He said he loves to learn from every success and failure. According to Taekyeom, everything is a trial and error process.
"I tell my students all the time that there is no 'the best' design," Taekyeom said. "There is only a better design or a worse design. There is no absolutely right answer in the field of art and design. Just keep moving forward and agonizing to find a better solution for the design problem."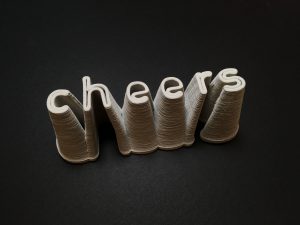 Taekyeom's 3-D typographic creations are different from the 2-D conventions graphic designers usually use. 3-D type is an artistic expression that contains characteristics that do not sit on a page. Instead, 3-D type letters have volume, texture and structure.
"When you think of a machine, the first application you might think of is writing and drawing," Taekyeom said. "But my project came from a different path. When I was printing clay with my 3-D printer, I realized these kinds of CNC machines could write or draw something with a pen too."
Taekyeom prefers to sketch his designs first to give a surface shape and to visualize his idea. Many of his pieces contain unique textures.
"When I think of design, I am more interested in the system," Taekyeom said. "I like to create a system out of module pieces. Based on the system, you can expand on the design."
Taekyeom is predominantly doing 3-D printing, but gradually, he has found his way to drawing and writing with his machines too. On Oct. 25, 2015, Taekyeom wrote his first word: "Hi."
"After you understand how the machine, or the stuff, is working, you can tweak the design or make another one. You readjust the design and reiterate the design over and over again," Taekyeom said. "I see how everything is a problem and think how I can solve that problem. The design process is a problem-solving process. I am going to try different things until I can figure it out."
As for Taekyeom's students, he wants them to learn how to teach themselves and learn about the design process more than other things.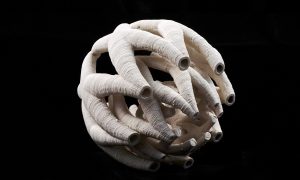 Monique Rivera, a senior studio art major with a focus in photography, took Taekyeom's class, Introduction to Graphic Design.
"He is very open-minded to materials, processes and how to approach design," Rivera said. "He believes in the involvement of the fine arts in design, which is very inspiring for me because I want to learn how to integrate graphic design to my studio practice."
Cassidy Zemmin, a sophomore graphic design major at Appalachian State, also took Taekyeom's Introduction to Graphic Design class.
"He is a brilliant professor. Taekyeom has a deep understanding of design that really shows through in his 3-D printing work. He also has high standards of design that forces his students to challenge themselves in their work," Zemmin said.
Taekyeom wants his students to learn the core idea that you can use different tools to get to the same finish, which can be applied to different concepts.
"I am a design researcher and more interested in the exhibition, discussion and dissemination than selling the work. But I would be able to sell my work through galleries. This is not traditional graphic design," Taekyeom said. "This research explores unconventional methods of creating the three-dimensional type with materials and techniques unique to type design, which began with two questions: Where does typography belong in the post-digital age? How do we combine digital and physical materials to enable a new typographic experience?"
As for what is next for Taekyeom, he wants to build a bigger printer and a larger clay extruder to print human-scale 3-D typographic sculptures with clay and/or concrete.
Story By: Julianne Blaylock, A&E Reporter
Photos courtesy of Lee Taekyeom