Volleyball team defeats Bulldogs, 3-1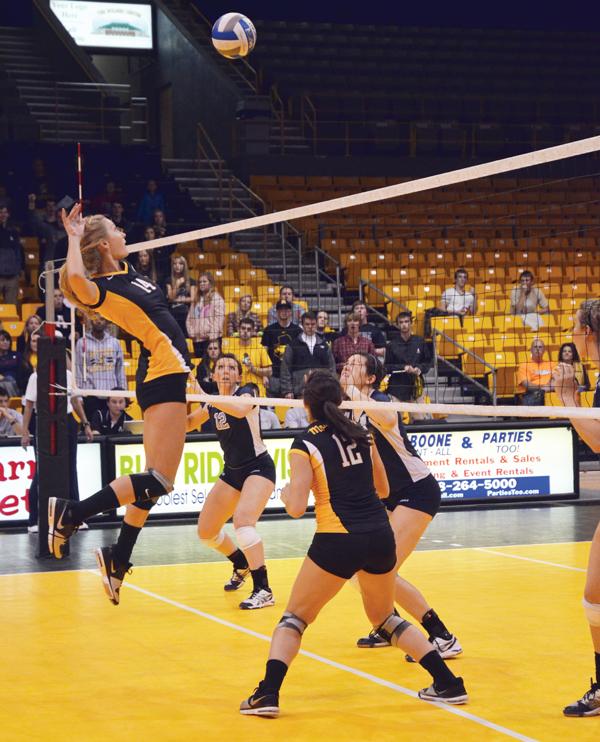 Appalachian's volleyball team won 3-1 of sets against The Citadel Saturday night at the Holmes Convocation Center.
"I thought we played really well tonight on all aspects of the ball, which was really nice to see," ASU head coach Matt Ginipro said. "It's been a long time coming, so the win is really nice."
The team started off strong, winning their first two sets 25-13 and 25-14, but losing to the Bulldogs, 25-17, in the third set.
"We were awful in third set," Ginipro said. "Too many errors, letting too many easy balls fall. Again, only getting 10 kills and getting seven errors… just not playing to beat the team, just hanging around to score points."
But the loss didn't deter the Mountaineers, who managed to score a point within two minutes of the fourth set.
However, the Bulldogs were not willing to give in easily and the game quickly became closely matched.
But the Mountaineers eventually pulled ahead and won their third set 25-19, and subsequently the game, putting ASU's record at 6-6.
"I was hoping to just hang in till the fourth and make it to the fifth because then it could have been anyone's game," The Citadel's head coach Amir Khaledi said.
Khaledi said both ASU and the Bulldogs have been having an off-season, although it didn't daunt the Mountaineers.
"They were ready and took advantage of it," Khaledi said.
But Ginipro was quick to give The Citadel credit, and said the team was "annoying to play."
"They never quit," Ginipro said. "They are annoying to play. I respect them more than any other team in league."
The team will travel to play Elon Friday. The game is scheduled to start at 7 p.m.
Story: ANNE BUIE, Managing Editor
Photo: MAGGIE COZENS, Photo Editor