Watauga County elementary students return to classrooms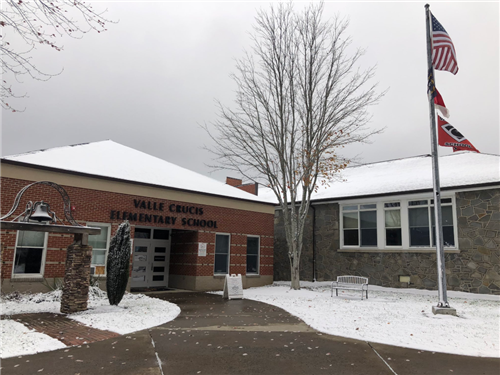 Students at Watauga County Schools in pre-kindergarten through second grade returned to classrooms Monday.
The Watauga County Board of Education voted 5-0 to allow K-5 students to meet in person four days a week at a Feb. 22 meeting. The transition to in-person learning also comes after educators became eligible to get the COVID-19 vaccine Feb. 24. 
Students in pre-K through second grade will attend in-person classes all weekdays except Wednesday. Wednesdays will serve as flex days for teachers to make appointments with students who may need extra help. They also are able to hold small work sessions.
Students in third through fifth grade will begin to attend four days a week starting March 22.
"We have had small numbers of students attending school in person since August. Students in our self-contained programs for children with disabilities and children in our pre-kindergarten classes have been attending school in person for four or five days a week all year," said Scott Elliot, Watauga County Schools superintendent.
Custodians will also use the middle of the week to thoroughly clean the schools.
The board voted in favor of moving to Plan A, which calls for physical distancing and face coverings for students, teachers and staff. The plan, however, does not require schools to reduce the number of children in classrooms. 
 Elliot said that starting with these small numbers allows school administrations to evaluate all the safety procedures they would use as they brought more students back to campus last October. 
 "We now have a lot of experience with and confidence in all the screening, cleaning and contact investigation procedures which have helped us maintain safe and healthy schools so far," Elliot said. "As we prepare for further in-person learning, we are rearranging classrooms and learning spaces to allow for as much social distancing as possible." 
The school will also modify their school bus routes to comply with the state's rules on reduced capacity and social distancing on buses. 
Jeremy Barnes, a Watauga County citizen and parent, spoke at the special board of education meeting.
"My heart breaks for the children of school districts that aren't open to any in-person education," Barnes said. "I'm happy they are finally doing what should have been done months ago, but it's not over. They must assess and remediate the lack of properly educating our children for the past year."
The decision will not impact the students attending the Watauga Virtual Academy, a remote learning service.
"After having our kids home since March of last year, we are looking forward to them attending in person," said Lara Finney, another Watauga County parent. "What I've seen is a huge negative social impact by keeping them home."
Elliott has the authority to transition the school back to remote learning if COVID-19 cases rise from the reopening.
"This topic of when and how students should be in school in person has become very political in the last couple of months," Elliot said. "I continue to hope that state elected officials and state public health officials will work together to provide schools with safe and science based guidelines as we move forward."