What we learned about the 2022-23 Mountaineers
App State men's basketball finished this past season with a 16-16 record in what was a roller coaster of a campaign. After a disappointing end to the 2021-22 season, the Mountaineers filled up the newly empty roster spots with six new players last summer with the hope of reclaiming the Sun Belt title. What transpired was a season full of question marks, both good and bad.
The Mountaineers had five seniors on the roster this season, and four of them saw their time as a Mountaineer come to an end at the conclusion of the season. Senior forward Donovan Gregory, who will be returning to the roster next season, was the leader of the locker room for the entire season, surpassing 1,000 career points as a Mountaineer in February.
Senior Andrew Muse joined the Mountaineers the same season as Gregory and became a valuable voice in the locker room throughout his career as a Mountaineer.
Graduate student forward Dibaji Walker spent a year at Cleveland State and two years at the University of Massachusetts, before transferring to App State last summer. Walker was a major piece off the bench for the Mountaineers throughout the year, and tallied a career-high 27 points and eight rebounds against Sun Belt rival Coastal Carolina. 
Graduate student guard Tyree Boykin transferred to App State last summer following a storied career at Union University. Boykin sustained a foot injury during the season, but played in 25 games for App State and tallied 20 points on two occasions.
Graduate student Tamell Pearson transferred to the high country for his last year of eligibility after stints at Western Illinois University and the University of Alabama at Birmingham. Pearson was a solid scorer off the bench and scored in double digits four times during the season.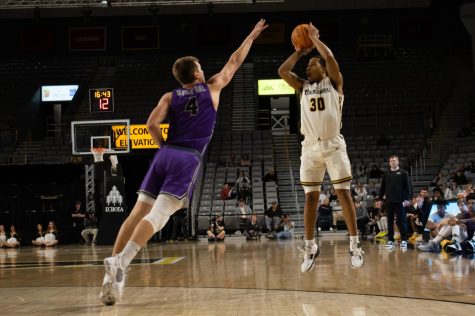 The Black and Gold began their non-conference schedule with wins against Warren Wilson and North Carolina Central at home before defeating the Louisville Cardinals in their first Power Five win since 2014.
As they progressed through the early stages of the season, freshman forward Justin Abson became the anchor of App State's defense. His 18 blocks through the first six games ranked second in the nation at the time and first among freshmen. He finished the season averaging 2.19 blocks per game, which ranked 15th in the nation.
"This season taught me to play hard no matter what," Abson said. "I expect to continue being this team's paint protector next season."
With so many new players in the lineup, App State slowly began to solidify its playbook as it seemed to suffer a loss for each win that it picked up. Despite the team's chemistry clearly improving, the Mountaineers were unable to figure out a successful offensive style they could use throughout their conference schedule.
After suffering a one-point loss to Wake Forest, the Mountaineers dominated the Regent Royals 100-32 before shooting just 50% from the free-throw line in their loss to University of California, Santa Barbara. These free throw troubles were indicative of an issue that plagued the team throughout the season. 
A strong non-conference schedule proved to be a challenge for the Mountaineer squad still trying to find their rhythm. Coming into Sun Belt play with a 7-6 record, App State struggled to be consistent on offense, ranking at or near the bottom of the Sun Belt in almost every major offensive statistic.
In their first Sun Belt matchup, the red-hot Marshall offense dominated the Mountaineers 79-53. While this was App State's only loss of 25 points or more this season, it was indicative this was not the same Mountaineer team that raised the SBC Championship trophy two years prior.
Although App State's tough defense ranked among the top of the conference, that alone wasn't enough to give them a highly successful season. Instead, the Black and Gold remained a .500 team for almost the entirety of their 2022-23 campaign and lost both matchups against Marshall, as well as both games against Georgia Southern.
After ultimately going 9-9 in conference play, the Mountaineers suffered a 68-61 loss to South Alabama in the second round of the Sun Belt Conference Tournament. 
App State played a much more slow-paced offense this season compared to prior years, which isn't inherently a bad option. However, when combined with a lack of experienced long-range shooters, this can force an offense to take more inefficient isolation shots, especially when defended closely. This is what fans saw on several occasions in crunch time of close games. Several key offensive possessions for App State ended with a highly contested mid-range shot attempt from Gregory after the offense failed to create an open shot for another player. 
The Mountaineers' most obvious struggle was from the free-throw line. This especially hurt them in late-game situations where a couple of made free throws could have changed the outcome of the game. Ultimately, they ended the season ranked last in the Sun Belt in free throw percentage at just 67.6%.
"We're making it hard on ourselves. Fifty percent from the free-throw line is not gonna get the job done, so that's something we are gonna continue to work on," head coach Dustin Kerns said following App State's loss to Old Dominion on Senior Day.
The Mountaineers finished the season at seventh in the Sun Belt in assists per game, field goal percentage, three-point percentage and eighth in points per game. 
One bright spot for App State is that for the first time in years, it was exceptionally hard to predict which player would lead the Mountaineers in scoring on any given night. Sometimes it was Gregory, while other times it was sophomore forward Chris Mantis or graduate student forward Dibaji Walker. 
Prior to the season, the coaching staff, as well as Gregory himself, made it clear that he would be the team's leader. As a player who occasionally comes close to having a triple-double, Gregory is known for his high-level playmaking, rebounding and finishing. But as a below average 3-point shooter, defending teams were able to leave him open on the perimeter more often and take away any mid-range shot opportunities. This often resulted in an App State turnover or a highly contested jump shot.
In a late-March Twitter post, Gregory announced he will use his last year of eligibility and will return to play for the Mountaineers next season. 
This season was streaky at best, but it may be just what this team needed in order to set themselves up for success in the near future. As a team that will see the majority of its players returning next season, App State just may have the firepower to make a run at the Sun Belt Championship.