Mountaineers fall 74-63 on Senior Day
In the final home game of the 2022-23 season, Old Dominion spoiled the Mountaineers' Senior Day with a 74-63 defeat. 
"They had the plays when they needed to make them, and we couldn't get some stops when we needed it," head coach Dustin Kerns said.
App State holds a 15-14 record with the loss and awaits a two-game road trip before the Sun Belt Conference Tournament, where App State clinched a first round bye. 
Before tipoff, senior forward Donovan Gregory, senior guard Andrew Muse, graduate student guard Tyree Boykin, graduate student forward Tamell Pearson and graduate student forward Dibaji Walker were honored on Senior Day, as it would be their last time playing at home for the Black and Gold.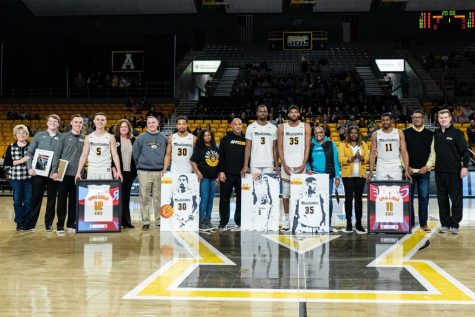 In particular, Gregory and Muse have played their entire collegiate careers in App State.
"That's pretty special to coach two guys for four years, and they've been so instrumental on and off the court," Kerns said. "They've been great on campus; they've been great in the community."
After tipoff, Old Dominion held an early 6-2 lead until App State made four of its last five shots before the first media timeout and captured the lead as the Monarchs had a two-minute scoring drought. 
As the first half wore on, scoring from both teams caused the lead to always be in the grasp of either team. A highlight alley-oop dunk from junior forward CJ Huntley and back-to-back threes from sophomore guard Terence Harcum and Boykin forced an Old Dominion timeout at the 3:11 mark in the half. 
In the closing minutes, App State made five of the last seven shots, highlighted by Gregory nailing a mid-range buzzer beater to send App State into halftime up 35-32.
"Donovan gave it all he had, as typical from him," Kerns said. 
To begin the second half, the Mountaineers struggled to score before a two-minute scoring drought was broken by a dunk from freshman forward Justin Abson. From the start of the second half, Old Dominion took and held control of the lead. 
App State responded with a 30-second 5-0 run to bring the Mountaineers within two points with 8:24 remaining. The short-scoring run from App State would be the last as the Monarchs had a 13-1 run to pull away and seal a victory in the game's final stretch.
As a team, the Mountaineers shot 39% from the field and 19% from three but was outrebounded 46-35 by Old Dominion. App State's second-half woes were apparent in shooting 11-33 from the field and 0-10 from three, allowing the Monarchs to outscore App State 42-28 in the second half. 
"We've got to sure some things up on the defensive end and rebound better," Kerns said. "I think any time you give up 16 offensive rebounds, it's difficult to win, and combining that with 10 empty free throws, it puts yourself in a tough spot."
Gregory led the Mountaineers in scoring 14 points while also having six rebounds and four assists. 
The Mountaineers travel to Atlanta to take on Georgia State Wednesday at 7 p.m. on ESPN+.