Women's tennis finishes regular season with a bang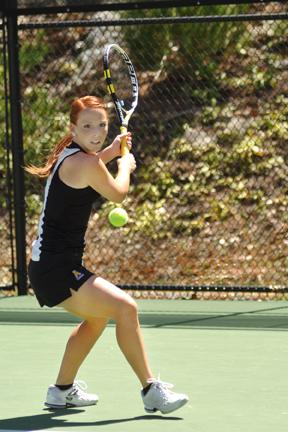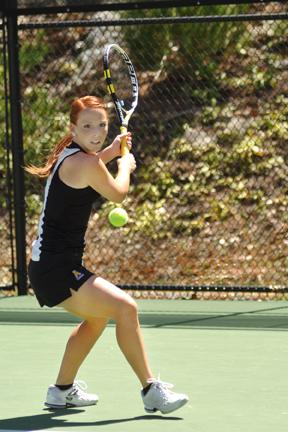 The Appalachian State women's tennis team (14-8, 6-4 SoCon) took the courts Saturday knowing that it would be their last home game with their senior teammates.
They responded with a 6-1 victory over the visiting Wofford Terriers (5-16, 1-9 SoCon).
Seniors Jennifer Ansari, Gabriela Celi and Ellie Linsell each won their singles matches on their Senior Day while freshman Clare Cox and junior Jessica Thaggard also came away victorious in their matches.
"It's been a great season," head coach Colin Crothers said. "We had our best win record and our best conference record in a long time, ranked 65th in the country — we've done a lot of good things. It's going to be sad to see these seniors go."
The team's No. 1 Linsell fell early in her match, but came back for the win in her last of many home wins.
"It's been amazing," Linsell said. "I couldn't have asked for a better four years, a better team, a better coach, a better anything."
Celi, who transferred from Lees-McRae to Appalachian State for her junior season, saw a change in her team this year.
"I've definitely seen a huge change in attitude from everybody this year," Celi said. "It's really nice to go out and know you can rely on certain players. I feel like if I can just get my point, we're good. We go out there with confidence and we know we can win."
The Mountaineers clinched a first-round bye and the fifth seed in the SoCon tournament with the win.
With a well-balanced field, the tournament is expected to be competitive. Their first match will be a rematch with UNC Greensboro, who previously bested the Mountaineers 5-2.
"We had a close match at Greensboro," Crothers said. "We were literally three points from winning. Because we're playing at Elon, I expect good things this go around."
Crothers isn't the only one optimistic.
"We're going to get that ring, baby," Linsell said. "That's our goal. Conference is really anybody's game, and that's our goal. I want my senior ring."
Women's tennis will travel to Elon University where they will take on No. 4 UNCG in their first bout of the SoCon tournament Friday at 9 a.m.
Story: JESSE WARE, Sports Reporter
Photo: JUSTIN PERRY, Staff Photographer