Women's soccer opens season with come-from-behind victory
App State women's soccer opened their season Friday with a furious comeback, overcoming a two-goal deficit to win against UNC-Wilmington 3-2.  
The game began with some bad passes and deflections for the Mountaineers, as the Seahawks took a 1-0 advantage at the 15th minute in the first half when senior forward Maddie McCormick finished in the lower right corner with a shot from the 18-yard box.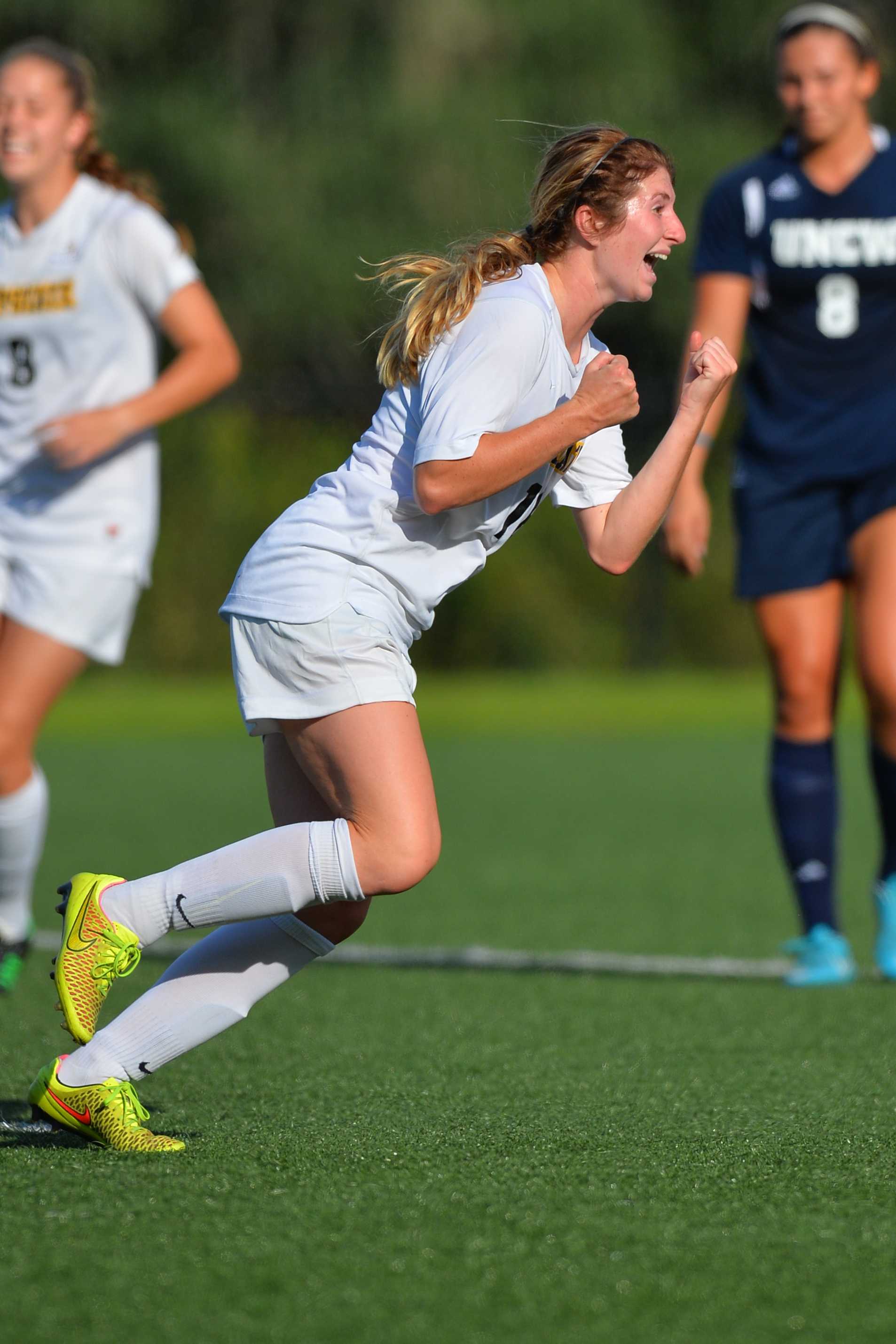 Going into halftime down 1-0, the Mountaineers still had confidence, but knew they had to come out more aggressive in the second half.
"The girls were very relaxed when they first came out and I told them at halftime that the relaxation is going out the window," head coach Sarah Strickland said. "We had 45 minutes left, and the atmosphere was incredible."
The second half didn't start off great, however, as App State's senior goalie Megan Roberson committed a foul inside the penalty box in the 72nd minute. Wilmington's senior forward Katrina Guillou nailed the penalty kick to give the Seahawks a 2-0 lead.
App State overcame the error, with freshman forward Emmily Cowie quickly firing back, putting one in the back of the net on an assist from senior midfielder Katie Ward in the 75th minute.
"We had a serious talk at halftime and we all had it in ourselves to pick it up and bring back our chemistry," Cowie said.
The momentum for the Mountaineers continued to grow as senior defender Merlin Beckwith ripped a pass to senior forward Sam Childress that was headed-in, tying the game at 2-2 in the 79th minute.
With App State feeling confident, and the game likely heading to overtime, Wilmington committed a costly foul in the penalty box during the 88th minute to give the Mountaineers a chance to take the lead.
The experienced Beckwith stepped up and sunk the penalty kick, propelling App State to a 3-2 comeback victory.
"I think at that point in the game, with the energy level we had, I was confident and ready to put the ball in the back of the net," Beckwith said.
Coach Strickland had high praise for her team following the comeback victory.
"I think anytime you go down two goals, and come back, I think it shows character, grit, and determination," Strickland said. "It shows us that we won't stop until we achieve our goal and that is the statement that we wanted to make."
The Mountaineers play their second game of the season at home Aug. 28 against Radford at 7 p.m.
Story: Jason Huber, Intern Sports Reporter