Women's soccer readies to make championship run
With one year of Sun Belt conference play behind them, Appalachian State's women's soccer team is carrying championship aspirations into the 2015 regular season.
The team opened the season with an impressive 3-2 comeback victory over UNC-Wilmington on Friday, scoring three goals in under 20 minutes in the second half.
Prior to that, the team went 1-1 in exhibition play, with a 1-0 victory against Campbell on Aug. 17, and a 2-0 loss to Western Carolina three days earlier.
Senior midfielder/forward Kebrina Keys said that her team knows how teams in the conference play now, so they know exactly what to expect. Keys also said that the Mountaineers are entering the season with the intention to win it all at the Sun Belt Tournament in Atlanta, Georgia, on Nov. 4.
The team finished last season with a record of 8-11, including a 5-4 record in the Sun Belt.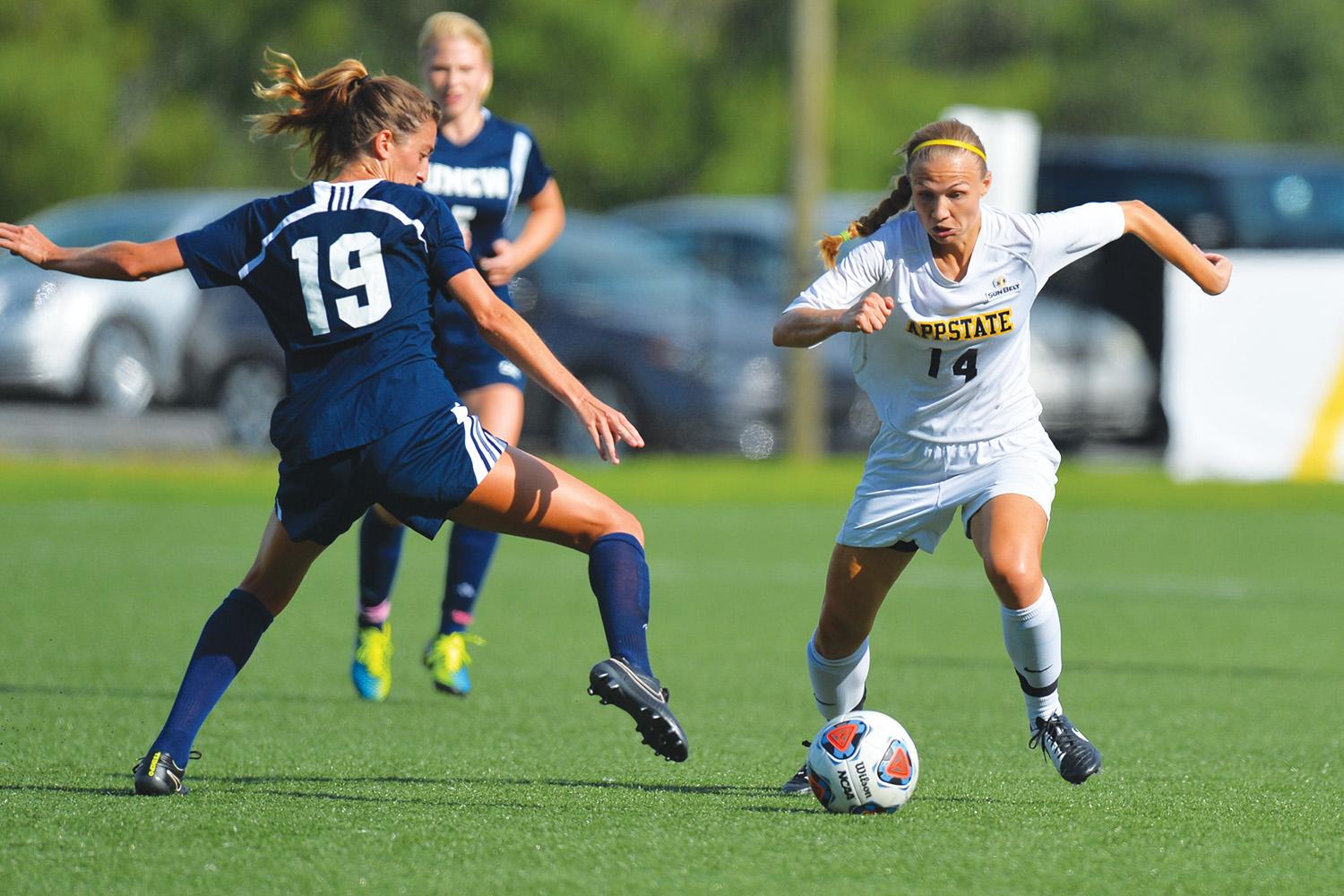 Even with the intention of winning the conference, senior forward Sam Childress stressed the importance of the team working as a unit. Like Keys, Childress said the team has confidence going into the season now that they know what they're up against, but explained that more than confidence is required for a good season.
"I think we should focus on staying close as a unit throughout the entire season, ups and downs, wins, losses, ties, I think that's a very important thing for this team to stay together," Childress said.
Including Childress, the team returned three of their top four point-producers for the 2015 season.
Childress led the 2014 team in goals (six) and overall points (13), while senior forward Jane Cline finished second in both goals (four) and overall points (11), and senior defender Merlin Beckwith finished fourth on the team in both goals (three) and overall points (seven).
The program introduced eight new freshmen this season, giving the team a total of 16 underclassmen. Despite the influx of youth, the Mountaineers also boast a class of dedicated seniors to lead the program.
"We have a lot of young players, but we have nine seniors that have a lot of experience and have been to the tournament so we've got the full range," head coach Sarah Strickland said. "I think this senior class, as well as every class that's come through, has made it more and more about the program and less about themselves, and this group is absolutely continuing that streak."
Strickland said that everything for them is about the program and not their senior moment and said that that will help them long term.
The team will play 17 more games this season, eight of which will be at home. The Mountaineers will play eight more games before beginning conference play against Arkansas State, who finished 4-14 overall last season, on Aug. 25.
The team will continue regular season play Friday against Radford at 7 p.m.
Story by: Jess Lyons, Senior Sports Reporter