Boone-based band Earth Mover made their debut performance as they and four other hardcore, indie and emo bands dragged the 2014 house show season moshing, kicking and screaming into Boone at the Wood Circle House Sunday night.
Other North Carolina bands included Gut Feeling, Old Flings and Muscle & Bone.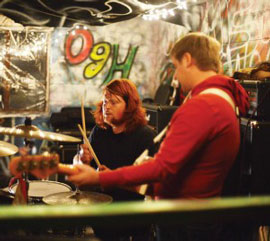 Headlining was South Carolina-based hardcore band Discourse. The group just finished a two-and-a-half-week tour through the Midwest along with the vocalist's brother and friend of the band, Appalachian recreational management senior John Ribes. Ribes has been organizing Wood Circle shows since the fall 2012.
With the new year, the Wood Circle House, near Big Lots, hopes to attract a fresh and varied audience to these more underground shows. The show Sunday night set the bar high for attendance.
"There was a huge number of people who had never been to a show before and it's cool to see those people have an enjoyable time, meet new people and be exposed to DIY music," Ribes said.
Emily Schultz, a sophomore environmental science major, is friends with house members and regularly attends shows. Schultz said of the crowd of around 60 was the one of the largest crowds she's seen at the shows.
"It's really cool to have all this variety, especially in Boone," she said.
Ribes said his goal with all shows like this is to create a scene of individuals who provide performance spaces to bands that might not otherwise come to Boone. While the night's hardcore theme is generally unusual for small towns, his main focus is on creating a consistent demand for quality music of all genres in the area.
"It would be nice to see more hardcore stuff happen around here, but I care more about there being a scene of people who book shows," Ribes said.
To make this happen, he sees an all-ages community as an essential component.
"I care more about people being able to get to these shows, all ages, and to be able to create a community with their friends and know that they have a place to be," Ribes said.
The show was the third in the Wood Circle House for Rob Travis of Asheville-based Muscle and Bone, who has been friends with Ribes and the other featured bands for years.
"It seems like there's a perception there that there's no music scene here, but just from what I've experienced the few times that we've been down the shows are more packed here than they are in Asheville," Travis said.
For him, house shows like this provide the chance for bands and concertgoers to bypass exclusive and age-restrictive club and bar shows and are ultimately more conducive for larger turnouts.
"[All-ages venues] are absolutely integral to a functional scene and that's one of the problems that Asheville has," Travis said.
Also in the new year, Ribes is starting up a project called Wood Circle Sessions, an online video series of acoustic performances by featured musical acts, the second and third of which were recorded immediately before the show Sunday.
"I just have a basement so I did it," Ribes said of all the Wood Circle projects, "but anyone can do it, and if they can they should."
The next Wood Circle house show takes place Feb. 7, featuring The Hotelier, Ivadell and Oddczar.
For directions, more information, videos and updates, visit the Wood Circle House Facebook page.
STORY: Lovey Cooper, Senior A&E Reporter
PHOTO: Olivia Wilkes, Senior Photographer