One Mountaineer program that has arguably fallen under the radar is now accelerating into the new year determined to continue their hot start.
Entering the new year with a 10-2 and 4-0 SoCon record, the App State wrestling team has consistently positioned itself inside or near the top 25 all season long.
On Jan. 17, the Apps reached a program best in the polls, ranking 16th in the InterMat duals rankings. App has picked up wins in 19 of their last 23 dual meets.
After a conference match victory over Clarion and The Citadel on Jan. 8, the Mountaineers find themselves only three matches away from a perfect record against conference opponents.
Pulling out 25-11 victory, the Apps knocked off ranked Duke for the second straight season. The win over the Blue Devils also gave App State their third win over a Power Five school on the season, which is the first time the Mountaineers have achieved that since at least 1990-91 when year-by-year results were first recorded.
The Mountaineers have defeated Power Five UNC and Oregon State in addition to Duke.
Excelling as a team so far this season, many wrestlers have left their mark on the mat. Currently, sophomore Matt Zovistoski and senior Denzel Dejournette have both found themselves inside the top 20 in InterMat rankings in their respective weight classes.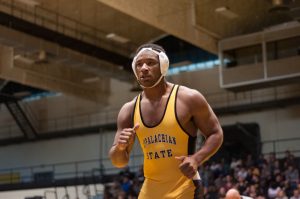 Coming off a 31-4 overall record a season ago, Dejournette, a heavyweight, is ranked 12th in InterMat rankings, and the senior has only continued that dominance into this season.
With recent wins over wrestlers from The Citadel and Clarion, his overall career record at App State was escalated to an incredible 122-39. Adding two more victories in dual competition, Dejournette buoyed his record in those competitions to 9-1 this season.
While the senior has received many accolades in his time with the Black and Gold, other wrestlers have had stellar seasons of their own. Winning his match against Clarion, Zovistoski boosted his record on the season to 20-7, which helped him to his No. 15 ranking in the InterMat rankings.
Within the past month, two other wrestlers have received SoCon Wrestler of the Week honors. Freshman Colby Smith and senior Vito Pasone both pulled off impressive weeks to earn the title.
Pasone earned the honor on Dec. 21 after going 2-1 against top 15 wrestlers, which helped the Mountaineers gain wins over two conference opponents. Smith picked up the honor with wins over The Citadel and Clarion, pushing his season record to 20-7.
As the season finishes up, the Mountaineers look to capture back-to-back SoCon championships. Conference opponents Chattanooga and Gardner-Webb remain on the Mountaineer schedule, both of whom are also undefeated in conference.
Accomplishing many program bests so far this season, the Mountaineers look well on their way to gain more accolades, and with that, more attention pointed in their direction.
Story By: Tyler Hotz, Sports Reporter