Cottages lawsuit – Sept. 20
During the summer, 23 inches of rain caused construction delays for The Cottages of Boone.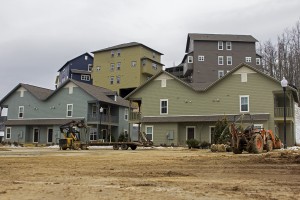 The move-in date for tenants was moved from Aug. 15 to Aug. 18, 2013, citing safety reasons caused by the delays.
During that time, the 360 affected residents were given two options: they could either not pay rent and find a place to live while the units were completed, or they could pay rent and live in a hotel provided by The Cottages and receive a $15 per diem credit for food.
In the original lease agreement, tenants would be able to opt out of their lease if no housing was provided within 30 days. The Cottages sent an addendum July 25, which removed that paragraph from the original lease.
Three students filed a class action lawsuit Sept. 20 against Capstone Properties and Capstone Collegiate Communities Boone, the companies that own The Cottages of Boone.
The charges in the suit claimed unlawful collection fees, unfair and deceptive trade practices, and failure to provide fit and habitable rental units, obtain certificates of occupancy and deliver the agreed housing in the manner and timing agreed to in the lease.
Raley renamed Peacock – Sept. 27
The Appalachian State University Board of Trustees voted Sept. 27 to rename Thelma C. Raley Hall to Kenneth E. Peacock Hall, after the university's current chancellor.
The building will be renamed in June 2014 after the Campaign for Appalachian is completed.
Peacock said while the name change is an honor, it's not what he wants his legacy to be.
"I hope this won't be my legacy," he said. "I want my legacy to be more than a name on a side of a building. I want to be remembered as touching the lives of young people on campus."
Gun law changes – Oct. 1
North Carolina General Assembly House Bill 937, called An Act to Amend State Firearm Laws, allowed those with a concealed carry permit to keep a gun inside a closed, locked motor vehicle on state property, which includes all the campuses of the UNC system.
The change took effect Oct. 1, 2013.
Former student elected mayor – Nov. 5
Former town councilman and former Appalachian State University student Andy Ball was elected mayor of Boone on Nov. 5, 2013 with almost 60 percent of the votes.
Immediately following his election, Ball named improved communications between the town and university among his top priorities, according to an article in The Appalachian.
Ball was sworn in Dec. 18 alongside town council members Quint David, Jennifer Peña and Rennie Brantz, who all ran on progressive platforms.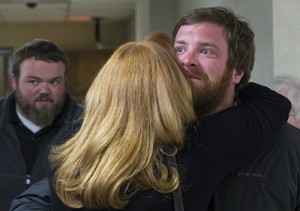 Ball said he would be working with the town council to ensure that a spot is available on each of the 14 town committees for a student to serve a one-year term and attempting to give students opportunities for internships.
Logo change – Dec. 1
Changes to the logo for Appalachian State University Athletics went into effect Dec. 1, 2013.
The changes revolve mostly around introducing the "Vintage Yosef" logo as the university's official secondary logo, according to a press release from the Athletics Department. The university's primary logo will remain as the Block A.
Appalachian announced changes to its athletic logos Nov. 27 in a press release via appstatesports.com.
The "Vintage Yosef" logo, which was reintroduced in 2012 as a throwback logo, has received strong support from Appalachian students, alumni and fans and offers an important historical meaning.
It was renamed "Victory Yosef" and is featured on Appalachian merchandise in regional outlets, as well as the University Bookstore.
2014-15 student fees increase – Dec. 13
Appalachian State University Board of Trustees increased fees for the coming 2014-15 school year at their quarterly meeting Dec. 13, 2013.
The Board ruled that student fees will increase $531, or 4.1 percent per semester for in-state, on-campus students, taking effect fall 2014.
The increase includes changes in room and board costs, additional AppalCART routes and hours, increases in technology and education, additional seating for students at football games and further athletic team travel, said Dylan Russell, Appalachian's Student Government Association president and a member of the Board of Trustees.
One of the worst colleges for free speech – Dec. 27
Appalachian State University was listed on the Foundation for Individual Rights in Education's list of "The 10 Worst Colleges for Free Speech: 2013" for the handling of a professor's appeal to the university Board of Trustees.
Appalachian received international attention after tenured sociology professor Jammie Price was placed on administrative leave March 16, 2012, following complaints from students claiming Price had caused a hostile environment in the classroom.
The students said Price strayed from her syllabus, criticized the university and administration and showed a documentary about the effects of pornography, "The Price of Pleasure," without warning, according to a May 3, 2012 article in The Appalachian.
Price was eventually reinstated under two years worth of conditions that included professional development with College of Arts and Sciences Dean Neva Specht, random peer reviews and a teaching adviser, according to a May 1, 2012 article in The Appalachian.
Price appealed all conditions, with no change from the university.
Peter Bonilla, director of FIRE's Individual Rights and Defense Program, said the incident at
Appalachian made it onto the list of the worst cases for free speech because of the "thoroughness and the severity of the threats to academic freedom and free speech" from Appalachian's administration during the case.
Program consolidation and elimination – March 4
Appalachian State University Chancellor Kenneth Peacock and Provost Lori Gonzalez informed university faculty and staff March 4 of their final decision concerning the program prioritization plan.
Peacock and Gonzalez announced in an email the elimination of five academic programs: the Master of Arts in Music Education, Master of Arts in Gerontology, Master of Arts in History and Education, Master of Arts in Child Development: Birth through Kindergarten and Master of Sciences in Criminal Justice and Criminology.
Both the Master of Arts in Music Education and Master of Arts in Gerontology were recommended for elimination in the Prioritization Final Report published Dec. 16, 2013. The Academic Policies and Procedures Committee further supported those recommendations at its Feb.19 meeting.
Campus denied early voting site – March 5
The Watauga County Board of Elections voted March 5 that Appalachian State University will not have an on-campus one-stop voting site for the upcoming May 2014 primary election.
In a 2-1 vote, the Board of Elections voted to have one-stop sites at the Watauga County Administration Building, the Western Watauga Community Center in Sugar Grove, the Blowing Rock Town Hall, the Deep Gap Fire Department and the Meat Camp Fire Department.
BOE Chairman Luke Eggers and Secretary Bill Aceto, who proposed the plan, were the two members of the board that voted for the sites mentioned. BOE Member Kathleen Campbell voted against, proposing a site in Boone Town Hall/Police Department rather than Deep Gap's Fire Department and an additional site in Plemmons Student Union.
Campbell urged students to find ways to vote regardless of the situation at hand.
Noren Everts named Appalachian's  first female chancellor – March 19
Sheri Noren Everts was selected as the next chancellor of Appalachian State University by the UNC Board of Governors and system President Tom Ross on March 19 in Chapel Hill.
The chancellor search began April 2013, shortly following Chancellor Kenneth Peacock's announcement of his resignation.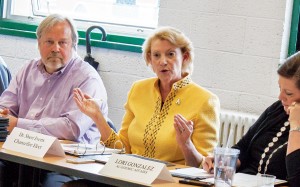 Although Ross initially said the search would be open, according to an article in The Appalachian, the chancellor search committee decided Oct. 15 to conduct a closed, confidential search.
Noren Everts worked as vice president for academic affairs and provost at Illinois State University prior to accepting the position at Appalachian. She will become the first female chancellor in Appalachian's history.
Noren Everts will assume the duties of chancellor effective July 1, succeeding Kenneth Peacock, who announced his resignation in April 2013.
Rich/Tassitino win SGA election – March 26
Carson Rich and Daniel Tassitino were elected to serve as president and vice president of the Student Government Association for the 2014-15 school year after receiving just more than 50 percent of the total vote.
Rich, a sophomore advertising major, and Tassitino, a sophomore international business major, received 1,156 of 2,286 votes.
The duo finished ahead of Adam Ezell and Patrick Sullivan, who received 32 percent of the vote, and Matthew Norman and Nicholas Smith, who received 17 percent of the vote.
Rich and Tassitino's platform includes diversity training for faculty and staff, ensuring Appalachian students continue to receive pell grants, incorporating more extensive SGA cabinet training and bringing a Center for Social Justice to campus.
Fox named new basketball coach – April 8
Jim Fox, former Davidson associate head basketball coach, was named the 16th head coach of Appalachian State University's men's basketball program.
In 13 seasons with the Wildcats, Fox helped the team win six Southern Conference championships while the team went 288-130 overall.
During his time at Davidson, Fox coached 27 all-conference players, six conference players of the year, three league freshmen of the year and four All-Americans.
Davidson made NCAA Tournament appearances in 2002, 2006, 2007, 2008, 2012 and 2013 and made an Elite Eight run in the 2008 tournament.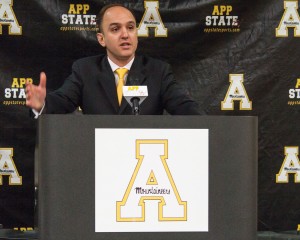 Fox coached two-time All-American and current NBA player Stephen Curry from 2006-09. He also coached De'Mon Brooks, who was an honorable mention All-American in 2012 and 2014.