App State traveled down Tobacco Road for a matchup with No. 17 North Carolina in the finale of a best of three game series. The Mountaineers dropped an instant classic 40-34 to the Tar Heels in double overtime.
"I'm at a loss for words, but I'm proud of our team," head coach Shawn Clark said. "I'm never going to second-guess anything our players have done. They're hurting, but we're Mountaineers and we'll bounce back from this."
The Black and Gold opened the first half strong, entering halftime tied at 10. On the Tar Heels first drive of the game, the Mountaineer defense came up with a critical stop on fourth down to set the tone early. 
"We knew we had to get stops to give our offense a chance to go out and make big plays for us," said redshirt senior linebacker Andrew Parker Jr.
App State scored first with a 47-yard field goal from junior kicker Michael Hughes with 11:10 left in the second quarter. Twenty-seven seconds later, Tar Heels running back Omarion Hampton broke free for a 68-yard rushing touchdown. Hampton finished the game with 234 rushing yards and three touchdowns. 
The Black and Gold countered with a nine play, 75 yard drive ending with junior quarterback Joey Aguilar finding junior tight end Eli Wilson for a 5-yard touchdown pass. UNC nailed a 47-yard field goal with a little over three minutes before halftime to tie the game up.
In the first half, the Mountaineers outgained the Tar Heels 219-208 in total yards. Additionally, App State dominated the time of possession and ran 13 more plays than UNC. 
"I wasn't nervous," Aguilar said about playing inside Kenan Memorial Stadium. "Football is just a game, so you go out there and play it."
Preseason Heisman candidate and projected top NFL draft pick, North Carolina quarterback Drake Maye, was limited to 9/13 passing for 43 yards in the first half.
"They bring it everytime," Maye said.
If the first half was a grind it out battle, the second half was much closer to the shootout many fans watched a year prior in Boone.
The Mountaineers topped their second-half opening drive with a 33-yard touchdown catch by redshirt junior wide receiver Dashaun Davis. Aguilar targeted Davis 11 times on the night, and the wide out finished with seven catches for 117 yards and one touchdown. 
North Carolina matched with an 11 play, 75 yard drive with a score from Caleb Hood to tie the game at 17.
The following App State drive, Aguilar threw his first career interception after forcing his throw on first down. North Carolina capitalized on the turnover, knocking in a 31-yard field goal to go up 20-17. 
"I just made a bad read," Aguilar said. "That's on me."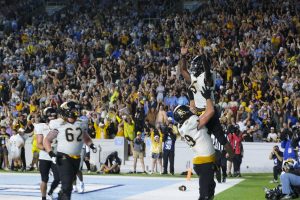 With 10:44 left in the fourth quarter, junior running back Nate Noel found the endzone off a 7-yard rushing touchdown. The Mountaineers went 12 plays for 75 yards and converted a massive fourth and short to continue the drive. Noel totaled 127 rushing yards and two touchdowns on the night.
A little more than a minute later, the Tar Heels countered with a touchdown of their own to go up 27-24. Maye found wide receiver J.J. Jones for a 57-yard gain to set up a 7-yard touchdown run.  
The following drive, the Tar Heels forced a Black and Gold punt, after a holding penalty set the Moutnaineers back on first down. The App State defense stepped up getting a crucial third down stop, leaving enough time for a game-tying drive.
After starting on their own 16-yard line, the Mountaineers marched down the field with a 12-play, 69 yard drive ending with a 33-yard field goal with 1:22 left in the game.
North Carolina drove down the field after Maye found open receivers. The Tar Heels moved the ball to the 22-yard line to set up a game-winning field goal. Prior to the kick, Clark used his last timeout to ice UNC kicker Ryan Coe. Then as time expired, Coe missed the field goal short sending the game into overtime.
App State received the ball to start overtime after winning the coin toss. The Mountaineers scored the first points of the period after Noel rushed for a 7-yard touchdown. The Tar Heels responded on their next drive as Hampton ran in the endzone for a 17-yard score. 
North Carolina opened the second overtime with the ball. Maye found the endzone on a 13-yard rush to give UNC the lead 40-34. With an opportunity to extend overtime or win, the Mountaineers came up short as Aguilar's pass to Davis on fourth down fell incomplete, ending the game.
Aguilar finished his first career start with 275 passing yards, two touchdown passes and 42 rushing yards. App State produced 492 yards of total offense with 219 yards on the ground. The Mountaineers went 8/17 on third downs and converted two fourth downs, an improvement from their previous game against Gardner-Webb.
The Black and Gold defense did not allow Maye to have a signature game, holding him to 208 passing yards and zero passing touchdowns. As a team, the Tar Heels dominated the running game, rushing for 319 yards. 
"We've got to finish, that's what it comes down to," Parker Jr. said.
The Mountaineers drop to 1-1 on the season as they return to Boone Sept. 16 for a sold-out showdown against East Carolina. Kickoff is set for 3:30 p.m. and can be streamed on ESPN+.