A new chapter of life for Greek life seniors
Two seniors on the cusp of graduation are looking onward to their future, where they hope to reap the benefits of their fraternities and sororities. 
Margaret Young, a member of the Alpha Omicron Pi sorority and Jake Schantz, a member of the Kappa Sigma fraternity are two of many seniors in Greek life who are about to embark on a new chapter of their lives.
"Honestly terrified. Very scary. Not ready for it," said Young, a theater design and technology major, when describing how she felt about graduating. "I don't know what happened to four years, but here I am." 
However, with members and chapters scattered across the country, a sense of security has reassured Young and Schantz that there will always be someone out there to lend a hand.
After joining Kappa Sigma the fall semester of his freshman year, Schantz, a risk management and insurance major, said his favorite part was "having a solid foundation of friends."
"My biggest takeaway from being in a sorority is just that I don't have to be like everybody else to find joined friendships," Young said. "My friends don't have to be the exact same as me."
One priority of Greek life involvement on campus is inclusivity and belonging, according to App State's Fraternity and Sorority Life website.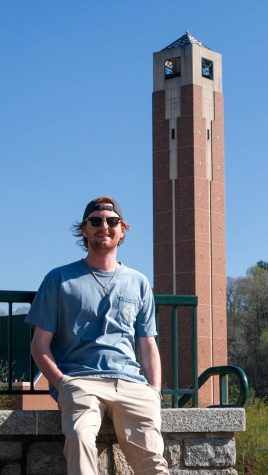 "When you're a freshman you don't know anybody and it's an awkward phase, and they made that transition super easy for me," Schantz said. 
Although the recruitment process was scary for Young, "it was the best way to actually meet everybody," she said.
Friendships have flourished through their involvement in their organizations and an ability to connect with others has people such as Young anticipating new relationships for their foreseeable path, she said.
After running for several positions in his fraternity and engaging with the Boone community through canned food drives and carving pumpkins as donations for homeless shelters, Schantz is grateful for a group that enhanced not only his professional growth but personal growth as well. 
"My favorite thing about being in AOII has to be the big events that we put on like Smoke Out cause it's just a fun way to interact with the community and get to interact with your sisters as well," Young said.
Smoke Out Arthritis is a barbecue event which raises funds for the Arthritis Foundation, according to an Alpha Omicron Pi sorority Facebook post.
"I've learned so many skills," Schantz said. 
Personal and professional development as well as civic engagement are two values held by the Greek life organizations, according to the school's Fraternity and Sorority Life website.
"I would say for people who are in Greek life transitioning out, make your connections with alum organizations," Young said as some words of encouragement for future Mountaineer alumni.
It is because of these values that organizations like Kappa Sigma have become a foundation that Schantz can fall back on, Schantz said.
"It's very scary but so worth it. Any chances you get, take 'em," Young said. "Move anywhere, do anything. You're in your early twenties, it's time to move around."