Advice from soon-to-be former mountaineers
The decisions made by Lauren Sande, Jeff Marcin and Lacey Gibbs during their time as Mountaineers are not uncommon choices for students to make. It is well known that App State offers study abroad trips, student-run organizations and job positions to students. 
However, Sande, Marcin and Gibbs individually engaged with these opportunities in ways best suited to their interests and goals to create a rounded and fulfilled college experience and get a jump-start on their careers. 
Through hard work, these seniors have created their own path to which future students can look for guidance. 
Jeff Marcin 
The phrase "holy mother meatballs," has followed Marcin since the September football game against Troy. 
As App State scored the winning touchdown with a Hail Mary pass, Marcin said he quickly said a phrase he knew was appropriate for the airwaves. 
An opinion article from USA Today says Marcin made "the call of the year."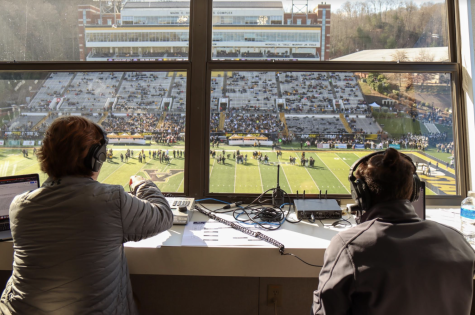 Marcin, an electronic media/broadcasting major, is the sports director at 90.5 WASU-FM, App State's college radio station, and often commentates during university sporting events. 
"I always loved the idea of making a big moment at a sporting event, an even bigger moment, and that's kind of, you know, what I'm trying to do," Marcin said. 
App State students may not be aware, but they have probably heard Marcin's voice several times throughout their time as a student. 
Marcin hosts a sports radio show once a week titled "Sports WrAPP" and a sports show on AppTV titled "The A Game."
"I think it has helped me a lot for what I want to do is the most important thing," Marcin said. "The number one thing when I first came here was to take advantage of these opportunities, so I did the radio class for WASU the first semester I was in school here and then worked my way up from there."
Marcin said he would advise students interested in sports broadcasting to get involved as early as possible, so they can get as much experience as they can. 
Marcin said he knew he wanted to go into sports broadcasting before coming to school because of his interest in athletics. He said his time at App State has helped him to learn more about how to do the physical work of broadcasting through play-by-play and color commentating. 
"I've really enjoyed my time with WASU and App TV and really just doing all the sports media stuff that I can do here," Marcin said.  
Marcin is graduating in the spring and plans to enter the professional realm of sports broadcasting. 
Lauren Sande 
Sande was one of eight App State students that attended a study abroad trip to Peru with Baker Perry, a professor in the Department of Geography and Planning and National Geographic explorer. 
One exciting aspect of the trip, Sande said, was the National Geographic team that covered their semester abroad as part of a documentary that will be released in 2024. 
"They are doing a whole thing for storytelling and so that is going to be like one part of it," Sande said. 
She said the documentary will focus on Perry but also features herself and her classmates as they studied climate change in relation to Peruvian communities. 
Sande, a sustainable development major with a minor in atmospheric science, said she was immediately interested in this trip because her specialization is in climate change. 
This trip introduced "students to climate change impacts in the Andes through direct field experience and research activities, readings, discussions, and meetings with local experts," according to the Department of Geography and Planning website. 
Half of the semester was spent learning and exploring in the communities of Peru, and the second half was spent backpacking through the Andes Mountains, Sande said. 
"We would walk the whole day and then have class and labs during the trek," Sande said. "We had lots of labs which was really fun."
Sande said she advises students to continually check the education abroad website to see if there are any trips that interest them.
"I didn't think I was going to be able to do this, like mentally and physically, because it is a very physical experience," Sande said. "And once I did it I thought I could do anything in the world."
She described the experience as the "hardest but best thing that I have ever done in my entire life."
Sande will graduate in the fall and hopes to land an internship with a climate science organization or nonprofit. 
Lacey Gibbs
Gibbs said she came to App State firmly knowing she wanted to study environmental science and immediately decided to make it her major.
However, she said she was introduced to geographic information systems and remote sensing in her general education classes and decided to add a minor in biology and a certificate in GIS to better align with her interests. 
GIS and remote sensing is "a computer system for capturing, storing, checking, and displaying data related to positions on Earth's surface," according to The National Geographic website.  
"I really liked mapping. I liked seeing how environmental phenomena or, like, population phenomenon could be spread out through geographic spaces," Gibbs said. 
Currently, Gibbs is working as a research assistant on a project that involves analyzing the changes in soil erosion at the ordinal dam removal site using unmanned aerial vehicles.
This is an ongoing project, Gibbs said, and she got involved because it combines her interests in GIS and remote sensing, and environmental science. 
She said part of the project involves looking at the applicability of GIS and remote sensing in dam removal research
She is working with Ok-Youn Yu, a professor in the Department of Sustainable Technology and the Built Environment, and the Drone2App team, Gibbs said.  
"It is really exciting work, and I do believe that it is really valuable work, as it would give a new angle to researching dam removal effects on ecosystems, and also maybe human beings who live downstream," Gibbs said. 
Gibbs said she would advise other students to "engage yourself in classes and find out what you're passionate about."
Gibbs is graduating in the spring and said she will immediately start in a position surveying land with Williams Sale Partnerships. 
"It's so interesting and it really can be for important research down the line, and that's what we are trying to justify, with this project, to test the applicability of this in dam removal research," Gibbs said.