After increased popularity, Enharmonix to produce album
Enharmonix was started at Appalachian State University four years ago and due to their success in the community, is now hoping to extend their talents throughout the state and even the nation by recording their first album.
Enharmonix, also known as ENX, is a co-ed a cappella group with 23 current members, two of which are original members of the group and will be graduating in May. In comparison to other a cappella groups on campus with 15-20 members, ENX is the largest a cappella group on campus.
A cappella consists of singing without instruments. In the last five years, a cappella has become a big deal not only on college campuses but in the music industry as well, said Cameron Moore, senior broadcasting and electronic media major and president of ENX.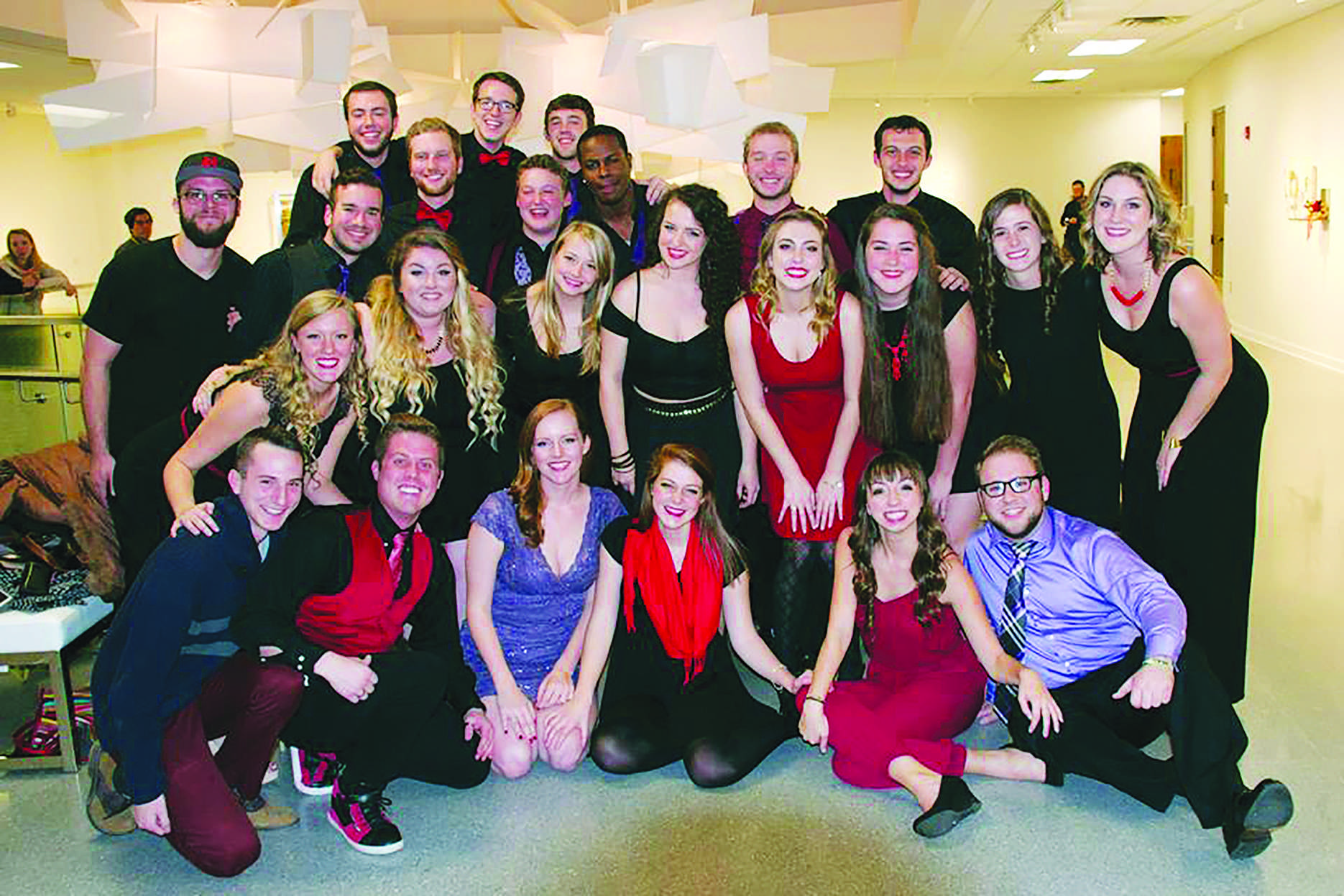 Sophomore social work major Joe Wrenn said ENX was started by two music students when there were only two other co-ed groups at Appalachian. At the time, there was a lot of tension between a cappella groups and ENX was started to be a different, inviting and open group.
Since the group was started, ENX has won  awards such as best overall Acappellageddon and best co-ed a cappella group in the past four years. The group has also done more touring this semester by performing at universities such as Elon, Wake Forest and Chapel Hill.
"We've been able to network and expand our fan base through this traveling, which is helping a lot," Moore said. "We've even sung at Chapel Hill with the nationally recognized group, The Clef Hangers. It's been really fun to meet new groups from different schools and make those connections."
Wrenn said ENX considers itself to have a diverse set list, including country, broadway tunes, popular old songs, jazz standards and even some classical music.
Bryan Haas, senior music industry studies major and music director of ENX, said this is the first year that the group really showed an overwhelming interest in recording. Group cohesion is stronger than previous years, which has allowed them to learn songs, make them musical and add elements to them that sets ENX apart from other groups, he said.
"We've always kind of talked about it because we have met groups from other universities who have done it," Wrenn said. "We actually just recorded our first song, so we're starting slowly but it's something we've been wanting to do for a while."
Although ENX is a university club, the recording of their first album will be done independently with the help of Josiah Maltby, sophomore music industry studies major, and Jonathan Rice, a former member of VoiceMale at Appalachian.
Haas said the executive board met at the beginning of the year and decided that $2,000 would be a good budget to help pay for studio time, help from outsiders and anything else. So far, they have looked into recording at places such as the Robert F. Gilley Recording Studio on the fourth floor of the Broyhill Music building and Liquid Fifth in Durham.
"This funding will allow us to try out different places to record," Haas said. "With this lump sum as our initial funding, I have hope that ENX will take their set list to great places."
The group plans on recording at least three songs by the end of the semester. So far, only the "90s Medley" – a crowd favorite – has been recorded, but they are also working on recording  "Against All Odds" by Phil Collins and "Problem" by Ariana Grande, which won the category of Best Pop/Rock at Acapellageddon this past semester, Moore said.
"We're in the beginning stages of developing this album and we have a lot more work to do, but it's very exciting," she said. "I think one of the most important things we'll consider while choosing our album set list is that we want it to represent who we are and what we do. We like to be very diverse and push the limits of what an a cappella group can do."
Wrenn said ENX hopes to record five to six songs for their album and release it by the end of next semester, but it all depends on the cost of studio time and how much more they raise. Although they would eventually like to sell their album through iTunes or Spotify, selling it is not their current concern.
ENX is currently preparing for their last concert of the semester on May 1, where they hope to have at least three songs for friends, family and fans to hear.
Wrenn said the concert will be like a tribute to the eight seniors graduating at the end of the semester.
"We've worked really hard to get to this point where we have the funds to record our music, because we just want to share it with as many people as possible," Moore said. "We want to share the music we work so hard to create and we just hope that other students can see the beauty that we do in it."
Story: Chamian Cruz, News Reporter
Photo: Courtesy of Enharmonix