Angel Olsen, a veteran of various 90s touring acts such as Bonnie "Prince" Billy, emerged in 2012 as an exceptionally strong singer-songwriter with the album "Half Way Home."
A record of skeletal acoustic guitar and Olsen's striking, near-operatic voice, "Half Way Home" was perhaps most notable for Olsen's incredible lyrics, which combine heady existentialism with plainspoken sincerity almost effortlessly.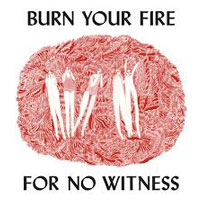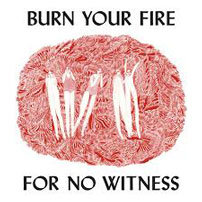 The songs were nothing to scoff at either, often reaching a very high standard of compositional coherency and emotional poignancy.
Still, something about the album suggested it was unfinished, if only because some songs came across as sketches rather than full-on paintings.
The production on Olsen's sophomore release, "Burn Your Fire For No Witness," amends these problems by fleshing out even the shorter songs with minor embellishments, often from a new full-time band including a drummer and bassist.
The result is the stunning, intoxicating rush of a rock album. Olsen incorporates more punk influences into her sound, but the fuzzy, bass-heavy excursions here only anchor her music's sense of urgency.
Olsen's move to a slightly higher production value – provided by John Congleton, who produced a kindred spirit to this album in St. Vincent's "Strange Mercy" – doesn't so much take away from her intimate style of songwriting as it does amplify and redirect it.
There is a deliberate change in presentation here, notably in Olsen's voice. She remains one of the most compelling vocalists around today, but her gorgeous wail is often filtered through an amplifier like The Strokes' Julian Casablancas, adding an aggressive layer of grit.
Other production tricks are subtle, but the sonic pallet of the full band is explored in meticulous detail over a diverse set of arrangements.
The opening seven minutes of the album alone cover an intense amount of ground, from spare acoustic guitar to punk to a country shuffle reminiscent of Emmylou Harris.
Some tracks, such as "Enemy" and "White Fire," are stripped-back like her first album, but the latter especially incorporates sweeping, poetic lyrics that capitalize on and expand Olsen's vocabulary of self-reflection in a truly exciting way.
There are many stunning moments on "Burn Your Fire," but the album hits a stride somewhere in its middle that elevates it to one of the best albums so far this year.
The album's peak is probably "Lights Out," which blossoms from a languid guitar strum into an immaculate catharsis with excellent lyrics that simultaneously suggest desperation and pure, humanistic optimism.
With "Burn Your Fire," Olsen has crafted a beautiful, high-wire act of an album that establishes her as one of the most compelling female musicians of our time, in the lineage of greats such as Cat Power, PJ Harvey and more recently St. Vincent.
If Olsen keeps refining her songwriting skills along with her more evocative, elaborate arrangements, she may well transcend even these comparisons, but for now "Burn Your Fire" is an essential document of Olsen's place as an artist in the here and now.
Rating: four-and-a-half out of five stars
Story by Colin Moore, A&E Editor