Angel's Ascent: The road to Boone
Angel Elderkin's lifelong journey from her hometown in East Providence, Rhode Island, to becoming the head women's basketball coach at Appalachian State University has been one marked with both trials and triumphs.
Elderkin, a former star student-athlete in Maine and now first-year head coach at App State, said her lifetime commitment to the sport of basketball didn't even begin on the court.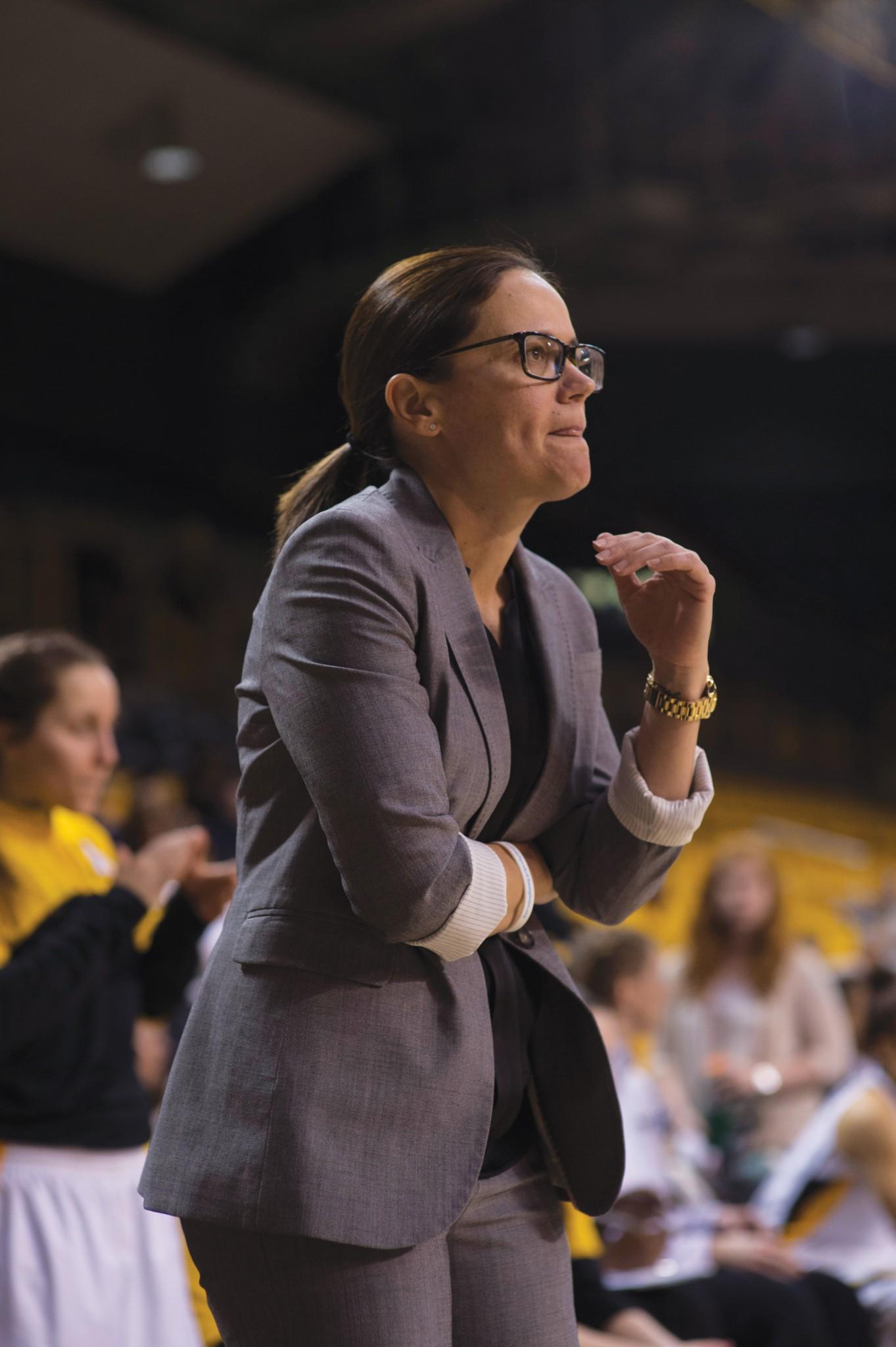 "When I was younger, it was the playground, it was walking, it was riding your bike, it was this open thing," Elderkin said. "We used to play basketball against the street signs. We didn't even have a hoop."
Elderkin grew up with an older brother who was actively involved in sports as well, and the majority of the sports she played were with him and his friends.
"There weren't a lot of opportunities for females at that time, so it was always like 'Hey, go play with your brother,'" Elderkin said. "Now, it seems like there's less of the playground but there's more of the organizational stuff for girls today, which is great."
But the absence of opportunities didn't stop Elderkin from becoming a decorated Division III college athlete at the University of Southern Maine.
From 1995 to 1999, Elderkin helped lead the Huskies to a 104-15 record and three Little East Conference Championships, even finishing as the national runner-up in the 1998 NCAA Division III Women's Basketball Tournament.
She was also an accomplished collegiate softball player for the Huskies, lettering three times during her career.
Elderkin said in her time at Southern Maine, her team's success, most notably in basketball, did not get overshadowed by the other sports teams in the area, which happened to many collegiate women's programs during that time.
Elderkin said it was during her time as a student-athlete that she realized that throughout her entire life in organized sports, her coaches had been males.
"There weren't a lot of females to empower other females," Elderkin said, "so when I stepped out and had my first coaching job under Karen Kemp at [East Tennessee State University], it was so impactful."
Elderkin said her time coaching under Kemp from 1999 to 2001 made her realize how good it was to be coached by a female, and cemented her decision to pursue being a coach herself.
Elderkin's career has since crossed the paths of some of the greatest coaches in NCAA women's basketball history.
From 2005 to 2007, Elderkin was the video coordinator under Hall of Famer and former University of Tennessee coach Pat Summitt. From 2007 to 2011, Elderkin was assistant coach and recruiting coordinator under Hall of Famer and University of Virginia coach Debbie Ryan.
And with many other coaching stops along the way, most recently as an assistant coach at LSU for the 2013-2014 season, Elderkin has always been in respected company.
Elderkin is now using her opportunity as a head coach to make an impact in the lives of her female student-athletes, both on and off the court.
"I think part of empowering women is making them confident, making them strong, making them believe in themselves," Elderkin said, "so the more I can make them feel good about themselves every day, I feel like, 'check mark,' I've done my job."
Elderkin said that through a variety of techniques, she seeks to ensure that her athletes' "tanks are full" with positivity and belief when they leave practice.
Senior forward Maryah Sydnor said Elderkin's affect on the team this season was unquestionable.
"Everything she does just breeds confidence in us," Sydnor said. "She has all the faith in the world in anything that we do and anything that we say we're going to do, or talk to her about, she's all for it and all on our side. So it just brings the best out of us."
Senior guard Katie Mallow shared a similar sentiment.
"I think off the court especially, she doesn't take any crap from anyone," Mallow said. "She has respect for everyone, and she makes us have respect for everyone, but she also puts that confidence in us to not let anyone think they're better than us."
The Mountaineer women's team finished Elderkin's first season with a record of 14-16 (9-11 Sun Belt), losing in the quarterfinals of the Sun Belt Conference Women's Championship Tournament to Arkansas State University.
And although it is only the beginning of Elderkin's tenure at App State, she is making a mark, continuing to give the gift she was given by Kemp when her career began.
Story: Chris Warner, Sports Reporter
Photo: Justin Perry, App State Athletics