Annual Art Expo brings new perspective on student work
Art Expo 2014, the latest in the annual juried art exhibitions of student work on campus, features 46 student artists in media ranging from video, sculpture and installation pieces to more traditional painting and sculpture.
For many students, this competition is their first and only chance to have their work shown on campus.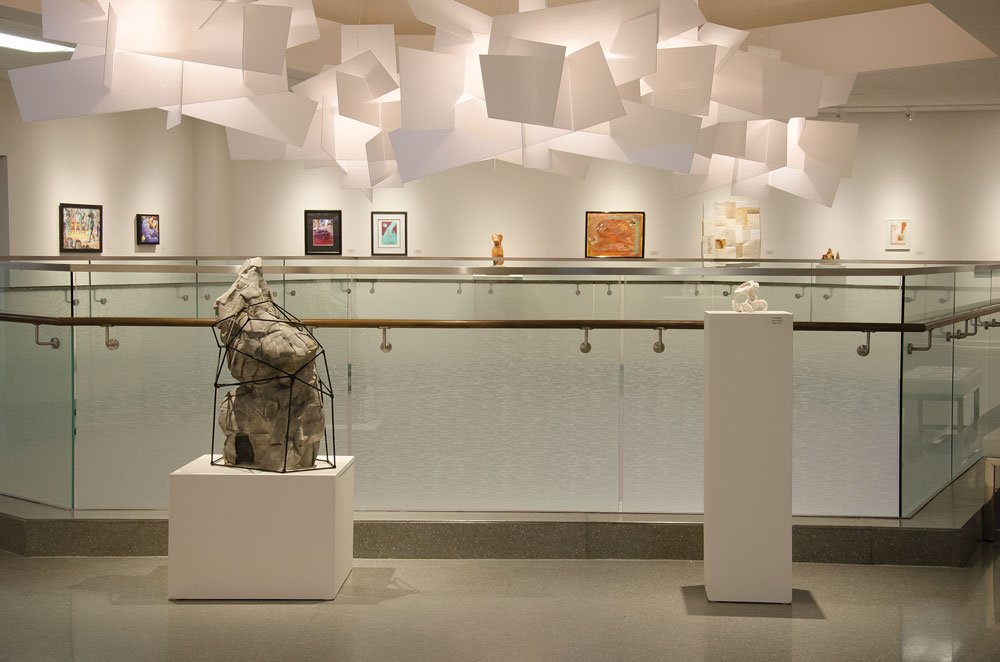 This is junior studio art major Alex Swing's first time being featured in Art Expo, as so far he has made more of an effort to show his work off campus.
Swing has two pieces featured in the expo: "Diagram," a small painting on paper, and "We'll Be Back," a video installation.
Swing said his work revolves around the point where communication fails and the content of a dialogue becomes abstract, using stock images or commercials to emphasize these points of obscurity.
"There's an interesting connection between the banal images of our culture and the images we are accustomed to in cartoons or illustrated IKEA instructions," Swing said.
He sees the juried exhibition as a welcome change from on-campus opportunities sponsored by the Department of Art, because Art Expo allows students to show more complicated pieces that might not fit in with the general aesthetic of the department.
"A lot of the work coming out of Wey looks the same and can get overdone or stale," Swing said. "Having a juried show like this one is a good way to articulate what we are actually producing throughout the spectrum."
Guest juror Cora Fisher, the current Curator of Contemporary Art for the Southeastern Center for Contemporary Art, will bring with her a fresh regional perspective on student work.
"Looking at the work that [Fisher] has curated in the past, this seems like a response to what happens here," said Jody Servon, director of the Catherine J. Smith Gallery.
Servon said that the underlying themes of nature and the body feature prominently in this year's exhibited work, and considers these themes as a product of the region.
The opportunity to host jurors like Fisher is great exposure for the program, students and student work, Servon said.
"It's building connections in the art world very early in their career," Servon said. "It's good for the overall identity of the art department and the university."
Additionally, some pieces are selected from Art Expo to be purchased by Appalachian State University and Plemmons Student Union for permanent display, said Ben Wesemann, assistant director of the Catherine J. Smith Gallery. For most students, this is the first opportunity they get to have their work purchased by a collector.
"You have to have a different sensibility about what's going to be collected versus what works today," Servon said.
Collectors, especially when dealing with student work, focus on what will be meaningful for the next 20 to 80 years. Craftsmanship and concept are overlying influences over what makes it and what doesn't, Servon said.
So far, response has been good. Wesemann said that the new gallery welcomes visitors to reflect more readily on featured work and has seen evidence of some artists taking the space into account for an overall more interactive experience.
Art Expo's first, second and third place prizes, as well as Best in Show and the popular vote for People's Choice, will be announced at a public reception Friday from 4 to 6 p.m. at the Smith Gallery. The event is free and open to the public.
The exhibit will be on display through April 11 at the Smith Gallery, located in the Schaefer Center for the Performing Arts.
Story by Lovey Cooper, Senior A&E Reporter
Photo by Kim Reynolds, Staff Photographer