App State football celebrates Welcome Weekend with Fan Fest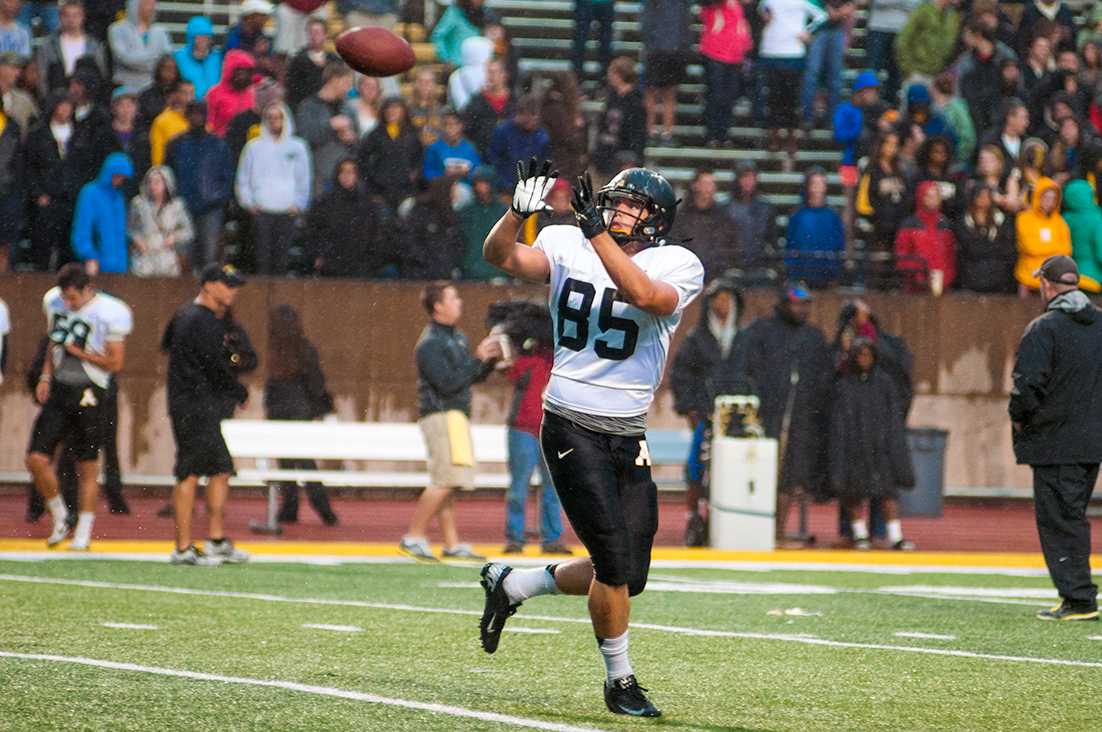 With two weeks before kickoff at Montana, Appalachian State football held their annual Fan Fest intrasquad scrimmage under the lights on a rainy Saturday at Kidd Brewer Stadium.
The scrimmage was a part of Welcome Week 2013.
"With as much rain as we've gotten in the High Country, we may have a game or two in this weather," said head football coach Scott Satterfield, who's entering his first season at the helm. "It's always good to get out and participate in the rain."
Satterfield said he thought the players looked dead-legged, but wasn't concerned it would be a long-term issue.
"We weren't as sharp as we would've liked," Satterfield said. "I thought we were a little bit sloppy this evening, compared to what we have been."
All three of Appalachian's touchdowns came through the air. Senior and starting quarterback Jamal Londry-Jackson connected on a screen to true freshman Marcus Cox, who was able to scoot by defenders untouched for a 63-yard touchdown reception.
"I feel good with the days and the weeks that go by," Londry-Jackson said. "I think I'm about 90-95 percent right now. Once I get in the first game, I think I'll be ready to go."
Cox also contributed 40 yards rushing on six carries.
"Marcus has had a great camp for us," Satterfield said. "He'll be playing for us come Montana."
The other two touchdowns came from backup quarterback Kameron Bryant, when he connected with Sean Price for a 26-yard touchdown reception and Simms McElfresh for a 10-yard reception.
Londry-Jackson finished the night 7-18, 84 yards and a touchdown. Bryant threw for 12-17, 129 yards, two touchdowns and one interception.
Freshman defensive back Tyrell Brown picked off Bryant's pass and returned it for 55 yards.
Appalachian's defense forced four turnovers and five three-and-outs in 16 series.
"They're getting better [defensively]," Satterfield said. "They're playing with effort, they're playing hard and they're playing fast. Every day they're getting better."
Those who did not scrimmage were wide receiver Malachi Jones (knee), place-kicker Drew Stewart (foot), lineman Davante Harris (ankle), tight end Josh Anding (head), punter Mark Powell (leg), defensive back Doug Middleton (head), lineman Tyson Fernandez (head), linebacker Karl Anderson (head), lineman Ian Barnard (head), quarterback Kalik Barnes (head), defensive back Brandon Pickney (leg) and running back Ricky Fergerson (foot).
All of the injuries are day-to-day and all are expected to be ready for the season-opener.
Defensive back Chris Starks did not scrimmage as well and could miss several weeks with a knee injury.
The Mountaineers kick off their 2013 season at Montana on Saturday, Aug. 31 at 9 p.m. EST.
Story: NATHAN BUTLER, Intern Sports Reporter
Photo: JUSTIN PERRY, Photo Editor