App State holds Day Against Hate
Located on Sanford Mall Sunday afternoon, A Day Against Hate was hosted by student organizations to spread awareness and educate against antisemitism.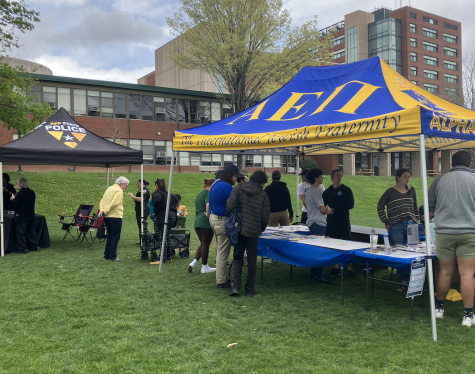 The event was put together by Jewish fraternity Alpha Epsilon Pi, App State's Hillel and the Center for Judaic, Holocaust, and Peace Studies. The event aimed to combat antisemitism and provide a space for Jewish students to connect and bond over shared culture.  
A Day Against Hate was arranged as part of a series aimed to embrace diversity among students, as outlined in an email sent by Chief Diversity Officer Jamie Parson on April 6. 
The event had tables with cultural food, information about modern antisemitism and how to combat it, educational resources and an opportunity to learn about reporting incidents to App State Police, as well as Boone Police. 
Ginny Vellani, director of statewide initiatives, said the event was started by students who were concerned about rising levels of antisemitism.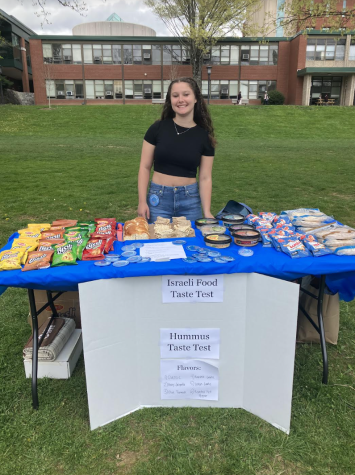 "We started in 2018, but it was students who were concerned about rising antisemitic incidents and incidents of white supremacy in Boone and around the country," Vellani said. "So they decided to take action by starting the first Day Against Hate program, and then its expanded from there." 
Vellani also said the goal of the event is to provide areas for people to learn and connect.
"The goal of this is just to kind of spread love and spread education, and help people meet Jewish people in the community," she said. "No matter how they identify, they can be a part of resisting hate and intervening if they see it."
The event was open to the community, with both non-Jewish people and people who were not involved in the organizations invited, lasting  from 1- 4 p.m. 
Freshman exercise science major Ashby Bleau attended the event, and said she wants to be as inclusive as she can. 
"Being able to see a Jewish community like App State's talk and educate about antisemitism, especially in this day and age, is truly rewarding," she said. "I always want to be inclusive in regards to my peers around campus, and I believe this event helped myself and others achieve that."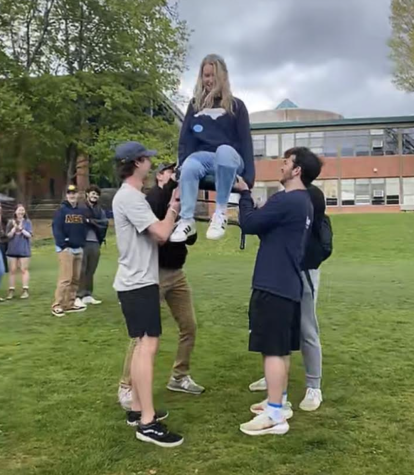 In an effort to showcase Jewish culture, members played traditional Israeli and Jewish music. As well as the music, Jewish and Israeli food was on display and open to having people taste. 
Among the tables set up, one gave people the chance to ask members of the Temple of the High Country anything they wanted. Chuck Lieberman, who hosts adult Hebrew education classes, answered questions from those who asked. 
"I've been associated with the temple for 42 years," he said. "I'm like the oldest of the old timers." 
Lieberman has remained in touch with App State's Jewish community, often hosting AEPi fraternity members at his farm. 
"I actually know more students now than I think I ever have," he said. "It's really nice."
Lieberman also expressed gratitude for the students responding to antisemitism and said that when he was younger, people took the abuse. 
"Antisemitism has always been a bit of a mystery to me," Lieberman said. "I think 'why do people hate the Jews? What did we do to them?'"
As well as students and the organization members, both Boone Police Department and App State Police attended. Of Boone Police, Community Resource Officer Kat Eller provided an opportunity to connect and establish trust with the community. 
Eller highlighted that Boone Police responds to issues anywhere off campus. 
"So if students are living in an apartment or having housing that's not here on campus, they can reach out to us," Eller said. "They can come by the police department 24/7." 
Eller said people can contact the non-emergency number, should it be needed. 
Similar events will be hosted to help combat antisemitism, and will be open to the public.
The Center for Judaic Holocaust and Peace Studies will hold an event Tuesday to commemorate the Jewish Holocaust memorial day, Yom Ha'Shoah. This event will be hosted from 10 a.m.-5 p.m. outside Belk Library. Volunteers will read the names of Holocaust victims, and educate attendees on the history.
As well as Yom Ha'Shoah, the Center for Judaic, Holocaust, and Peace Studies will be hosting a picnic with App State Police on May 4, with the intent to build trust and provide methods to report to App State Police.