The App State Police Department is transitioning away from gas-powered police vehicles to an all-electric fleet in a push to reduce emissions and costs.
The department has purchased six Teslas, with two Model 3s already on the road. Four Model Ys are currently finishing modifications and will join the fleet in early 2024, Chief of Police Andy Stephenson said in an email.
The Model 3s started appearing around campus at the start of the fall semester performing regular police duties. During the Sept. 16 gameday between App State and ECU, one of the Teslas was displayed on the grass near the bottom of Stadium Drive as fans made their way to the stadium.
Questions arose throughout the App State and Boone community about the vehicles, such as the reasoning behind the decision and where funding originated.
Stephenson initiated the project, working with the Office of Sustainability to advance the goals of the 2021 Climate Action Plan, a roadmap to a carbon-neutral future at App State.
According to the plan, most of the university's greenhouse gas emissions come from purchased electricity, heating and transportation.
Chief Sustainability Officer Lee Ball said current best practices in decarbonizing transportation are driving less or moving towards electric vehicles.
"You have a group like campus police that drive a lot, so there was an opportunity for them to reduce their carbon footprint by transitioning to EVs," Ball said.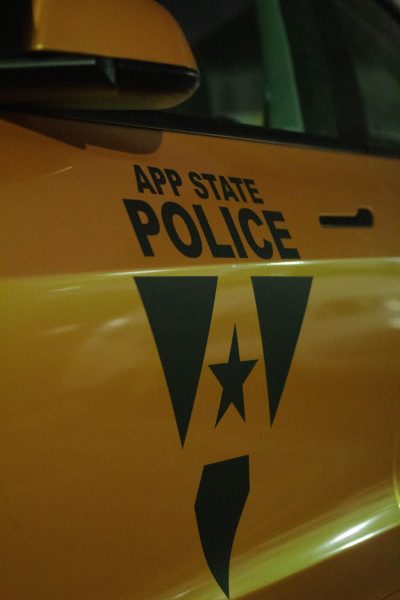 Ball said Stephenson heard positive feedback from other police departments across the country that moved to EVs and started a similar process for App State Police. 
Each Model 3 police vehicle costs the department about $48,880, compared to a $44,290 Ford Explorer Police Interceptor. Ball said the App State PD purchased the Teslas through state contracts at cheaper rates.
"Vehicle expenditures are a part of the regular operating budget for the police department," Stephenson said in an email.
While the cost of replacing the entire fleet with Teslas will be high, the university estimates significant savings in fuel and maintenance. According to data from the Office of Sustainability comparing both Tesla models to a 2023 Ford Explorer, each Tesla will save about $2,300 in fuel costs and avoid seven metric tons of carbon emissions per year.
Jim Dees, the Office of Sustainability Data and Assessment Specialist, said the estimates are only predictions and the App State Police is looking forward to discovering the actual savings after more use.
Since the department began using the Teslas, Stephenson said officers who drive them have "responded favorably to the transition."
"There's a lot of people that are pouncing on EVs and being really critical, but we're just in an experimentation phase," Ball said. 
Ben Esterling, a senior electronic media broadcasting major and president of the Appalachian Automotive Club, said he supports university sustainability initiatives but doesn't believe the Tesla police cars have much of an impact.
"It's a very interesting choice, especially considering the location in Boone since electric vehicles don't really like the cold," Esterling said.
According to research from AAA, EVs driving in 20-degree weather with heaters on full blast can experience a 41% decrease in driving range. Research from Recurrent Auto found a Tesla Model 3 lost 17% of its driving range when driving in 20-30 degrees compared to 70 degrees. 
Despite EVs producing zero emissions while in use, Esterling said EVs still create emissions through battery manufacturing, charging and disposal.
"Anything with a battery will become waste at a certain point," Esterling said. "That's the argument; would you rather burn fossil fuels or be disposing of the terrible chemicals used to create lithium-ion batteries."
Chris Tolbert, a sustainable technology faculty member and head coach of the Solar Vehicle Team, said he predicts the electric police vehicles will reveal both positives and negatives. While he was a teacher at West Wilkes High School in 2005, Tolbert started a program where students converted gas-powered vehicles to electric, and has continued work with EVs since.
Tolbert said electric motors eliminate many impractical issues caused by internal combustion engines of gas-powered vehicles. A/C systems of gas-powered vehicles work against internal combustion engines, which run at high temperatures, to cool the car down.
"It would be like keeping your house at 120 degrees and trying to run a refrigerator inside of it," Tolbert said.
While he understands concerns over EV battery effects on the environment, Tolbert said the harm of the current infrastructure for gas and crude oil needs to be understood.
"From pumping crude oil out of the ground to shipping, pumping into and back out of the ground, it's a lot more taxing," Tolbert said.
According to the U.S. Environmental Protection Agency, the greenhouse gas emissions of EVs are much less than gas-powered vehicles, even when accounting for manufacturing and disposal.
"I'm excited to see how the project turns out. It seems like a perfect fit for the campus police," Tolbert said.