The Henderson Springs LGBTQ+ center held a candlelight vigil at 6 p.m. Wednesday in Plemmons Student Union to remember the transgender lives that were lost in 2023. 
Approximately 30 people gathered in the Summit Trail Solarium, consisting of App State students and community members. 
There were campus organizations that contributed to the event with tables set up inside. The App State Women's Center and the LGBTQ+ Center were offering pins and stickers to welcome those who were attending. 
As people arrived at the start of the vigil, the solarium remained quiet. LED tea lights were spread throughout the room on tables and chairs, ensuring that anyone who attended would be able to participate in the candlelight vigil.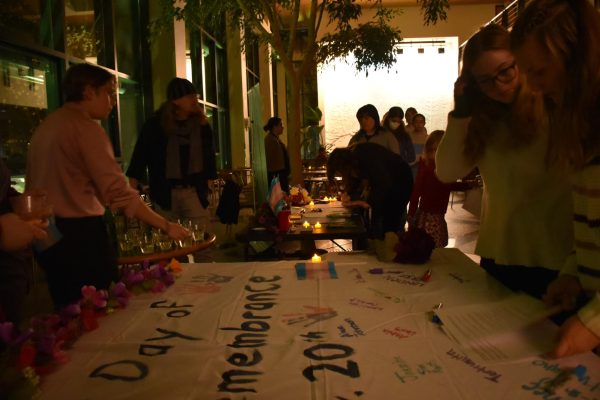 Nathan Asher, an office assistant at the LGBTQ+ Center, led the memorial. He introduced the memorial as a recognition towards the strength and resilience of the transgender community. 
The guest speaker present was Cody Michael Henderson, assistant director in the Office of Intercultural Student Affairs. He's also a staff lead at the LGBTQ+ Center, and oversaw the planning that went into this event.  
As a cisgender gay man, he said he recognizes "our trans brothers and sisters and all others are vital to the experience and the existence of the queer community." 
Next to enter the stage was Lia Biscos, president of TransAction. Members of the club said that the world can be daunting, and their goal is to create a safe and welcome environment for transgender students here at App State.
Biscos said this memorial was made possible by the LBGTQ+ center.
Biscos said the event "was rather emotional due to how much strife we have to face just to exist."
A list of biographies were read aloud by student volunteers to recognize the people of the transgender community who had died. The attendees remained silent, and some were holding their unlit LED tea light candle as they were listening to the names and stories being read.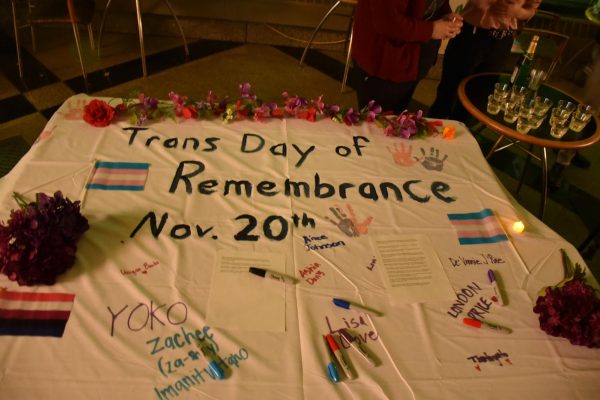 With stories consisting of topics of suicide and violence, the speakers shared them in a very solemn tone. Asher said to the audience that anyone may step outside if it was becoming too overwhelming for them. 
Following this, there was a moment of silence to allow the crowd to ignite an LED tea light candle and pay their respects toward those who died. 
"We light these candles to remember those we've lost, and to celebrate and cherish their memories," Asher said.
The attendees wrote the names of people who lost their lives on a banner. Attendees also left messages for them at a memorial table. The banner will be hung outside the Cascades Atrium in the student union until Nov. 20, the official Transgender Day of Remembrance. 
These on-campus organizations work to ensure that there is always a safe space available for any students who are members of the community themselves. 
Nevaeh Knox, a junior finance and banking management major, heard about the event from a friend and attended to show her support and learn more about the transgender community. 
"Students should definitely come to events like this on campus," Knox said. "It's a good opportunity to learn about communities that you may not be a part of." 
An abundant amount of planning went into the creation of this event. Asher had a strong role in creating this memorial, as they painted the banner and worked with their coworkers to make sure the area could be reserved. 
"Trans Day Remembrance is a very somber thing for a lot of people," Asher said. 
When creating a safe environment for the community, Asher wanted people to recognize that there is support available to you on campus if you are a member of the trans community. 
Henderson oversaw the planning of this event. Allie Harrell, office manager for Intercultural Student Affairs, and Lamont Sellers, director of Intercultural Student Affairs, attended the event as well. 
"I do identify as cisgender, but I have a number of friends and family who identify as transgender," Henderson said.
 This event was very dear to him, and he said it was important to speak at the event in order to show the trans community that people who are cisgender are able to support them, even if they aren't a part of that community themselves. 
"We remember those we've lost, not just as victims, but as brave souls who dare to live their truth," Asher said. "May the light from these candles be a beacon of hope guiding us towards the future."