Community members and App State students held a rally and march for Palestine Sunday from noon-1:30 p.m. 
About 80 attendees gathered in front of the Jones House Cultural Center located on King Street. 
The crowd consisted of students, faculty and staff of App State, community members, App State alumni and several children. 
They held signs reading phrases such as, "Ceasefire now, free Palestine," "There is no both sides to a genocide" and "Our taxes are killing children." 
Huddled in a semi-circle around the front stoop of the house, they listened to the speakers present statistics, accounts from people currently in Gaza and phone numbers of political offices to call.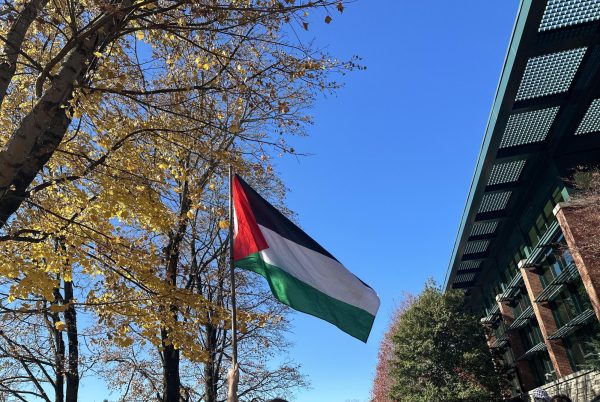 Five speakers took the megaphone at the Jones House before leading the crowd up the sidewalk of King Street, turning left at the intersection with Depot Street, left again down Howard Street and finally through campus to Sanford Mall.
As they marched, the crowd chanted phrases such as, "From the river to the sea, Palestine will be free," and, "Cease-fire."
Katharyn Danielik, an organizer of the rally, said she heard from several people that they wanted to attend a previous rally for Palestine held by App State's Muslim Student Association, but could not because it was during their work hours. Danielik said she wanted to provide the community and anyone who could not attend the previous rally an opportunity to make their voices heard. 
"I just really want to emphasize, like, keep talking about it, keep posting about it, keep the momentum up," Danielik said. "Don't forget Palestine."
The organizers met with Boone Police, including Chief of Police Andy Lebeau, and discussed the rally, including safety concerns regarding marching through downtown Boone, Danielik said. To keep participants safe, Boone Police placed a blockade on Depot street during the march.
Boone police officers were present at the Jones House during the rally and escorted the crowd as they marched to Sanford Mall. 
Selma Treish, an organizer of the rally and speaker, said safety was the top priority of the organizers. 
Treish said she and other organizers spread word about the rally in the community through emailing, posting on social media, asking businesses to hang their fliers and communicating with organizations like the Immigrant Justice Coalition and App State's Muslim Student Association. 
Treish said she is passionate about spreading awareness and information on the Israel-Hamas War because she is a first-generation Palestinian American. Treish said in her speech that there have been over 9,000,000 Palestinians displaced, including herself.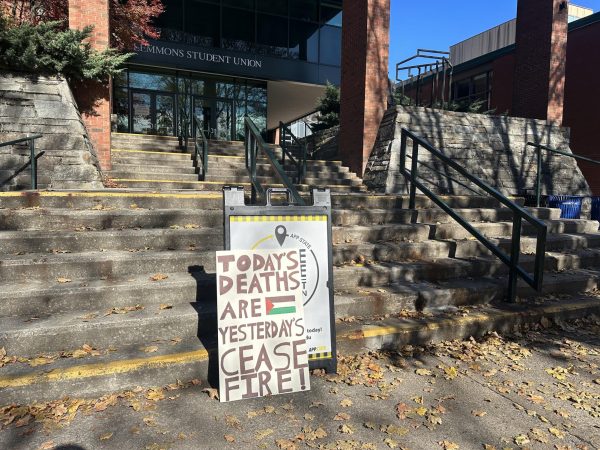 She has attended rallies for Palestine in Washington, D.C. and Charlotte, North Carolina. Treish said she wanted to help organize a rally in the community because she wants to continue the discussion. 
"It's something that needs to be continued to be spoken about whether that is rallying, or reaching out to representatives, or posting on social media or whatever it is," Treish said. "It shouldn't just be like a one-time rally and then done deal. It's something that needs to be an ongoing conversation."
During Treish's speech, she said several statements about what it means to her to be Palestinian. 
"To be Palestinian is to know heartache and loss so deeply and intimately, you don't know what it feels like to live without it," Treish said. "To be Palestinian is to bond over the stories of your grandparents who became refugees when they were your age now." 
Treish paused once during her speech to fight back tears. She described her social media feed, filled with graphic images of bloodied bodies and shell-shocked Palestinians, and said she feels "constantly in a state of distress." 
Treish and other speakers also commented on U.S. funds spent on Israeli security. She said she believes this money would be better spent in areas like student loan relief and subsidized health care. 
According to the U.S. Department of State, the U.S. has spent "over $130 billion in bilateral assistance focused on addressing new and complex security threats, bridging Israel's capability gaps through security assistance and cooperation, increasing interoperability through joint exercises, and helping Israel maintain its Qualitative Military Edge (QME)."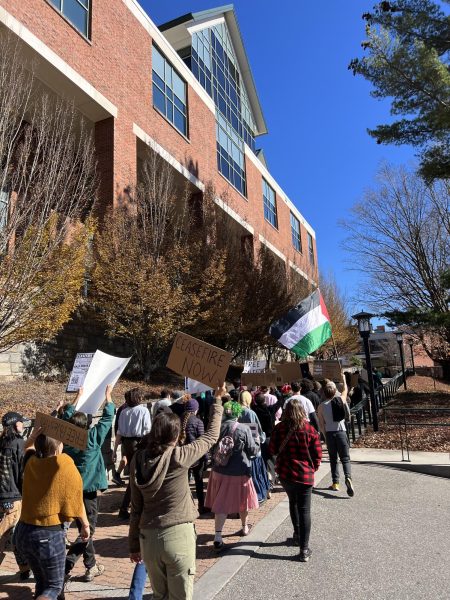 Another speaker, Juliana Maurer propped a sign against her leg as she spoke. The sign listed the contact information of different state and federal representatives, including NC House Representative Virginia Foxx and Senators Ted Budd and Thom Tillis. She said she urges those listening to reach out to these representatives and voice their opinion on the Israel-Hamas war and U.S. government spending. 
"Be annoying about it," Maurer said about contacting representatives. 
Two App State alumni traveled from Burlington, North Carolina, to attend the rally. Ian Drewery said they heard about the rally through an Instagram post made by one of the rally organizers and decided to attend to be able to support the cause in person.  
"I decided to attend because I have been advocating and really trying to call attention to what's going on from behind the screen, but it's been on my heart to do more beyond the screen and to be able to, you know, visibly and publicly support," Drewery said.
Education is one of the most important parts of supporting Palestine, Drewery said, and those looking to inform themselves on the Hamas-Israel war should look to first-hand accounts for reliable information. 
"We've talked to several people and they still say that they're uneducated on the issue when there's no reason. People are risking their lives to spread what is happening in those atrocities, so the least we can do is listen to their words," said Sonder White, who attended the rally with Drewery. 
Salwa Ali Ben Zahra, an associate professor and director of the Arabic program at App State, held a sign at the rally of a symbol that was created by her former student. She said the symbol on the sign is the Arabic spelling of the word for peace. 
Salwa said she attended the rally to pay respect to victims on both sides of the war. 
"So I'm here to support the Palestinian people but above all is the message for peace because I sympathize with both sides," Zahra said. "You know in the case of conflict like this everyone loses."
Zahra said she feels that the actions of the political representatives on both sides of the war are making decisions that will affect the most vulnerable populations of Israel and Palestine, such as children and the elderly. 
"History has proven that violence is fruitless," Zahra said. "It leads nowhere, you know, we should have learned this lesson from history centuries ago. But unfortunately, the politicians keep repeating history."