Women's basketball falls behind early, loses to Trojans
App State women's basketball (10-11, 5-7 Sun Belt) fell behind early to the visiting Trojans (13-9, 8-5 Sun Belt) and never led in a 108-87 loss.
Troy's 108 points are the most the Mountaineers have allowed since giving up 111 to Kentucky on Nov. 14 in the first game of the season.
In the first half, App State fell behind early but twice saw sophomore guard Joi Jones tie the game with layups, but the Mountaineers were never able to grab a hold of the lead.
The Trojans shot 63 percent in the opening half, including a 62 percent performance from 3-point range.
App State shot 50 percent in the first half, but connected on just 31 percent of their 3-pointers.
Despite a team-high 13 first half points from senior guard Katie Mallow and Jones' eight point contribution, the Mountaineers went into halftime facing their largest deficit of the evening after junior guard Simiah Blount drilled a late 3-pointer to put Troy up 59-43.
The second half featured more of the same for the Mountaineers, who shot just 38 percent from the field in the final 20 minutes while the Trojans shot 54 percent.
From 3-point range, App State made only one of their seven second half attempts.
The Trojans continued to hit shots, and opened up a game-high 25 point lead when junior guard Ashley Beverly-Kelley hit a jump shot just over five minutes into the second half.
"They were just on fire and it wasn't just one person," Mallow said. "They just beat us in transition."
The closest App State closed in on the Trojans in the second half was 14 points.
"Their offense was good," head coach Angel Elderkin said. "They shot it really well. They just pushed the tempo and took quick shots. When they lose, those shots don't fall. That's who they are, that's how they play."
The loss is the second in the row for the Mountaineers, who gave up a double digit lead to Louisiana in their last outing, eventually losing on the road 70-66.
Four players scored in double digits for the Mountaineers, whose 87 points is the team's most since also scoring 87 on  Jan. 19 against the same Trojans on the road.
Jones and Mallow with 13 and 16 points, respectively, join junior guard Bria Huffman and junior forward Ashley Bassett-Smith on the double digit list. Huffman scored a team-high 17 points while Bassett-Smith contributed 14 points off of the bench.
The game marked the third-straight the Mountaineers have played without senior forward Maryah Sydnor, who suffered a lower body injury Jan. 24 against Texas State. Sydnor leads the team in scoring with an average of 18.1 points per game.
Elderkin said the team has been working on filling the void that Sydnor's absence has left- something she said didn't happen against Troy.
"We're trying to get other kids to show up," Elderkin said. "It's just trying to get everyone to give a little more than what they've been giving. Everyone has to show up. When we don't have everyone, we can't win."
App State next plays Thursday in Boone against UALR- a team that defeated the Mountaineers 69-48 on Jan. 10. Tipoff is set for 5 p.m.
Men's basketball outlasts Trojans, snaps two-game losing streak
App State men's basketball (9-12, 6-6 Sun Belt) took advantage of a balanced offensive attack from their starting lineup and edged visiting Troy (9-13, 4-9 Sun Belt) 65-62.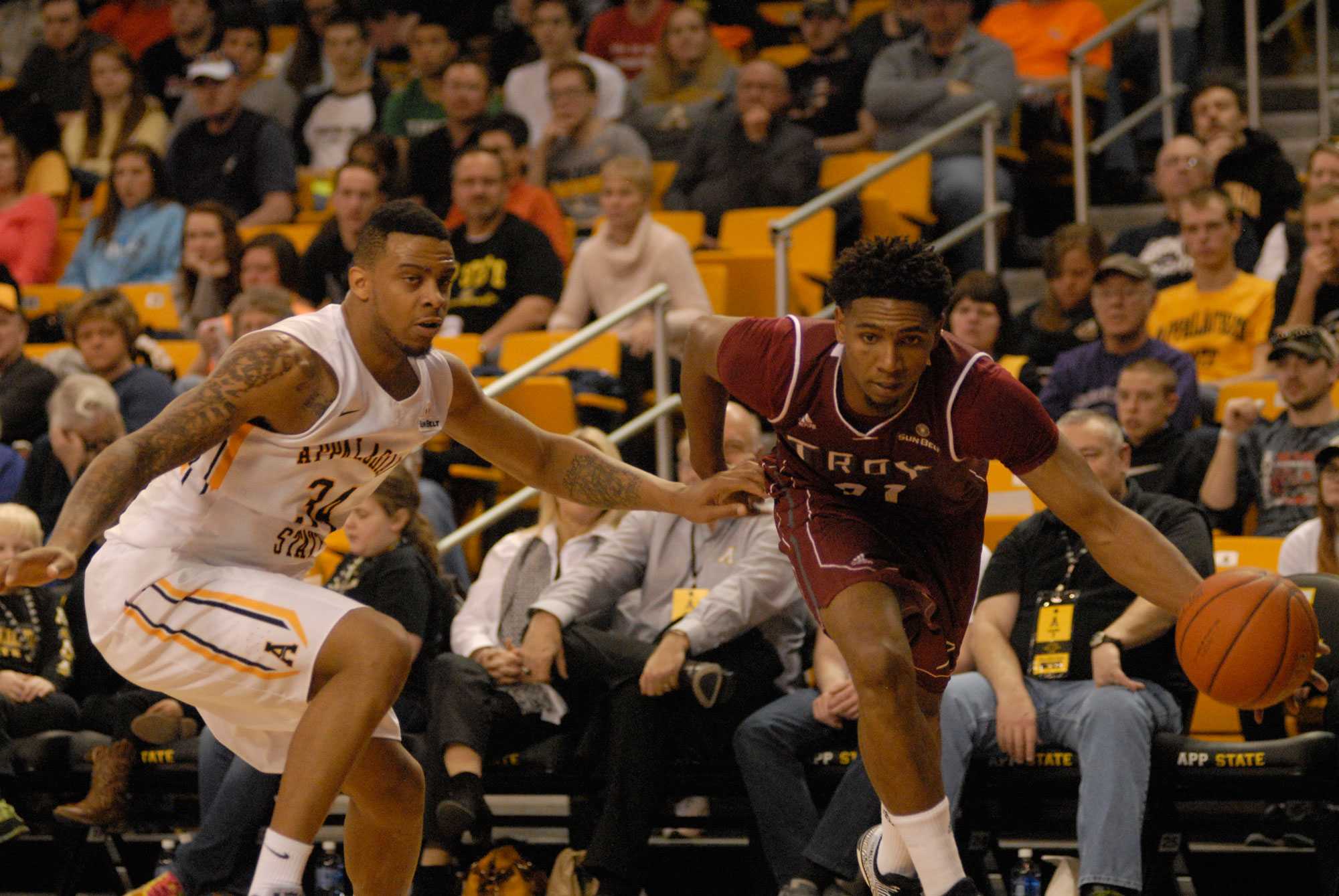 Three of the Mountaineers starters, senior forward Tommy Spagnolo, junior guard Chris Burgess and junior guard Frank Eaves all scored in double digits while junior forward Michael Obacha freshman forward Jake Babic were close behind with eight and nine points, respectively.
Early in the first half, the Mountaineers were led by great play from Obacha, who scored App State's first six points to give the home team a 6-4 lead.
"Obacha took it upon himself to make sure we didn't have another slow start," head coach Jim Fox said. "Everyone made contributions and that's what we look for with this team. It's an equal opportunity offense."
App State took advantage of a strong first half, shooting 50 percent from the field compared to Troy's 37 percent to take a 33-27 lead into halftime.
Fifth-year senior forward Tommy Spagnolo, who has been a difference maker of late for the Mountaineers, was held scoreless in the first half and didn't attempt a field goal.
Early in the second half, however, Spagnolo scored App State's first four points and the Mountaineers never trailed down the stretch.
"You're not going to hold Tommy down the whole game," Eaves said. "He's a good player so we definitely looked to get him going. When I saw he was open, I tried to feed him."
Troy senior guard Musa Abdul-Aleem hit a 3-pointer in the game's final four minutes that knotted the score at 59, but the Mountaineers rallied to score six more points, including a 3-pointer of their own courtesy of Burgess.
The Trojans clawed to within three points in the dying seconds thanks to another 3-pointer from junior guard Chris Bilbo, but App State was able to run the clock out and take the win in front of more than 2,300 fans in Boone.
"We didn't always play smart, but these guys will always fight," Fox said. "We made big plays when we had to on offense. Because of that, we were able to get a great win against a very good team. I'm proud of our players."
The Mountaineers return to action Thursday at 7:30 p.m. against UALR, who defeated App State 64-46 on Jan. 10.
This time, however, App State has the home court advantage- something that Eaves said has been very important for the team.
"I can't thank the fans enough," Eaves said. "You can feel the energy. Our fans stood behind us the whole way. It was good for us. I'm glad we had the support we did today."
Story: Cory Spiers, Sports Editor
Nicole Caporaso, News Reporter
Photo: Cory Spiers, Sports Editor