Appalachian African Community hosts fashion show
The fashions of multiple African nations were represented Saturday at the Appalachian African Community's fashion show in the Blue Ridge Ballroom of Plemmons Student Union.
The countries included Somalia, Ghana, Congo, Uganda, South Africa, Kenya, Senegal and Zimbabwe, among others.
"The show included musical and drum performances in addition to an international food tasting," said Cassidy Storm, junior sustainable development major and vice president of Appalachian African Community. "For the fashion aspect of the show, we contacted university professors and local community members who had been to Africa to collect items to use the day of."
Storm modeled an orange, yellow and green dress from Ghana in the show.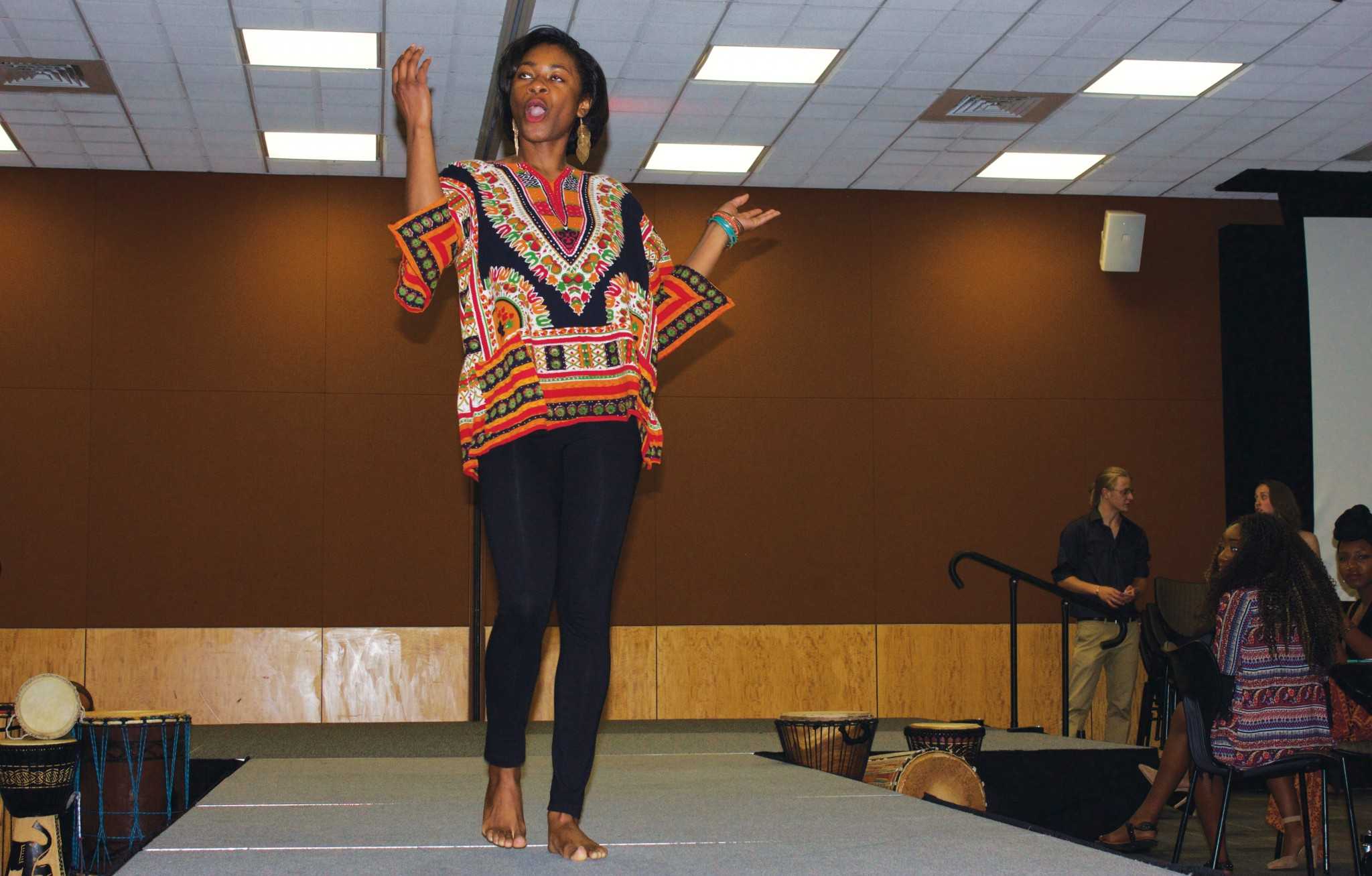 "I chose [the dress] because it was breezy and complimentary for my figure," Storm said. "All the fashion in Ghana has so much color. It was such a fun dress."
Sophomore chemistry major Patrick Nshizirungu designed his outfit after the Maasai, a nomadic people who reside primarily in Kenya.
"I'm not from Kenya but I'm from the Congo, which has a similar background and culture," Nshizirungu said. "My outfit has a spear and a shield, which is how they dress in the Maasai. They grew up in a place where they have to hunt."
In addition to showcasing fashion, Storm said the event will help assist a former club member in paying for her airfare to visit Kenya. A table was also offered for guests to write letters to survivors of the April 2 terrorist attack at Mount Kenya University in which 147 people were confirmed to have been killed.
"Even from a distance we can find creative ways to show support and acknowledge their struggles," Storm said. "We can always raise money or send a letter."
There is more to Africa than most people know, Nshizirungu said.
"We want to let people know that we are here and there is a lot going on inside Africa that people don't often see," said Nshizirungu. "There is fashion, there is music. For many people, what they see on TV is the only thing they know. Behind that, there is so much more."
Storm said that she thinks college is a great age for students to learn about other countries, when the mind is particularly malleable and open to learning about new people.
"I deal with fashion a lot in my daily life," said freshman theater major and fashion show attendee Noel Harrold. " While fashion can be diverse in style, international diversity usually just isn't present. It's tricky, because it's important not to take another person's culture and exploit it. However, it's a huge problem that there's often no representation at all."
In addition to African countries, the club also has members from Mexico, Japan and Korea,  Storm said, and club leaders insist all members from Appalachian's community are welcome to join the club.
"[The Appalachian African Community] is not just for people who are from Africa. We do this to get together to serve the community. We have a lot of people whose parents were born in Africa but might not know about it so much. We're here to learn together," she said.
Every month, the Appalachian African Community presents a different documentary about Africa, including showings about piracy and conservation. In addition, the club has promoted local charities; members donated more than 500 pounds of food this year to the Hunger and Health Coalition, and have worked with Habitat for Humanity.
The club meets every Thursday at 7:30 p.m. in Watauga River Room of Plemmons Student Union.
STORY: Kelsey Hamm, A&E Reporter