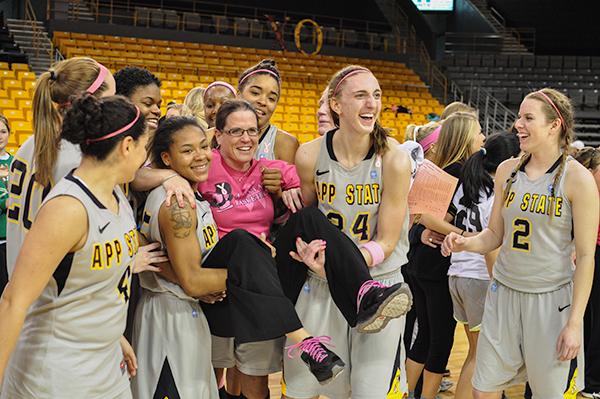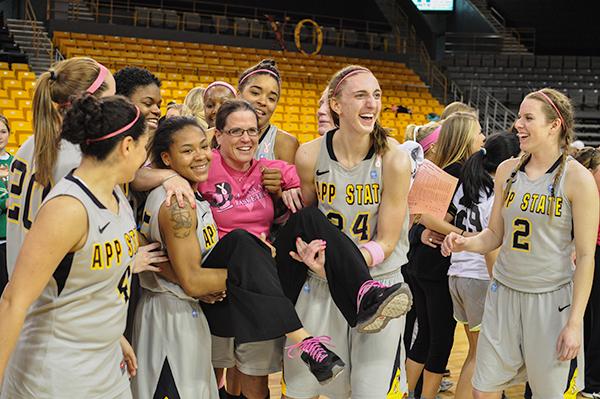 The Appalachian State women's basketball team was playing for several different reasons Saturday afternoon.
In its annual Play 4Kay game, the team wanted to bring awareness to breast cancer to raise money for the Kay Yow Foundation and have a season sweep of Southern Conference rival Wofford.
They were also playing for head coach Darcie Vincent's 100th win at Appalachian.
"We actually didn't know about it until after the game, they were trying to keep it as a little secret," senior Raven Gary said. "One hundred games – that's great."
With this win, the fifth-year coach is now the second winningest coach in Appalachian women's basketball history.
Senior guard/forward Courtney Freeman said she was tough from the beginning and was a "fire-cracker" when they first met.
"Just by nature, she's such a competitor and that's kind of rubbed off on our team," Courtney Freeman said. "She's recruited high-character kids and forced them to be competitors and that's why she's been successful."
Vincent admits that she couldn't have gotten to this point without the help of her players.
"Obviously any margin or century mark you hit is a great honor," Vincent said. "It's hard for me to celebrate it alone, based on the fact that [Kelsey] Sharkey, Anna [Freeman] and Courtney [Freeman], were responsible for basically 91 of those."
"I'll realize it probably at the end of the season when all this other focus isn't there, but to get it in five years, it's pretty nice," Vincent said. "And to be in a program where you realize you have more wins than losses – that's always a good statement no matter how you look at it."
Both Anna Freeman and Courtney Freeman said they believe she will easily break the record.
"She's never going to give up," Anna Freeman said. "She'll be 80 years old and she'll be yelling at her team to do something different. She is going to have a successful career all the way through."
Senior forward Anna Freeman said Vincent was the "mother figure" on the team.
"She's the one that gets on us when we mess up and congratulates us when we do something good," Anna Freeman said. "She's definitely involved with the team off the court as well as on the court."
"She's going to be somebody you want to keep in touch with for the rest of your life," Anna Freeman said.
Story: KAITLYN THRUSTON, Senior Sports Reporter
Photo: JUSTIN PERRY, Senior Photographer