Appalachian State women's soccer welcomes spring season to train, develop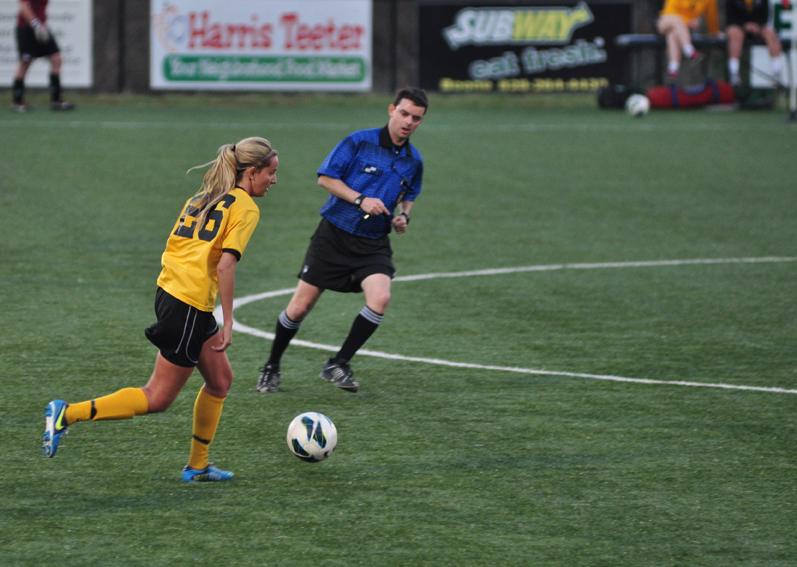 When spring rolls around and days start warming up, the Appalachian State women's soccer team hits the field to the develop their skills as they prepare for next fall.
The team has six exhibition games this spring, including three at home to start the season, but the most important part of spring is the practices.
"We get to do a lot of development with individual players," head coach Sarah Strickland said. "In the fall, we're straight into games and it's preparing from one game to the next and fixing things that are wrong within the team, and in the spring we can really focus more on the players."
Junior defender Amy Werdine said the spring is a time to "work on our weaknesses without having fear."
"The spring is a time for us to develop and work on things that maybe we've been struggling with," Werdine said. "The fall is a time for getting in team shape and preparing for our next opponent."
Werdine said that at the beginning of last fall, they were a little worried about what would happen after losing four seniors, two of which were captains.
"We're making sure everyone is staying motivated and that they stay on top of things that need to be done," Werdine said. "It's been tough, but we've had a lot of people step up and it's been better than what we initially thought it would be, replacing those four students."
Dealing with newcomers and seniors hasn't been the only problem. They have also had to deal with the weather.
"We've had, I think, three practices outside, one of them was in 32-degree rain, and it's just different," Werdine said. "The indoor is only 60 feet and our field is twice the size of that. This last practice, we were really just bunched, up and when we got back it was like 'We have all this room.' It's definitely an adjustment."
Strickland said that with all the team has had to face this spring, she is most proud of their hard work.
"It's difficult when you can't practice outside due to the weather," Strickland said. "We've been outside twice and we've played one day of games outside. The effort the girls have put in has been unbelievable."
Story: ANDREW CLAUSEN, Sports Editor
Photo: BOWEN JONES, Intern Photographer