Appalachian student wins national interior design competition
This June, an Appalachian State University senior won the 37th Annual Cooper Lighting SOURCE Award in a national lighting design competition.
Hazel Chang, an interior design major, received a glass trophy, $1,500 and a trip to Las Vegas to accept her award.
For her project, Chang designed renovations for a traditional barbecue restaurant in Kenya, called the Infamous Carnivore Nairobi.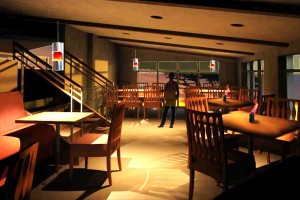 Each project was required to adhere to a concept that would be present throughout the student's entire design. Chang chose to use the theme of fire for her design.
"Your concept drives everything," Chang said. "So even my chairs have wooden backs that were spiralled to go with my fire theme."
The idea to use fire for Chang's concept was due to the fact that it is already a key part of the restaurant. The restaurant's central piece is a fire pit where the meat is barbecued.
Chang said the process of creating her floor plan, which is similar to a blueprint, was a long one and that research had to be done before any designing occurred.
"What I did in pre-design was just study the culture of Kenya and figure out what they want in a restaurant," Chang said. "It was extensive, maybe a month just studying Kenyan culture."
Other than requiring the competitors to follow a specific theme, the competition's guidelines were fairly broad.
"There aren't a lot of requirements about what a project can be," said Jeanne Mercer-Ballard, one of Chang's professors who taught her in two concurrent classes the semester she entered the tournament.
According the the Cooper SOURCE website, www.cooperindustries.com, the only rule is the competitors must use mostly Cooper products in their designs. The winner is picked by a panel of independent lighting and design professionals from across the country, as well as a representative from Cooper Lighting.
Mercer-Ballard said the competition is one of the most competitive in the country.
"It's a very, very prestigious award for interior design and lighting design," Mercer-Ballard said.
"Parsons [The New School for Design] and other big schools usually win every year, so beating them this year was a big thing," Chang said.
According to www.cooperindustries.com, the runners-up were from The University of Cincinnati and Parsons The New School of Design, two of the most elite design schools in the entire nation.
Chang said one of her professional goal is to use interior design to help those with disabilities such as Post Traumatic Stress Disorder. She said she's always been aware of the design aspects that help people with disabilities, including access ramps and emergency exits, but it was not until working on this project that she considered how lighting can be used to assist those with handicaps.
"This project definitely opened my eyes to the lighting aspect of it," Chang said.
Story: Thomas Culkin, Intern News Reporter