Appalachian students do the 'Harlem Shake'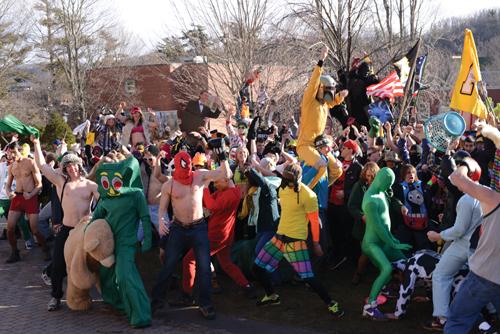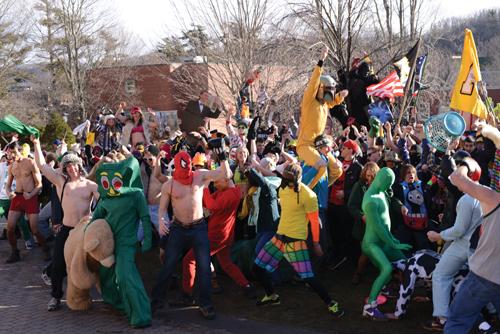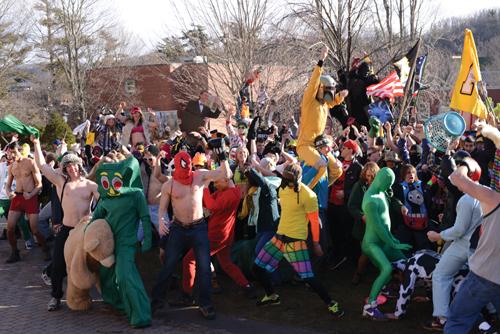 Appalachian State University students joined in Saturday on one of Internet's most recent viral video fads: "Harlem Shake."
Hundreds of students gathered in front of Plemmons Student Union at Sanford Mall to film Appalachian State's "Harlem Shake" video Saturday.
Sophomores André Trowell and Andrew Ortiz teamed up to arrange the filming of the video.
"To have seen it start as just an idea and, just overnight, turn into as big of an event as it was has been simply amazing," Ortiz, a sophomore English major, said.
Lead videographer Alex Wolf filmed the video from the top of the Lucy Brock Child Development Center.
"The hardest part was deciding on the angle for the video for such a large amount of people; I had to climb a building," Wolf said.
The video included a Gumby character, a crowd surfing canoe, university flags and typical snowy, Boone winter weather.
Sophomore Parker Arnold was chosen by the lead organizers to be the starting dancer, something necessary for a routine "Harlem Shake" video.
He performed in a Star Wars helmet.
"I was actually really honored to be chosen to lead it," said Arnold, a sophomore graphic arts and imaging technology major. "I've never in my life had literally hundreds of people cheering for me while I pretty much humped thin air. It was amazing to be part of such a big event with the school and felt great to just get crazy with everyone."
Filming the video only took a few takes and lasted about an hour total while students stood in the freezing temperatures.
Since there were no permits given for this event, campus police arrived shortly after finishing the filming of the video. Although no charges were made, the police informed the students they would have to file the incident.
As of press time, the video had over 45,000 views.
"What makes the 'Harlem Shake' so popular is the fifteen seconds of complete anonymous fun because no one knows who is who," said Trowell, a computer information systems major.
To watch the video, click here.
Story: MICHELLE PIERCE, Intern News Reporter
Photo: COURTNEY ROSKOS, Senior Photographer