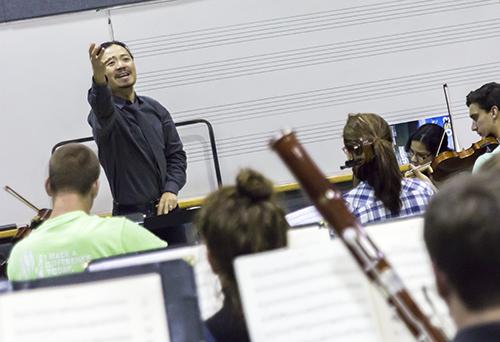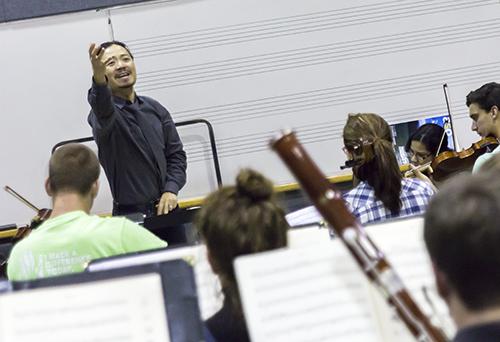 The Appalachian Symphony Orchestra will return under the direction of conductor and Director of Orchestral Activities Chung Park on Friday at 8 p.m. in a program that includes classical-era composers Beethoven and Mozart.
"This music has been around for 200 years because there are millions of people who are affected by it in a deep and meaningful way across the years, cultural barriers and in every country on every continent," Park said.
Park, director of orchestral studies at Appalachian State University, will be leading an orchestra of 60 students, including graduate performance major and concertmaster Alice Silva.
"I absolutely believe everyone should attend live performances," Silva said. "It's definitely an experience that not many people have, and I am sure everyone would appreciate classical music. It's a beautiful art."
The concert program is set to include Strauss' Vienna Philharmonic Fanfare, Beethoven's Sixth "Pastoral" Symphony in F major and Mozart's Concerto for Piano and Orchestra in B-Flat, K. 595, which will feature esteemed soloist Bair Shagdaron, who is a professor of piano in the Hayes School of Music.
Shagdaron is the only featured soloist in the concert and last performed with the orchestra in December when they took on Rachmaninoff's Second Piano Concerto.
A renowned asset to the Hayes School of Music faculty, Shagdaron studied at the Moscow Tchaikovsky Conservatory under piano legend Tatiana Nikolaeva's tutelage.
"My ultimate goal, my very open agenda, is for every student who comes into the music program or comes to a concert to love music even more after being in contact with us than they were before they met us," Park said.
Park said Shagdaron's solo performance of the Mozart concerto will "show his versatility" in contrast with the Romantic-era Rachmaninoff piece.
"I look for music that is challenging yet meaningful to my students," Park said. "I strive for every performance to be musically rewarding, not just a dry pedagogical exercise."
The orchestra performs once a semester, and for now they'll host their concerts in the newly refurbished Schaefer Center.
"These are your classmates playing – doing something that has required years of concentrated effort, even before they stepped foot on this campus," Park said. "They're working their tails off to give you something magical, nothing less."
Story: COLIN MOORE, Senior A&E Reporter
Photo: PAUL HECKERT, Senior Photographer