Upon moving to Boone, students at Appalachian State University may quickly find themselves immersed in Appalachian culture and music.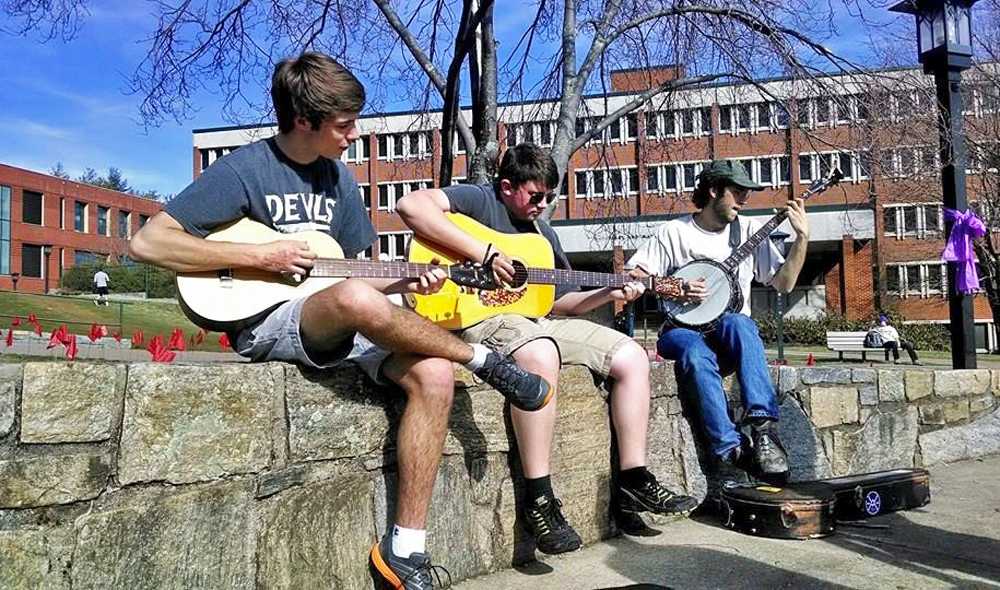 Bluegrass and old-time are two traditional music genres that thrive in the area, as displayed by student musicians, community jam sessions and events at Appalachian such as on-campus square dances and the Old-Time Fiddlers Convention.
Two Appalachian students who have found themselves enamored by bluegrass and old-time influences of the region are sophomores Ben Banick and A.J. Bennett.
Bennett, a history education major, met Banick, a biology major, in an orientation group when the two bonded over a conversation about banjos.
Unlike many students who may not have listened to bluegrass or old-time prior to living in Boone, Bennett has been attending and participating in bluegrass jam sessions for as long as he can remember.
Bluegrass and old-time may sound very similar to the untrained ear, but Bennett notes there are several important distinctions. Both genres traditionally use the banjo, mandolin, fiddle and guitar, but old-time additionally will employ an open-back banjo played clawhammer style, while bluegrass is played finger-picking style with a banjo and a resonator on the back. Musically, old-time typically employs a fiddle player to play the melody, while in bluegrass the musicians usually take turns.
"It seems in bluegrass you share the music a lot more, and you pass the song around a circle," Bennett said.
While Bennett is more partial to bluegrass, Banick has found his passion in old-time. Banick has been playing banjo for the past five years, and while he also plays guitar, he is currently focused almost exclusively on the banjo. The old-time musician said he enjoys the genre as a dance music, describing it as "rhythmic."
Since coming to Appalachian, Banick has formed an old-time band known as Skillet Gap, consisting of himself, a fiddler, and a guitar and bass player, all of whom are students.
The group got its name from a backpacking adventure they had freshman year, in which the soon-to-be band found themselves lost in Linville Gorge and managed to find their way after noticing a skillet nailed to a tree, a marker they were looking for.
Banick said the Boone area has influenced him musically almost by default.
"By coming up here you're just exposed to a lot more [bluegrass and old-time], and the more you're exposed to it, the more you find these little avenues that you want to discover [and] different people who you want to follow and learn from," Banick said.
Virginia Reed, Appalachian Heritage Council chairperson and junior public relations major, has seen firsthand how music in Appalachia has influenced the community.
"I think a big aspect of Appalachian music is that it's very collaborative," Reed said. "A big part of it is jam sessions in a community, so everyone can jump in and start playing something. It's not exclusive, it's inclusive."
Both Bennett and Banick agree that the best way to get involved in the Boone music scene is to listen to and participate in local jam sessions, such as those occasionally at the Jones House or weekly at Murphy's Restaurant and Pub.
"Everybody that's not tied into the bluegrass world is just missing out," Bennett said. "It's a lot of fun and a lot of good music, and just good times."
Story: Liz Flamming, Intern A&E Reporter