Area band Corporate Fandango to headline small stage at Legends Friday night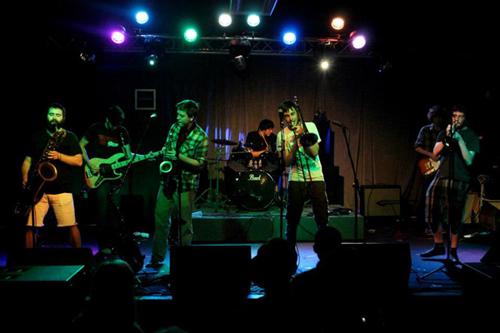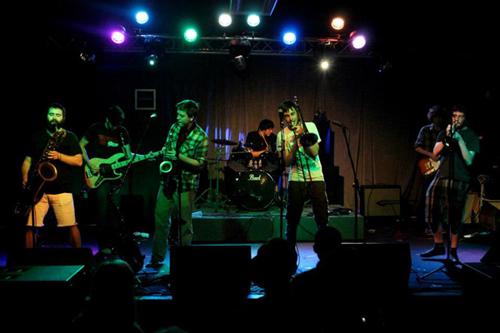 Corporate Fandango, an area ska and progressive rock band, will perform at Legends Friday night.
The seven members of Corporate Fandango all hail from various parts of North Carolina, such as Boone, Winston-Salem and Greensboro.
Though not currently signed to a label, the band has released two EPs and a 10-track studio album called "Spumoni." Their music is available to stream on Myspace and last.fm and for purchase on Bandcamp.
Their 2011 four-track EP Lunch Money was recorded in the Robert F. Gilley Recording Studio located in the Hayes School of Music.
"The band is a pleasure to deal with," said APPS Program Coordinator Randy Kelly. "Their 'ska' energy gets the crowd in a really fun mood."
The show will be presented on the small stage at Legends by APPS Club Shows.
Kelly said these smaller shows "emphasize local… and up and coming bands that are reviewed with excitement in the smaller clubs of major N.C. towns."
Corporate Fandango has played numerous shows in Boone. The last time they appeared at Legends was in 2011 when they opened for Holy Ghost Tent Revival. The band has also opened for local rock band Jonas Sees in Color.
"We love to play in Boone," the band said in an email. "It almost seems like a second home to us… Every show we've had the opportunity to book through [Legends] has been a great success."
Members of the band have been playing together since 2006, although the current lineup was finalized in the summer of 2009 with the addition of trumpet player Sean Kelly and tenor saxophonist Jon Moore, who also sings backup vocals.
Other members of the band include Adam Collis on trombone and lead vocals, Cheston Harris on baritone and alto saxophone, Travis Dodson on guitar, Tyler Hernandez on bass and Luke Nelson on drums.
Doors for the show open at 9 p.m. on Friday. Tickets are $3 in advance for Appalachian State University students and $5 at the door and for guests. The show is BYOB with proper identification.
Story: COLIN MOORE, A&E Reporter

Photo: Courtesy: Kyra Collins