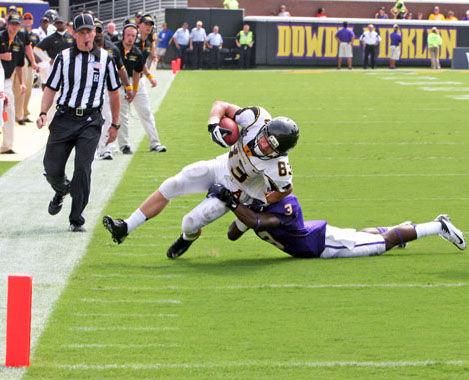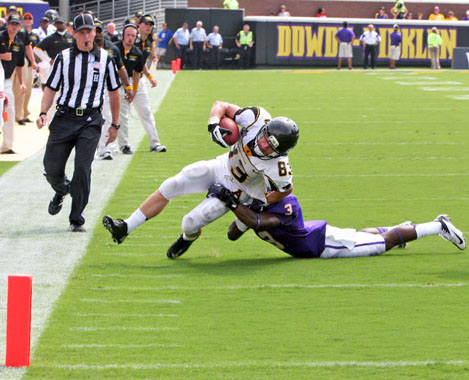 The Mountaineers season got off to a disappointing start after losing to East Carolina 35-13, Saturday.
The score was high contested throughout the game but ECU pulled ahead in the fourth quarter.
"You can't play any harder than what we played." Head Coach Jerry Moore said. "I was excited just to be in the same locker room with a bunch of tough, good football players."
App started the game strong. ASU quarterback Jamal Jackson orchestrated a flawless opening drive, completing all five of his passes for 48 yards, as well as running in the first touchdown of the game from four yards out.
This would prove to be ASU's only touchdown of the game, despite the team's effectiveness moving the ball down the field.
Jackson finished the game 23-40, passing for 300 yards and the team racked up over 400 yards in total offense.
"We moved the ball and put up some pretty good yards," Jackson said. "We just shot ourselves in the foot with turnovers and penalties. We've got to work that stuff out."
The team piled up 11 penalties costing them 100 yards as well giving the ball up three times, most costly a momentum changing second quarter fumble by Jackson returned 45 yards for a touchdown by ECU's Chip Thompson tying the game at seven.
But the 35 points the Pirates scored is misleading to how well the defense played, especially in the first half.
ASU's linebacker Jeremy Kimbrough's six tackles and Sander's pick, App held the Pirates to one offensive touchdown that came on a mere 17 yard drive.
"Our main goal was to tackle well and play hard," Kimbrough said. "As the game wore on some things just happened, and that's just stuff were going to have to correct."
The defense wore down in the fourth quarter as ECU pulled away on a humid afternoon in Greenville with temperatures reaching up to the 90s.
"I come away thinking we've got a chance to be a good football team." Moore said.
ASU's next game is against No. 11 Montana at Kidd-Brewer Stadium, with kick-off at 6:30 p.m.
Story: JORDAN DAVIS, Intern Sports Reporter
Photo: AMY BIRNER, Intern Photographer