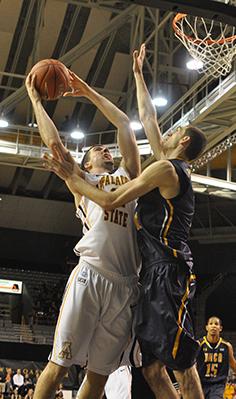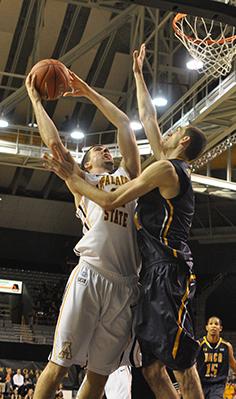 It was a tale of two halves for Appalachian State University men's basketball, but the team pulled out its fifth straight win over UNC-Greensboro with a final score of 83-70.
The Mountaineers (7-8, 3-1 SoCon) struggled against the Spartans' high-powered offense and lacked the ball movement necessary to create any kind of rhythm offensively.
UNC-G (3-12, 1-3) leads the Southern Conference in scoring with 74.2 points per game.
The second half, however, was all Appalachian.
The Mountaineers stormed out in the second half and went on a 13-0 run.
Forward Nathan Healy said he didn't think they necessarily played bad, just UNC-G played really well.
"In the second half, we knew that if we stepped it up a notch, big things would happen," Healy said. "That's a testament to our team… I believe in every single one of them."
Healy and guard Mike Neal led ASU with 24 and 19 points respectively, both scoring a majority of their points in the second half.
Forward Tevin Baskin continues his good play off the bench with 16 points and four rebounds.
Healy and forward Jay Canty both led the team with nine rebounds. Canty had 14 points and four assists, as well.
Plagued by turnovers and foul trouble, UNCG lost their edge in the paint and allowed 24 points off turnovers alone.
UNC-G's main weapon and the SoCon's leading scorer, Trevis Simpson, dealt with foul trouble the whole game and would foul out in the second half, but still managed to lead his team with 22 points.
Up 15 with 1:31 left in the game, Appalachian emptied their bench as their final group left to a standing ovation.
"I'm really proud of us," head coach Jason Capel said. "We got to get off to better starts, but what I really like about this team is our confidence. They threw the first punches and we played selfishly. In the second half, we really set the tone physically."
Story: ANDREW CLAUSEN, Interim Sports Editor