ASU student uses pageants to campaign for special education
An Appalachian State University student was crowned as Miss Asheville on Nov. 8, just one step in her journey toward competing for the title of Miss North Carolina.
Brianne Schlott, a senior special education major, said she became involved with pageants last year through the Miss America Organization, which provides scholarship money to its pageant winners.
Schlott, who won $1,100 by becoming Miss Asheville, said she initially started pageants because of the scholarship money, but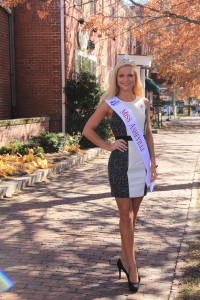 it has made a more meaningful impact on her life. She is now able to spread the message about her platform.
"Mine is to the R-word campaign, and in use of the word 'retarded' being a derogatory form of language," she said. "I thought that was pretty cool to be able to spread the word, because it's so simple for people to get out there and be aware of the word and know the derogatory meanings behind that."
Schlott said one of her reasons behind looking forward to competing in the Miss North Carolina pageant in June is that it would possibly give her the opportunity to meet Thom Tillis and discuss education with him. Additionally, she would like to be able to represent the area.
"I'd love to bring home the crown of Miss North Carolina," Schlott said. "The last Miss North Carolina to win Miss America was Miss Asheville in 1962. So, the crown kind of stayed in the mountains and I want to bring it back and represent the Miss Asheville sisterhood as well as I possibly can."
Schlott said she doesn't understand why some people think pageants are objectifying to women.
"What people don't understand is what I've gained out of pageants," she said. "It has made me more of a confident speaker. I have learning disabilities in reading and learning comprehension. Before I couldn't pronounce certain words, but now I can give them what's on my mind and tell them what I believe in."
Schlott said she has become more mature and responsible. She feels people are depending on her to be a role model.
Being ready for pageants involves a lot of preparation for Schlott, as pageants involve several portions.
"I constantly read CNN news and newspapers to be up-to-date on current events because we have a 10-minute interview for these pageants, and it's one-on-one with the judges and they can spit out anything they want at you," she said. "Also, I have to be in peak physical shape. I have to get on stage with a bikini and high heels, so it can be kind of awkward at times, but they're looking for self confidence, so by working out, that's what helps me get out there."
Emery Sherrill, a senior exercise science major, has been working with Schlott to perfect her talent, en pointe ballet.
"We have been meeting a couple times a week leading up to her pageant to work on enhancing her pointe dance by adding harder elements to it," she said. "Brianne is such an inspiring and compassionate person. You can tell instantly that she cares about the people around her and wants to make a positive impact on each and every person she meets."
As a role model, her message is one of encouragement.
"You can be and do whatever you set your mind to," she said. "I work with students with severe disabilities, but I see so much potential in them and I know if they set their mind to something, it's possible."
Story: Nicole Caporaso, Senior News Reporter