ASU, Wake Forest offer collaborated class concerning rural health care
Appalachian State University and Wake Forest University have collaborated to offer students a one-semester-hour class during the summer as part of Wake Forest's Physician Assistant program.
The class is particularly focused on addressing healthcare in rural areas of North Carolina.
"Wake Forest University PA Program was awarded a Health Resources and Services Administration grant in 2011 to address access to care in rural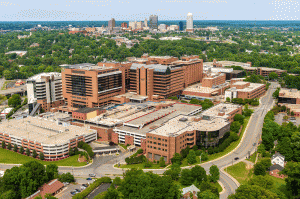 communities," said Celeste Crowe, director of the College of Health Sciences at Wake Forest. "At that time, Appalachian and Wake Forest were looking for ways to develop collaborative experiences to help expose students from both campuses about interprofessional education."
Crowe said part of the grant was utilized to develop this course.
"One aspect of the grant was to develop a course for pre-PA students that focused on team-based, or interprofessional, patient care in rural communities," she said. "The course is offered through our exercise science department and is team-taught with faculty from our exercise science department and Wake Forest's Physician Assistant program."
The class is a hybrid course that will take place from July through August, including three face-to-face meetings on Appalachian's campus.
Travis Triplett, Appalachian's interim chairperson of the Department of Health and Exercise Science, said one of the reasons for creating the class was to have actual physician assistant program faculty teach this course, so the students taking the class can interact with those faculty members and receive advice.
"The medical field is moving toward having more PAs in rural areas to help handle the medical needs of the area, and Wake Forest University wanted to train and place students in a rural area," Triplett said. "The idea behind the course was to introduce students to the profession of physician assistant, and engage students in the style of learning that is used by the Wake Forest University PA program, which is case-based learning."
Applicants are reviewed on criteria including GPA, credit hours earned, the student's interest in the PA profession and whether the applicant is from a rural background, Crowe said.
"We have offered the course for the past three summers," Crowe said. "We have noticed that a significant number of the students who participated in the course were also successful in gaining admission in a PA program; in Wake's program – both in the Winston-Salem and Boone cohorts – and in other programs, such as Wingate [University] and Methodist [University]."
Crowe said approximately 15 to 20 students are typically enrolled in the course.
"There are tuition stipends available for qualified students to participate," she said. "Students are typically notified in late spring whether they have been selected to participate in the course."
Students looking to find information about the course or who are interested in applying can visit hpa.appstate.edu.
Story: Nicole Caporaso, News Reporter