Baskin embraces final season with Appalachian State basketball
Throughout the highs and lows that come with being a Division I basketball player, Appalachian State senior forward Tevin Baskin has continued to keep a positive outlook on his career that's helped him relish his Mountaineer experience as a person, as well as a basketball player.
"It's been a unique situation that I've enjoyed for the most part," Baskin said. "It's had its ups and downs like anything, but overall my thought process was to enjoy my senior year because you can't get it back at the end of the day."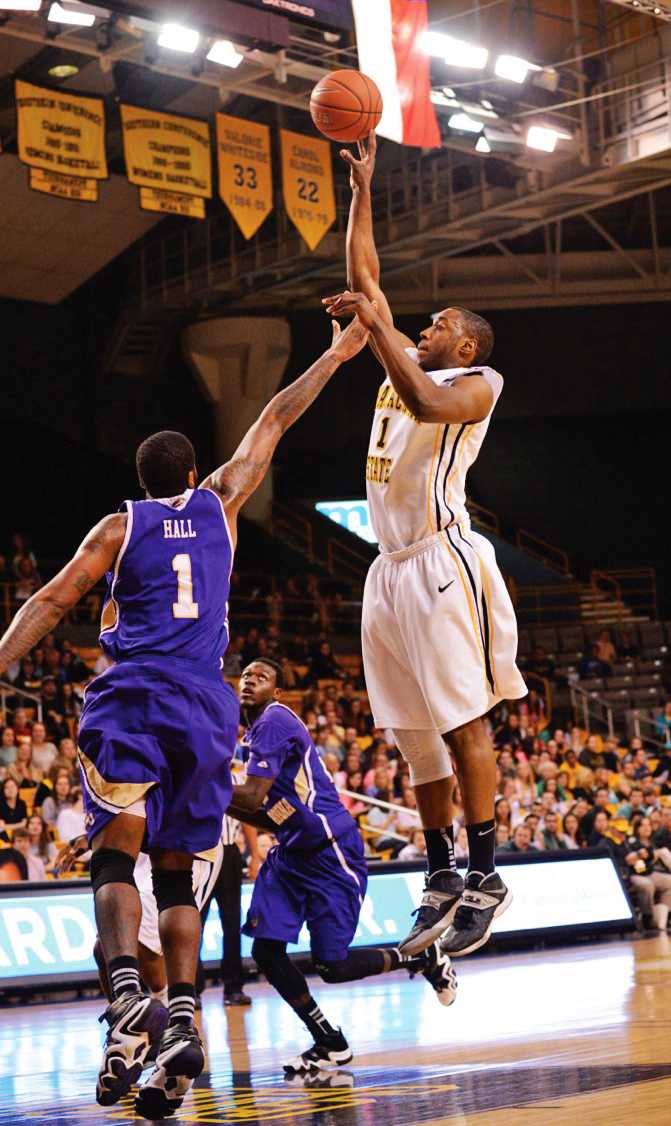 Stepping onto the Holmes Convocation Center floor for the final time Feb. 20 against rival Western Carolina, Baskin notched 11 points and six rebounds in a losing effort against the Catamounts. That game was his second-consecutive double-digit scoring output of the season.
Baskin was recognized prior to the start of the Senior Night game.
"To hear the reaction from the fan base when I was announced was pretty cool, because for the most part I can say I've tried to make a positive impact on everyone's lives I've come across here at App State," Baskin said.
The 6-foot-6-inch forward has been a steady contributor since his arrival in Boone last season. The Chipola College transfer embraced his role as the sixth man last year playing in all 31 games, averaging 10 points and four rebounds per game coming off the bench.
This year, despite minor injuries that saw him fall out of the starting lineup, Baskin emerged as a team-first leader willing to accept any role in order to ensure the squad's success.
"I suffered a minor bump and fell out of the starting lineup and from there, guys started playing well," Baskin said. "When guys are playing well [without me on the court] it's usually easy to complain and find every negative aspect of it, but I think my role this year whether on the court or bench was to continue to stay positive and keep guys going no matter what happens."
Despite a disappointing end to the season, Baskin said he cherishes his experience as a Mountaineer and said his family was a major part of helping him thrive on and off the court.
"My parents, along with my whole family, have just been a great support system overall," Baskin said.
The Mountaineers were eliminated from the SoCon tournament in its first game March 7 against Samford, marking the final time Baskin would play as a Mountaineer.
Baskin will graduate at the end of the year in the same venue he has played basketball for the past two seasons.
"Walking across that stage in convocation  is a double positive for me," Baskin said. "Even though people say [Senior Night] is my final time being in here, it's really not. It's just the icing on the cake."
Story: Ben Cogsdale, Intern Sports Reporter 
Photo: Justin Perry, Web Manager