BEE-lieve it: App State named one of 61 Bee Campuses
By working with Bee Campus USA, the App State Beekeeping Club aims to support black and yellow pollinators for years to come in Boone.
As of January, App State is one of 61 Bee Campuses across the U.S.
Katie Payne and Hallie Graves, alumnae who graduated in May, started the beekeeping club in 2016 and wanted to leave a parting gift before they left App State. Both completed the seven commitments required by Bee Campus USA to become a Bee Campus. Payne and Graves have received their wish because App State is one of the six universities in North Carolina to receive the title.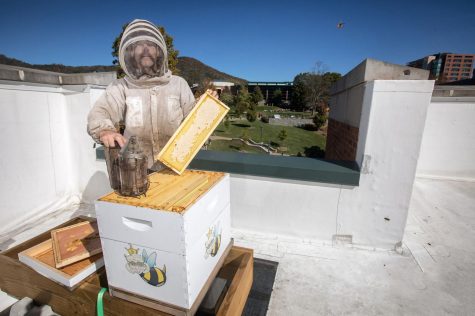 Phyllis Stiles, founder of Bee Campus USA, has awarded campuses across the country for their commitments to pollinators. Stiles said after she started to work with bees she became angered that they were not being protected, so she started the program to provide education and create public awareness.
App State landscapers plant pollinator-friendly plants on campus as a source of pollen and nectar for bees. The beekeeping club continues to provide educational workshops and awareness across campus and in Boone.
App State's beekeeping club is dedicated to maintaining this title in the upcoming years. One of the seven commitments is to report back to the society every year to share how the campus remains bee-friendly.
Myra Solis, sophomore interior design major, is going to take on this initiative as a leader in the beekeeping club.
"The torch has been passed onto us to keep this up," Solis said.
Solis gave a few things students can do to help support bees as a campus:
• Support local beekeepers by attending the farmers market and purchasing honey.
• If you have an apartment off campus you can plant pollinator-friendly plants.
• Be kind to the environment.
Solis touched on the importance of being kind to the environment as a way to support bees and other pollinators because they pollinate over 90 percent of fruits and vegetables. Without bees, there is no food. As one of the 61 bee campuses, the beekeeping club is committed to taking initiative in protecting these pollinators.
If you are interested in joining the beekeeping club it meets every other Monday in Plemmons Student Union. Questions can be directed to the App State Beekeeping Club Facebook page.