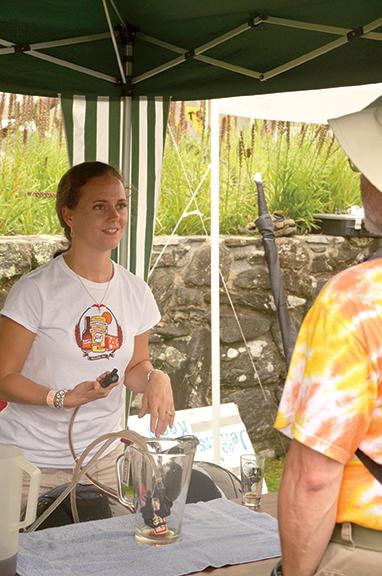 Andy Mason has seen the High Country Craft Food and Beer Festival grow every year for the past six years.
"Every year it's almost doubled until we put a cap on it," Mason said, who brews his own beer at home.
Mason started working as a vendor when the festival first debuted in 2007 and said it's the people at the festival that bring him back every year.
What started as a small beer festival with four vendors and approximately 300 patrons in 2007 has grown into an event with more than 50 vendors and approximately 2,000 patrons for this year's event, held Aug. 31.
This year, the name of the festival was changed from the High Country Beer Festival to the High Country Craft Food and Beer Festival, which better represents the fermentation sciences program, said Brett Taubman, associate professor in the Department of Chemistry at Appalachian State University.
"Obviously, [it's] not just about beer," he said. "It's about all things fermentation."
While the final numbers have not been calculated, Taubman said he believes the festival grossed more than $60,000 this year.
There were more educational seminars held this year as well, which included food and beverage pairing classes and more beer tastings, according to hcbeerfest.com. The Ivory Tower Brewery, which is operated by the university's fermentation sciences program, also had a tent and provided beer samples at the festival.
The fermentation science degree was officially approved by Appalachian State this summer, but Taubman said money earned from the festival each year helped start the degree. The festival also donates a portion of the profits to organizations in the High Country.
Taubman said he considered the event a success, despite the rain that persisted for two hours during the event.
"I think it was nice," Taubman said. "I mean it was the first year it rained on us considerably, but despite that, it still went very well. Overall, I was pretty pleased in general with the event. We raised some money for lots of local charities and the fermentation sciences program."
Sam Howe graduated from Appalachian in 2012 and drove from Charlotte with friends to attend this year's festival.
"I think it's pretty obvious why we came – for the beer," he said. "And good times and friends of course, but mostly just the beer."
Story: CHELSEY FISHER, Senior News Reporter
Photo: CHELSEY FISHER, Senior News Reporter