Best of Boone 2023: Best of Lifestyle
Ella Lewis, Ethan Smith, K. Slade, Andrew Rice, Georgia Dixon, Siri Patterson, Sam Vanolinda, Will Hofmann, Kolby Shea, Colin Bross, Megan Koch, Zoey Sigmon, Cameron Miller, Bobby Phillips, Nataly Aguiar, Ben Brady, James Parker, Madison Lipe, Madalyn Edwards, Ben Gosey, Emily Milano, Trey Blake, Jack Jackson, Kurt Zottl, and Chance Chamberlain
April 5, 2023
Best Overlook: Rough Ridge
By Ella Lewis and Ethan Smith
Rough Ridge is this year's Best of Boone winner for best overlook for the fourth year in a row. As the weather warms, cars will begin to double stack in the lot at Milepost 302.8, on the Blue Ridge Parkway, and people and pets from all walks of life will meander their way along the trail for the views all along the way to Rough Ridge's summit which stands at 4,773 feet in elevation. 
After parking, the first view many will see is a waterfall flowing down the rocks in the parking lot. There are breathtaking views of Linn Cove Viaduct and Grandfather Mountain with distant views into the Piedmont. While pets are not permitted, even on leash, hikers can still pack a picnic and enjoy the spectacular views at this peaceful spot. During the fall, hikers can see the gorgeous scenery of the leaves on the trees changing colors. 
The trail has two options for starting out, with both options containing beautiful sights and amazing photo opportunities. Starting off at the main parking is the more difficult, but the more popular way to reach the Rough Ridge Overlook. Typically, it's more crowded with other people and features a series of small-boulders that can be challenging, especially after rainfall. The other way to reach the overlook is to park at the Wilson Creek Overlook and go along the path of the stone stairs. From there, follow the trail taking you to the parkway and the Tanawha Hiking Trail. 
 Along the trail, there are multiple boulders to relax on to take in every second of the beautiful views. With views like these, there are many photo-worthy snapshots to take. 
"This is my favorite overlook, it has such beautiful scenery," said freshman Trinity Robinson.
This overlook is a favorite for students to relax and take artsy pictures of the scenery. Rough Ridge is the place to experience and enjoy all of the stunning views the mountains have to offer.
Best Local Band/Performer: Luska
By K. Slade
Huddled between the front door and a TV, Luska makes their debut performance in their lead singer's house. String lights draped from high ceilings, lamps illuminate their makeshift stage as Barrett Conner belts out his original song "Solid Ground."
He looks beyond the wall-to-wall crowd. One hundred and fifty people filled his cramped home, gathering in the living room, kitchen, and extending back into his bedroom. The members of LUSKA didn't anticipate such a turnout, only expecting around 30 people. 
Despite officially forming in January, the community voted LUSKA for this year's Best Local Band.
Serving as the lead guitarist and main vocalist, Conner named the band after a historic area of his hometown, Junaluska, wanting to encapsulate the feeling of freedom the area brought to him during his teenage years. He is the band's songwriter as well and most of their songs were written prior to LUSKA's conception.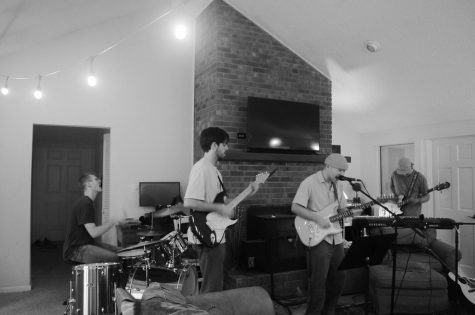 Conner said it was hard to book venues and it was too cold to host an outdoor show so he offered his living space to house the concert. LUSKA feared the floor would cave in beneath them.  
"I was like 'why not do it in our living room, only 30 people will come' but then a lot of people came and we had to worry about the floor," Conner said.
Gavin McDowell is the band's guitarist and balances academics, work, performing and his passion for rock climbing. He started dedicating one day a week for practices.
"Whenever we do have the same opening, then it's like 'clear everything else' like that's the most important thing," McDowell said. 
While another band member, Lee Dees has a full musical roster including skills in 11 instruments, the guitar, banjo, mandolin, and accordion are all featured in some of LUSKA's songs. 
"I think that for me, music is something that comes very, very naturally," Dees said. "Out of all the instruments that I play, the only ones I've ever had actual lessons for were the guitar and the mandolin."   
His musical prowess is where Dees said he feels he can be at his best creatively. 
"Like yeah, 'why not have an accordion in a full band garage rock sound?' or 'this song would sound really sick with a banjo behind it,'" Dees said.  
Dees thanks God for his ability to create such sounds and explore his "creative wackiness."
For as long as LUSKA's drummer Micah Carroll can remember, he always pounded on his chest, thighs, and surroundings to deliver booming percussions.  
The band's Instagram page introduced the drummer, Micah Carroll as someone who likes "shiny things" and "hitting stuff." 
"I don't have silence in my brain because it's just drums all the time," Carroll said.  
LUSKA wants to push out a blend of music and create a space to be musically free. 
"I feel like we're one thing I don't want to be is just like another Boone jam band," Caroll said. "I think we want to try and be something that maybe hasn't necessarily been done before." 
LUSKA drew inspiration from artists like Mumford & Sons and Harry Styles to craft a "neo-garage rock" and "folk-indie" sound.  
"Just to see this place packed and everyone like vibing and jumping along to the music we were making, the art that we were making was nuts," Dees said. 
LUSKA's next performance is at Thaw Out 2023, presented by Appalachian Mountain Brewery on April 22.
Best Ski Mountain: Beech Mountain Ski Resort
By Andrew Rice
First opened in 1967, Beech Mountain Ski Resort is located at 1007 Beech Mountain Parkway in Beech Mountain. During the winter, the resort is open from 9 a.m.- 9 p.m. Sunday through Thursday and 9 a.m.-10 p.m. Friday and Saturday.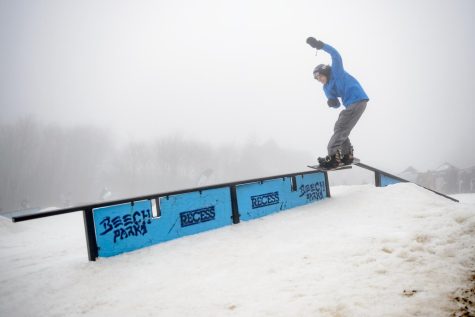 According to its website, Beech Mountain Ski Resort's elevation is 5,506 feet above sea level, making Beech Mountain the highest town in the eastern United States. 
The resort has 17 trails for skiing and snowboarding on its property, including three terrain parks. 
Charles Mclendon, a junior exercise science major, has spent two seasons working at Beech Mountain and said it is distinct from other ski resorts in the area because of its distance from Boone. 
"Beech Mountain is the most well-rounded resort near us and it's far away to the point where it kind of feels like a mini vacation," Mclendon said. 
McLendon also said Beech has been helpful for him as he has learned how to snowboard. 
"It has more than just two trails," Mclendon said. "It has all areas you need to learn instead of just jumping into it and that helped me actually learn how to snowboard this season which is pretty fun." 
Beech Ski Mountain has eight lifts across its property and 95 acres of skiable terrain, with the longest run on the mountain being one mile.
Best Hiking: Rough Ridge 
By Georgia Dixon
For those seeking a bit of solace, right outside of Boone lies a trail including views of one of the highest peaks in the Blue Ridge Mountains: Grandfather Mountain, as well as Linn Cove Viaduct, a $10 million engineering marvel of a bridge. The hike at Rough Ridge is in the Pisgah National Forest and a part of the 13-mile Tanawha Trail.
Rough Ridge is only a one-third of a mile uphill hike from Milepost 302.8 on the Blue Ridge Parkway. Coming out to a 1.5-mile hike round trip, the hike is fast and satisfying.
Kevan Bloomgeren and Lillie Bloomgeren are semi-retired Linville residents and frequent Rough Ridge summiteers.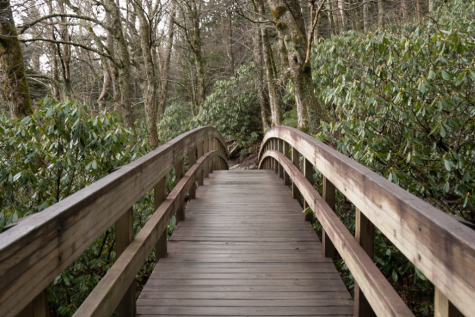 "We come here probably eight or 10 times a year," Kevan Bloomgeren said.  
The couple brings a lot of visitors; family and friends who come to visit the Blue Ridge area.
"The fall time is the best, you have all the colors and just the layers of mountains, it is very peaceful," Lillie Bloomgeren said. "The location is prime."
The spot is also an ideal location for a scenic picnic Kevan Bloomgeren said.  
Lillie Bloomgeren wants future and past Rough Ridge goers to mind the beauty of the surrounding mountains and practice leave no trace principles — to pick up their trash and belongings. The couple said they try to pick up trash, often water bottles and miscellaneous debris, on their hikes around the Blue Ridge Parkway.
"People are fairly good here," Lillie Bloomgeren said. "But we try to bring something to pick stuff up."
Reagan Williams, a junior art education major, first discovered Rough Ridge last fall. She said she fell in love with the hike. The fact that it is near Boone is "so crazy," Williams said.
When her classes got canceled, she decided to take the opportunity to hike Rough Ridge. 
"My two classes got canceled this afternoon so I thought I would take advantage," Williams said. "I just really enjoy how close it is to Boone."
Best Swimming: Trash Can Falls/Laurel Creek Falls
By Siri Patterson
The only person enjoying the warm weather at Laurel Creek Falls on the afternoon of March 6 was Joseph Butler. 
Without any clouds in the sky, the sun poured down and sparkled against the white rapids. Butler, a Boone native of 30 years, stood on the riverbank between a colossal slab of rock and a small set of ferns. He cast his line from a short, white fishing rod into a shallow pool below a set of rapids. 
He said he's seen better days fishing in the same spot over the years. Inches of rain deposited by recent storms made the rapids intense, and Butler said he blamed them for the lack of fish.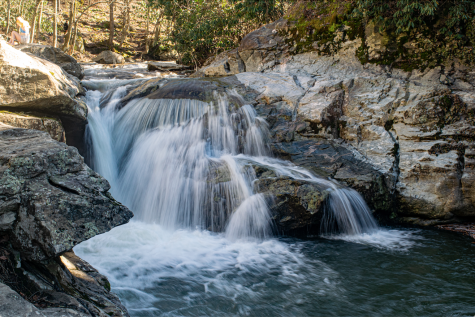 Although the fish were scarce, Butler said he still liked coming to Laurel Creek Falls, locally known as Trash Can Falls, because it is the best spot to swim in Boone. 
"They need to change the name of this place because there isn't really any trash up here and it's just beautiful," Butler said. 
Trash Can Falls has served as one of the most popular swimming holes for locals and students for years. In recent years, posts on social media and blog sites have spread the word about the natural beauty of the falls and it has also become popular among visitors to Boone. 
Trash Can Falls went viral in 2020 when it was featured in a TikTok posted by App State alum Max Renfro that garnered 11 million views. The video showed former wide receiver Thomas Hennigan slowly emerging from the pool of water below a towering rapid in his all-black football uniform. 
There is a variety of depths to the different pools formed by the rapids, making it a great spot to visit whether you're looking to jump in or just dip your toes. The smooth, mossy beds of rock along the creek provide plenty of sunbathing opportunities.  
On days following heavy rain like March 6, the unofficial trails leading further upstream can be washed away and steep, and both hands and feet may be needed to get through. 
Butler said he has taken the plunge from the 15-foot boulder forming the largest rapid into the deep pool below, like many of the other risk-takers that have visited Trash Can Falls. But, he said he did not recommend attempting the jump on rainy days, when the excess rainwater can make the rapids swell to a monstrous size. 
Trash Can Falls is located in Laurel Creek, right before it meets the Watauga River, and there is a gravel lot close by that is recommended for parking on Highway 321. Look for the sign that reads: "No Parking on Pavement." Butler said he has been scolded for parking further down the road before, but has never gotten in trouble using the gravel lot.
Best Place to Bike: Greenway 
By Sam Vanolinda
For the expansive biking community in Boone, the Greenway is the most reliable place for students and locals alike.
It may not be the intense mountain biking trails found elsewhere in the High Country, but the paved, mostly flat paths provide a chance to get some great exercise and enjoy the unparalleled Boone nature — making it the best place to bike.
The Greenway is a short five-minute drive from campus. It is located right next to the Watauga County Recreation Center, with parking lots located on Martin Luther King Jr. Street.
The core area of the trail is around 3.5 miles from either entrance. Some of the main trails include Kennedy Loop, a wooded path that takes you up into the hills above the fields, and the core Greenway Trail, which takes you toward Watauga High School; a trail more preferred by bikers because it is paved.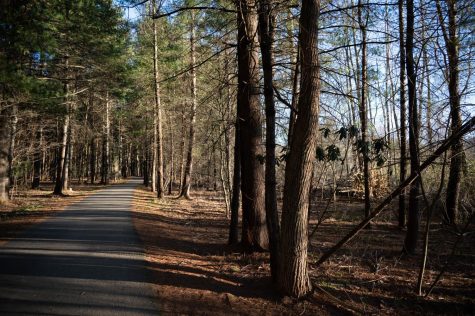 For those who want to hop off their bikes and take a break, the park contains numerous benches and other seated areas to admire the always-green fields, preserved wetlands and the western Carolina fauna. 
 The trails are used by both casual and more devoted bikers, as well as a host of different vehicles including skateboards, scooters and even the occasional unicycle. 
The Greenway won't provide steep hills and hard-to-maneuver tracks, but it will provide an experience anyone can enjoy, from lifelong bikers to those picking up the hobby for the first time. 
Senior political science major Micheal Rapp is one of the casual bikers who will occasionally make his way to the Greenway on a nice day.
"I love biking at the Greenway," Rapp said. "It's always a really fun time alone or with friends. There's a variety of trails and places to explore off-trail."
Rapp's favorite part of the Greenway is being able to see the Boone community.
"I love seeing the diversity of my community," Rapp said. "I see everything from little kids to my professors here, makes me feel like I have an insight into what's going on around me."
The Greenway is the perfect place to spend a spring afternoon in Boone, especially if you want to bike away from the busy roads and highways around town. 
It also provides a great opportunity to meet and interact with the community around you. The park is packed full of dog walkers, Spikeball players and people lounging on the grass trying to catch some sun.
The park's all around qualities are what make it most preferred by the App State community.
Best Place to Skateboard: Boone Greenway Skatepark
By: Will Hofmann
On the bright white concrete of the Boone Greenway Skatepark, sophomore interdisciplinary studies major Hank Yusko pops his board into the air and grinds across a concrete slab.
The skateboard's metal trucks grate across the slab, creating a distinct scraping sound, a noise familiar to Yusko, a skater for 14 years.
Halfway through the maneuver, Yusko snaps his board back into the air and flips it around. The moment is delicate. For just a second, Yusko is suspended in the air as the board flips, turns and spirals forward alongside his body. His blue shirt flies into the air as he follows his board toward their destination.
On the way down, the ballet falls apart. 
His skateboard spins into the earth, landing on its side, but Yusko falls forward across the pavement, rolls over his head and bounces back up again. He looks at his friend back on top of the half-pipe and smiles.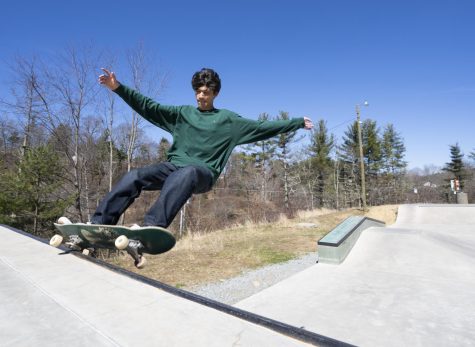 With two half-pipe ramps, a rail and a few boxes to do tricks on, the Boone Greenway Skatepark provides students and locals with the opportunity to expand their skating skills and skate in an area provided for just skaters.
Yusko's friend, junior graphic communications management student Jackson Hall, looks on as Yusko practices multiple different tricks. 
"I'd love to do a half cab crook," Yusko said to Hall as they skated alongside each other. 
Alongside Yusko and Hall are other skaters. One has a distinct band T-shirt of The Garden, and another drifts around with a black T-shirt with bright white letters stating ZOMBIE RESPONSE TEAM. All are wearing baggy, hiked-up blue jeans. 
Open from dawn to dusk, the park is connected to the Boone Greenway Trail system, and is adjacent to the Town of Boone Water Treatment Facility. If you've spent any time at the park, its scent is noticeable after a slight breeze. 
"It's more funny than it is annoying," Hall said about the treatment facility. "We like to call it 'Flush Factory,' like in Fortnite." 
Yusko and Hall are both skaters and snowboarders, but as the season changes, the transition to skating for the summer becomes apparent.
"If it's not winter, then I'm here every day or every other day," Hall said.
Hall has only skated actively for the past four years and says he likes the "Boone skating scene more" than the parks back in his hometown of Winston-Salem. 
"I like how tight everyone is," Hall said. "It is more of a community, especially with Recess and everything."
Best Place to Buy App Gear: Mountaineer Mania
By Kolby Shea
First opened by the Corriher family in 1981, Mountaineer Mania has been a long-standing favorite for App State fans looking to proudly wear the black and gold. 
Mountaineer Mania isn't the only fan gear store in Boone, and it isn't even the only fan gear store on King Street, but according to the Best of Boone votes, this store stands out among the rest.
In 2020, Melody Pineda purchased the store from the original owners. A Watauga County native, Pineda received her masters from App State and made a name for herself in High Country real estate. Since buying Mountaineer Mania, she has continued the tradition Bill Corriher and Wanda Corriher established for the store.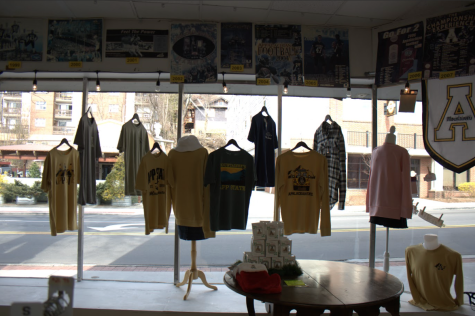 The shop advertises the "widest selection in town" for App State merchandise. The store has been faithfully serving App State students and fans for just over 40 years, and they've now won Best Place for App Gear eight years in a row.
Mountaineer Mania's selection is a wide assortment. If fans are looking for App State T-shirts or the popular black and yellow striped bibs, many stores will provide what they are looking for. Mountaineer Mania, however, not only provides those essentials, but also novelty items like App State footballs, magnets and tree ornaments. They've also shown they provide the "widest selection in town" paired with some of the most affordable prices. 
"When I went, they had everything I was looking for," said Cam Carrow, a Mountaineer Mania customer. "My sweatshirt was extremely high quality and I really enjoyed it."
It isn't just the merchandise that makes this shop unique, but the ability for customers to leave their mark on the store. On the far-right wall is a mural of App State's beloved mascot, Yosef. Students or alumni can ask to be photographed next to the mural for the picture to then be placed on the wall under their year of graduation. It's a way for fans to get their App State gear while also leaving something of themselves behind.
To top it all off, the customer service has received high praise.
"Everytime I went to the shop, everyone was really great," Carrow said.  
Best Winter Sports Shop: Recess Skate & Snow
By Colin Bross
In 2008, Board Paradise, a beloved shop for all things skating, snowboarding and other outdoor activities, closed. The community felt a void at its departure. However, it wouldn't be long before that void was filled, and shortly after in 2009, Ashley Pardy and JP Pardy opened Recess Skate & Snow. 
"Having a core skate and snow shop that's involved with the community, doing events, stuff like that is so necessary," JP Pardy said. "With that other shop leaving, you know, it kind of opened up the door for that opportunity to exist."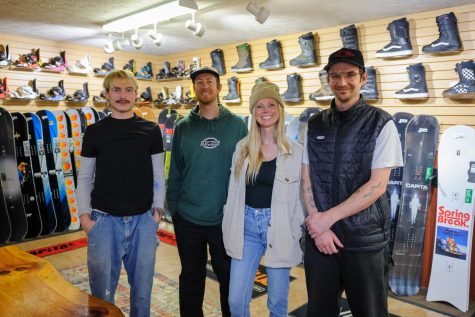 Fourteen years after their initial opening, Recess continues to serve the Boone community. Recess provides products and services for winter sports and skateboarding, offering a variety of brands as well as their own products. This is their third consecutive year winning Best Winter Sports Shop in Best of Boone. 
Along with offering a variety of products to every level of rider, Recess also has a team of North Carolina based athletes the shop sponsors. From the opening of the shop, JP Pardy began to construct a team of local riders sponsored by Recess. 
"We opened up on Oct. 3 and you know with the team we were doing video premier kinda kickoff events for the season next week. Straight out of the gate we were doing events and had a team," JP Pardy said. 
Recess' team consists of riders from every level, from X-Games participants to riders as young as 12 years old. They also sponsor female riders like Charlotte Flowers and Brantly Mullins. 
"To have a diverse team, it's like having that, I feel, represents and caters that inspiration to the youth and keeps them going up," JP Pardy said. "Having those female riders might encourage those younger female riders, having those younger kids encouraging even the younger kids, you know?"
Since their opening, Recess has been active in the Boone community. They consistently hold events and competitions such as The Park Rat Classic for all levels of snowboarders. They have also been at the forefront of developing a skate park in Boone's greenway. 
"The skateboard and snowboard community here is amazing, and as a local, and a local business owner, the whole community here is awesome," JP Pardy said. "There's a ton of local support from obviously the local community itself but even the small business here. Everyone works hard together, you know, we're lucky to be a part of a community that supports itself so much."
Best Thrift Store: Anna Banana's
By Megan Koch
Humans have been expressing themselves through clothing since they knew what clothing was. Fashion fosters community by allowing people to communicate through their tastes, and at 641 West King St., they also incorporate some dance moves. 
Since October 2010, Anna Banana's has been doing exactly that; creating community through clothing. 
Greeted with bright colors and warm employees, it is hard to not smile. The store is split into two different spaces with a consignment store in the front and vintage finds in the back. With all the inventory, there is something for everybody. 
What makes Anna Banana's shine compared to other shops is the employee's love and respect for Anna herself. Grant White, an employee of two years, described her as sweet and the best owner.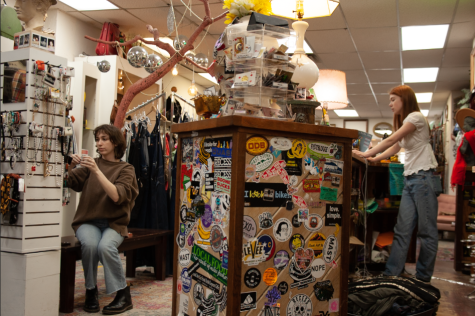 "I am glad I have her in my life to guide me through," White said. 
Andre Edwards, who has worked there since the fall 2020, echoed similar sentiments.
"She just wants the best for everyone … instead of jumping to conclusions about an employee, maybe they are having a bad day and that's reflecting on their work ethic today," Edwards said. 
The positive work environment seeps into the store atmosphere. Many of the current employees were once regulars at the store. Hailey Costar, an employee since October 2022, said she worked there because of the energy and overall vibe. When she walked into the store she felt like the workers knew her and went on to reflect the importance of the customer feeling good about themselves. Plus, she was already there all the time.
No matter how different everybody who walks through the door may be, they are all unified by one thing: a love for fashion. When talking to employees about their favorite customer experiences, everybody had a hard time choosing one.
 "After a few months of me working there and I styled a mannequin, vibe was very ice queen in Narnia, very chic Narnia. This lady comes in and she sees the mannequin and starts freaking out because she, like, loves the outfit … She tried on the entire outfit and bought it," Edwards said. "Styling myself is one thing, but when you style others and they feel good, that makes you feel good because they feel good." 
With a 10% discount if you dance at checkout and good tunes, Anna Banana's is a bright light even on the cloudiest of Boone days.
Best Outdoor Store: Mast General Store
By Zoey Sigmon
The Mast General Store has again been voted Boone's Best Outdoor Shopping.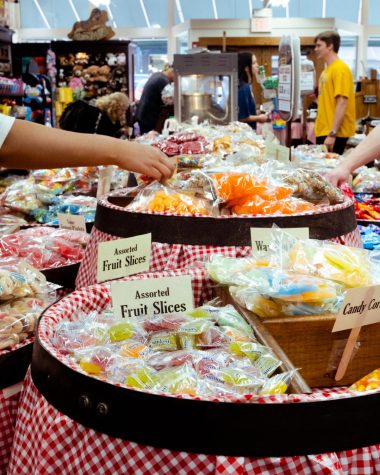 Boone's Mast General store has long been a part of local history and, in its lifetime, witnessed many changes both to the area and the business itself. 
Boone's Mast location began as Hunt's Department Store in the early 1940s, later becoming a part of the "Mast Store family" in 1988 after being purchased by John Cooper and Faye Cooper, owners of the original location in Valle Crucis.
Purchasing the original location in 1979, the Coopers opened the refurbished store to the public in 1980 and soon realized expansion was necessary. The family later took over The Mast Store Annex, an expansion of the shop, which eventually became the well-loved outdoor department in 1985. 
Three years later, Boone's Mast location was born and has since grown into a downtown staple. Today the store sits proudly amid the hustle and bustle of downtown Boone, welcoming locals and visitors from all walks of life, just as the original store once did. 
"We are so excited to be recognized as part of our community that encourages people to get outdoors, to enjoy our town and enjoy our weather," employee Sarah Oliver said. 
Oliver, an alum of the recreation management department, said she's been with the store for five years and encourages people to visit the location, saying the team would be "happy to meet you and show you what Mast is about." 
"We can get you a good pair of shoes to hit the trail, whatever outdoor gear you need," Oliver said. "If we don't have it, we'll find another local shop in the area that does."
Oliver said the store welcomes a lot of business over the summer as locals and travelers stop by and students return to campus, selling many backpacks, water bottles and other outdoor essentials. Oliver said the store is also happy to advise visitors about local trails and gear, again encouraging people to "enjoy" the local outdoors.
Best Piercing Shop: Noble Tattoos and Piercing
By K. Slade
A silicone hairless cat greets visitors of Noble Tattoos & Piercings. From the tip of its ears to the rubbery skin of the chin, its face and head are adorned with metal jewelry.
Sandwiched between original artwork and tattoo mockups, the cat lounges from a high ledge, overseeing the piercing process from start to finish.    
Purple tongue rings, curved blue barbells and long industrial bars made of titanium are displayed in a protective glass case. Noble cautions for foul language and "mild nudity." Only those 18 years and older are allowed upstairs.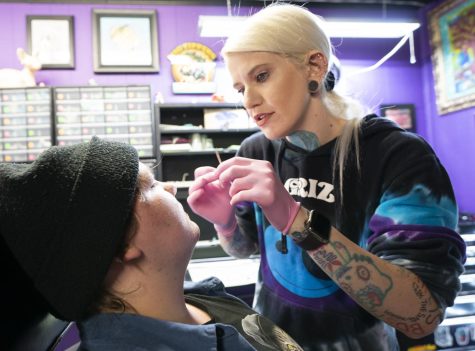 Since 2017, Noble has served the High Country's piercing needs and for the third year, it's been voted the Best Piercing Shop in Boone.  
Standing at 432 W. King St. across from the Turchin Center for the Visual Arts, Noble opens at noon every day and closes at 8 p.m. Monday through Saturday and 7 p.m. Sunday.  
Chelsea Mauney has been piercing for almost 12 years, starting with Tattooing U in Charlotte before moving to Boone after the pandemic.  
Previously working with Noble's owners at Tattooing U, Mauney is one of two of Noble's body piercers with another person currently in training.  
She said she wanted a change from what Charlotte offered and contacted Noble to see if they had any available positions. Mauney said it was like her "stars aligned." 
"I kind of wanted something more secluded and things," Mauney said. "I understand what everyone's been telling me my whole life about a small town. It's very nice and like such a tight-knit community."  
For body modifications, Mauney connects with the aesthetics of the culture and freely creates art for clients to appreciate and enjoy. 
"I can make people feel good about the skin they're in," Mauney said.  
The vulnerability someone exhibits when undergoing body modifications is something that resonates with Mauney and why she tries to be as friendly and welcoming as possible. 
"I used to absolutely hate my left ear because it's big and it sticks out," Mauney said. "I've decorated it so much it's now my favorite ear so when I get to recreate that for people, it's really nice to help them out and give them something awesome that they can enjoy for the rest of their life." 
Mauney has long-term plans to stay in Boone and work in a community she adores. 
"I've traveled all over the world and all over the place and this is the first town as soon as I came into the town, I had cold chills and I said that there's something here for me," Mauney said.
Best Tattoo Artist: Sloan Blinsink
By Cameron Miller
Sloan Blinsink has only been tattooing professionally for about two years, but in that short period of time has become a Boone favorite. 
Blinsink said tattooing is the only thing they've ever really wanted to do. 
"I told my parents I wanted to be a tattoo artist when I was 13 or 14 and at first my dad said 'no more Spike TV, we're not watching "Ink Master,"' Blinsink said. "But by the time I turned 17, they bought me my first tattoo machine." 
Their dad went on to be their first client.
Blinsink's work is brightly colored and heavily influenced by pop culture. It also has a sense of humor with pieces including Dolly Parton portraits, Junji Ito panels, "Total Drama Island" characters and memes.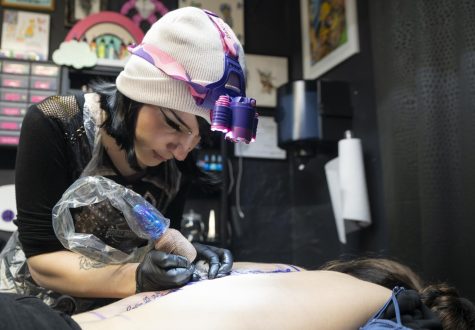 "I'm a big fan of any sort of flat-color cartoons, but I like lots of different styles of tattooing," Blinsink said. 
They have experience in a range of styles including black and gray work and even putting on freckles, and they recently took a class on cosmetic tattooing. One of their most memorable pieces was an image of Betty Boop covered in tattoos, one of which is Blinsink's name.
 "That was cool because I had never gotten to put my name on anyone before," Blinsink said.
Blinsink came to Boone from Lake Norman in 2019 to pursue a degree in art education, but left school during the pandemic. They waited tables and even designed cans for Lost Province Brewing Co. until they had saved enough money for their apprenticeship at Noble Tattoos & Piercings. 
"Noble gave me a shot when it was hard to be taken seriously as someone who didn't have experience tattooing yet and enjoyed whimsical, non-serious art," Blinsink said. 
They apprenticed for a year and a half under Noble's owner Colin Fields who inspired Blinsink with his own dark sense of humor.
Blinsink likes Boone for its weather and the tight-knit community. 
"I have a friend everywhere, everyone knows each other and I've really enjoyed being a part of what's happening up here," Blinsink said.
As for the future, Blinsink hopes to continue tattooing in the community.
  "It feels like every year I meet people who are so lovely and I'm like 'it can't get better than this,' but it keeps getting better," Blinsink said. "I like that people of all different backgrounds get tattoos. That feels really cool to me."
To check out Blinsink's work you can follow them on Instagram or call Noble Tattoos & Piercings to book a consultation.
Best Haircut Place: Canvas Beauty Bar
By Bobby Phillips
Founded in 2015, Canvas Beauty Bar has been voted Best Haircut for this year's Best of Boone. 
Canvas Beauty Bar is a full service hair and beauty salon operating on the mission statement of providing a custom service for each customer. 
"Reminiscent of the days of the traditional beauty shops, Canvas is a fresh and fun hair salon which will change the way you look at the industry," Canvas states on their website.
Canvas Beauty Bar aims to make each haircut or styling a luxury, not an obligation. Two local stylists, both hailing from Boone, Heather Rogers and Miah Zimmerman, started the business in 2015 and strive to create a unique atmosphere and ensure the best experience for their clientele. They always strive to make everyone feel welcome and provide a comforting environment to get all of your hair and makeup desires fulfilled.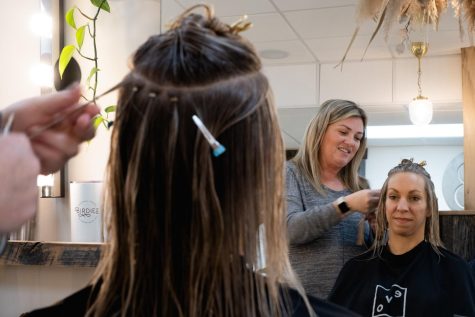 Canvas makes each experience a memorable one for their customers, they shape their service around what you need and what works for you. Canvas also offers custom wedding bookings for both hair and makeup, ensuring that your special day runs as smoothly and goes exactly how you want it to. Canvas states on their website "Our culture of style will provide you with one of a kind, personalized services that will make your wedding day just as flawless and beautiful as you are." 
Canvas is also able to supply a large variety of products for both hair and makeup to help ensure that they have the best tools necessary to make you look and feel your best. Client satisfaction is the base of Canvas' ethos, taking the time to make sure that each client receives an individual and enjoyable experience; Canvas wants to ensure that they provide the best and most consistent hair service in Boone. 
"We want to ensure that each customer feels important and welcome to our store, no matter if it's your first time or your 100th, we want every customer to feel right at home," said Madison, a Canvas Employee.
Open Monday from noon-5 p.m., Tuesday through Friday 9 a.m.-7 p.m. and on Saturday 10 a.m.-4 p.m. Canvas Beauty Bar is ready to serve you at 181 Meadowview Drive.
Best Nail Salon: Appalachian Nails ans Co. 
By Nataly Aguiar
Appalachian Nails & Co. has been loved by locals since 2020, who can't stop coming back to their locations at 324 NC-105 extension suite 6, and new salon on 151 Howard St. due to their low prices, 10% discount offered to students, teachers and military, as well as their wide variety of services and skills. 
Sisters Lisa Nguyen and Lily Nguyen run this family owned business alongside manicurists they view as "basically family" said Lisa Nguyen. 
"My salon is more like a family than friends, we take care of each other," Lisa Nguyen said. "We spend our holidays together, and Tết too."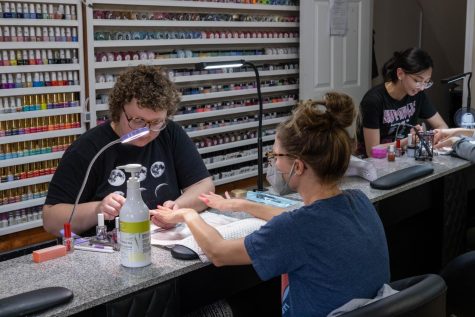 Tết is the Vietnamese Lunar New Year, and it's short for Tết Nguyên Đán, meaning "Festival of the First Morning of the First Day."
After opening for the first time the business faced the many struggles common among business owners who opened their business during the pandemic.
"I wish I knew COVID was gonna shut us down two months into opening January 2020, but we made the best of it," Lisa Nguyen said. "Working and owning Appalachian Nails & Company is my life."
There's no shortage of color and design options at App Nails & Co. Once you've made your decision, all you have to do is lay back and relax as their professional and friendly crew show off their skills and trained, certified expertise to make your dream nails come to life. Whether it be regular polish or gel, a dip powder manicure with a complex design, a spa pedicure or waxing, you'll be satisfied with whichever luxurious treatment these two local nail shops have to offer. 
Stop by either of their two locations Monday through Friday, from 10 a.m.-7 p.m. and Saturday's from 10 a.m.-6 p.m. Allow Appalachian Nails & Co. to show you why they have won Best Nail Salon in Best of Boone for two years in a row.
Lisa Nguyen wants customers to know that, "at Appalachian Nails & Co., we put our customers first."
Best Tanning: Planet Tan 
By Ben Brady
As the weather warms and natural tans and sunburns begin to appear, avoid all of that by going to Boone's best tanning salon. For the second year in a row, Planet Tan has held the slot.
The salon provides the use of tanning beds, purchasable lotions and spray tans. In addition to walk-in services, unlimited plans are available for both tanning bed and spray tan services, and some include discounts on lotions.
Planet Tan also offers other beauty services like teeth whitening and eyelash extensions.
The business routinely has holiday specials, discounts and giveaways on its Facebook page and in the salon. It also offers monthly discounts to students, school system affiliates, healthcare workers, law enforcement and military.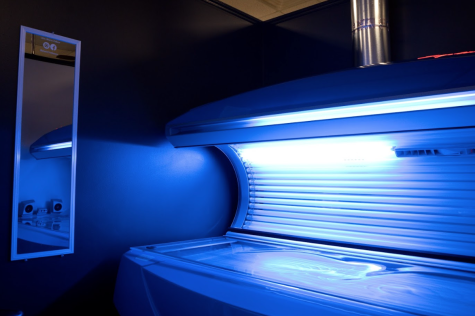 The salon is open 10 a.m.-8 p.m. Monday through Friday, and 10 a.m.-5 p.m. on Saturdays.
Established as a locally owned and operated business in 1999, Planet Tan is the longest standing tanning salon in Boone. Owner Kara Tester started her relationship with the business as a customer in 2009 and began working there in 2014. In 2018, Kara purchased the business to become its sole owner. 
Since becoming owner, Tester has expanded the salon with six new bronzing beds and added a spray tan booth in 2020. This summer, the salon will acquire an unreleased, state-of-the-art spray tan machine.
For Tester and her team, the customer experience goes beyond tanning services and products. She says Planet Tan's goal is to leave customers as satisfied as possible. 
"I think we are different from the pack simply because our team goes above and beyond to ensure a great experience for each individual customer," Tester said. "I could not be more proud to work alongside the women that I do."
Tester emphasized that regardless of a customer's tanning experience, Planet Tan aims to meet each individual customer's needs.
"Whether they are brand new or an experienced tanner, we take pride in servicing each person who walks through the door as if they are our only customer," Tester said. "Everyone deserves to feel important and welcomed at some point in their day, and if we can do that for someone, we will do it."
Best Local Gym: Anytime Fitness
By James Parker
After coming out on top in last year's debut of the category, Anytime Fitness has once again claimed the title of Boone's Best Local Gym.
Founded in 2002, Anytime Fitness has ascended to the top of the list of 24/7 gyms and has expanded its reach to all seven continents.
Its convenient placement next to Dancey's Comfort Footwear and across from Serenity Hair Studio has contributed to its immense popularity among Boone residents and App State students alike. 
The gym offers its members 24-hour access to its free weights, strength machines, cardio area and other training equipment.
Anytime Fitness also offers tanning booths, private showers and restrooms and private parking.  
While members have 24/7 access to the facility, the gym is staffed 11 a.m.-7 p.m. Monday through Thursday, noon-5 p.m. Friday, noon-4 p.m. Saturday and is unstaffed Sunday. A membership also includes entry to any of the 5,000 chains globally.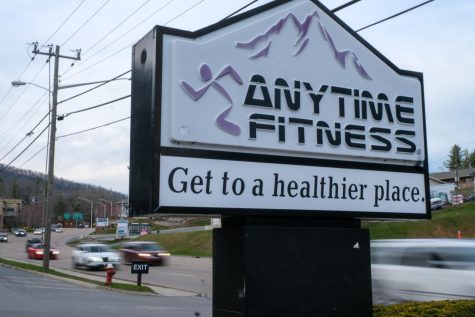 For those looking for a guided fitness routine, Anytime Fitness also offers personal training, fitness assessments, small group training and specialized fitness classes.
The facility's personal trainer Jaxson Smith enjoys working with the Boone community.
"I really enjoy talking with our members and helping them with fitness advice," Smith said. 
The gym's cardio area boasts treadmills, elliptical cross-trainers, exercise bikes, stair climbers and HDTVs. 
The facility's strength training area is just as impressive as it includes squat racks, free weights, various strength machines, as well as kettlebells and battle ropes for functional training.
The chain's comprehensive website encourages those who are interested to schedule a tour of the facility. The website also includes a full list of the amenities as well as a personal training staff directory, a fitness blog, photo galleries and a mission statement. 
Although rates vary based on factors such as location and current promotions, the cost of membership starts at $36 a month and includes a seven-day free pass for local residents that are new customers.
The official Anytime Fitness Instagram account has over 126,000 followers, and the account for the Boone location has nearly 300 followers and includes a link to the signup form for various group fitness events. While the Boone location does not currently have a Twitter page, the official Anytime Fitness Twitter page has nearly 200,000 followers. 
Although several fitness facilities on campus are free for students to use, it is no surprise that Anytime Fitness ranks as the number one local gym in Boone.
Best Local Boutique: Common Good Co. 
By Maddie Lipe
On the second floor of Common Good Co. on King Street sits an unfinished painting of a buffalo, propped up on a wooden easel waiting to be completed by store co-owner Jacob Daniels.
Co-owner Melina Daniels sat holding her 5-month-old baby, Amelia, while she accepted the news that her store won Best of Boone's Best Local Boutique.
"That's a sweet surprise," Melina Daniels said. 
As a graduate of App State, Melina Daniels said, "to have a positive influence on App State is always encouraging."
Husband and wife, Jacob Daniels and Melina Daniels, both App State graduates, opened Common Good Co. in August 2019 as a space for aspiring artists to grow in their careers.
Both Melina Daniels and Jacob Daniels were art majors during their time at App State and worked as artists right out of college, with the extra help of some side jobs in Boone. 
However, Melina Daniels said both she and Jacob Daniels were "influenced by God to open Common Good."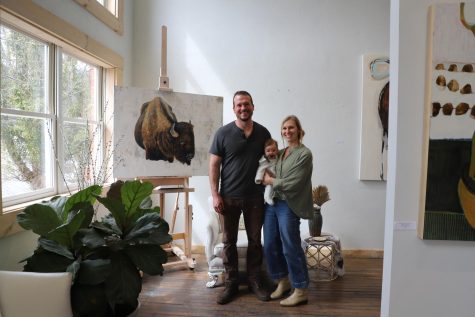 The store features three different levels, starting with the bottom floor, which is where customers can find local, handmade goods as well as products from different artists and makers throughout the High Country.
The first floor also offers a coffee bar where customers can buy a cup to sip on while they shop, or while they browse the gallery upstairs. The neon-lettered sign behind the coffee bar reads, "hold fast to what is good," which aligns with Common Good Co.'s mission.
Melina Daniels and Jacob Daniels created the shop with the intention to promote intentional consumerism, which to them means "to make more, want less and do good for the common good of everybody," according to Common Good Co.'s website.
The second level of Common Good Co. is home to a fine art gallery featuring artwork from various local artists. Among these local artists are Kim Feuling and Paul Feuling from Mabel Studios, Rachel Van Dyke and others. 
The gallery also features artwork by App State alum Chloe Purpero, who was an art intern for Jacob Daniels and Melina Daniels, but now works professionally out of Charleston, South Carolina.
"The greatest joy is to see people launch into a full-time career," Melina Daniels said. 
That is what both Melina Daniels and Jacob Daniels hope to help accomplish through the renovation of the third floor of the shop into a community workshop and studio.
Melina Daniels and Jacob Daniels, whose paintings are also featured in the gallery, want to be able to mentor aspiring artists and create a community space for collaboration. 
"We want to move away from retail to more community goods," Melina Daniels said. "We want people to be inspired to create something when they leave."
Melina Daniels said she wants her shop to be an "organic, peaceful and creative atmosphere" for those that enter. 
Common Good Co. is open every day from 10 a.m.-6 p.m. and the espresso bar is open from 10 a.m.-3 p.m. each day.
"Maybe they leave the shop and are inspired to take a pottery class," Melina Daniels said. "We want to show people they can really do anything that they put their mind to."
Best Local Nonprofit: Hospitality House of Boone
By Madalyn Edwards
For those in need in the local community, the Hospitality House of Northwest North Carolina offers life-changing assistance.
Todd Carter, chief development director of the Hospitality House, said the organization was originally founded in the late 1970s by seven different faith organizations that provided shelter in their facilities. In 1984, the Hospitality House officially became a nonprofit organization and has been providing assistance to communities ever since.
The organization serves seven counties, covering over 2,500 square miles, including Watauga County.
Carter explained the goal is to elevate quality of life by helping people get out of and stay out of homelessness.
"We believe housing is a human right," Carter said.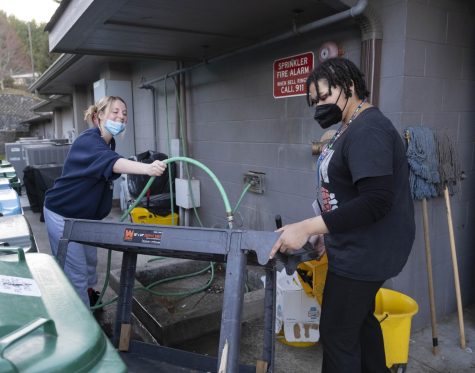 The organization offers many services, including assistance with bills, fuel, electricity, food and medical services, including medical care for mental health and therapy programs.
The Hospitality House runs food pantries and a food kitchen, which serves 1,200 meals per month alone.
In the last two years, the Hospitality House helped move 303 people out of homelessness. They also provide shelter to approximately 120 people per night through their homeless shelter program. Of the 400 to 425 different individuals in the shelter, 156 of them were housed by the Hospitality House this year.
The Hospitality House has a shelter program and eight housing programs for transitional housing. Additionally, three food access programs and two crisis assistance programs are run by the organization, and the Hospitality House works with other local groups such as OASIS and FARM Cafe that help those in need.
Currently, the new food access program being offered is a remote food locker program in the Bethel community where residents can request items which will then be stocked by the organization in food lockers assigned to the individuals.
The program, Carter said, is the only one of its kind in rural America.
"There's one in downtown Houston, and there's one in downtown Pittsburgh, and we said we want to put one next to a cow pasture," Carter said.
The organization works closely with students at App State through volunteer opportunities and internships, such as a new music therapy program that a student intern assists with. Currently, 11 student interns work with the Hospitality House, and several other volunteering opportunities will be offered, such as helping with the organization's outdoor garden. 
Carter said the two fastest-growing demographics of homelessness within the organization are college-aged students aged 18-24 and adults over 65.
"​​Our vision for our organization is a community where every individual thrives," Carter said.
Those who wish to donate to the Hospitality House can visit the organization's Facebook page or go to www.hosphouse.org/donate. Contributions via PayPal, Cash App and Venmo are also accepted.
Best Hotel: Horton Hotel
By Siri Patterson
A thin, bronze statue of H.W. Horton on a horse sits atop the roof of the Horton Hotel, silently watching the traffic on the street below. 
King Street looks much different today than it did in the early 20th century, but the building Horton built himself, which now houses the Horton Hotel and Rooftop Lounge, is still standing. The Horton Hotel uses an image of Horton, adorned in his uncle's military uniform riding a horse during a parade, as part of their logo, according to the employee handbook. 
Additionally, many black-and-white snapshots of historic Boone are hung throughout the lobby, halls and lounge. 
Although the building is around a century old, The Horton Hotel is keeping with the times by offering guests the unique experience of staying in the only boutique hotel in downtown Boone, said Abby Carson, the director of hotel operations. 
"The original owner did a really good job of creating the Horton brand as an elevated hotel and high-end bar," Carson said.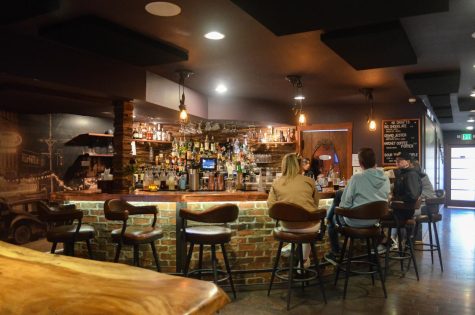 Denise Lovin and Fulton Lovin opened the hotel in 2019 and designed the interior to "surround guests in modern yet down-to-earth beauty and comfort," according to a press kit released by The Horton. 
Because of its central location, guests are within walking distance of many restaurants, shops, bars and App State's campus. Guests are also offered parking on Howard Street, which can double as a tailgating spot during football season as it is only a 10-minute walk to Kidd Brewer Stadium. 
There are two lounges within The Horton, one on the first floor which is open year-round, and an outdoor rooftop lounge which can be accessed year-round, but only provides bar services seasonally. From the rooftop lounge, there is a panoramic view of Boone and King Street, making it a great spot to people-watch and relax to the sounds of the town. 
Carson said helping to take pictures during the engagement of two guests on the rooftop lounge has been one of her favorite experiences while working at The Horton. 
"I love interacting with guests and helping them have the best experience possible, and so him coming to us and asking for help and us being able to help create, like, the best moment for them was really awesome," Carson said. 
There are 15 different rooms for guests to choose from. One is wheelchair accessible and five are pet-friendly. Other amenities include a complimentary breakfast, 20% off at the retail gift shop and a 24-hour coffee machine with tea options. 
Guests looking to add a special touch to their booking at The Horton can purchase flowers, cookies, champagne and more to have waiting in the room upon arrival. 
"The service we provide, being a high-end boutique, it creates a really special experience that you don't get every day at larger, chain hotels," Carson said.
Best Smoke Shop: High Life of Boone
By Ben Gosey
Puff, puff and passing the competition again; High Life was named Best Vape Shop in Boone for the third consecutive year. Located on Howard Street, the store has everything a toker could need, from rolling papers or vapes to one of a kind glassware, High Life makes sure to keep its inventory stocked for its customers.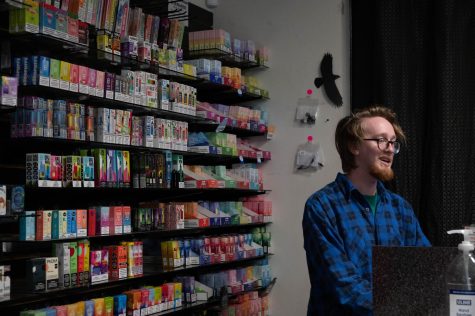 "It is definitely appreciated and we value all of our customers greatly," said High Life employee Pete Halier. "Though the pandemic things were tough, everyone kept coming and we are getting through it."
Known for having some of the best prices around Boone, people love stopping by the shop to get their smoking needs met. The staff is very helpful through the process, making sure the customer is catered to, answering any questions, while also educating the customer about their products. 
High Life's store also promotes an open and chill environment, playing a variety of music in the store. They want their customers to leave with quality products and a good vibe.  
"Customers enjoy our customer service, the vibe we have in the store, the music and friendly environment," Halier said. "It is nice that everyone still shops here."
The store offers a wide variety of goods and smoking needs. The store is split in half between vapes and rolling papers on one side, the other holding tons of unique glassware and CBD products for fitting everyone's needs. 
The staff makes sure to educate everyone coming in the store on what they might be buying, while never hesitating to answer any questions a customer may have about the differing CBD products they offer. They also give customers their personal recommendations on products, giving customers the best opportunity to make the best selection. 
The smoke shop is open 9 a.m.-9 p.m. six days a week and 11 a.m.-8 p.m. Sundays. So the next time you need to blow some smoke, head to Boone's best: High Life. Please enjoy responsibly.
Best Off-Campus Housing: University Highlands
By Emily Milano
University Highlands won Best Off-Campus Housing Complex for the fourth consecutive year. The apartment complex offers many amenities and easy transportation to and from campus at a low cost, making it a consistent favorite for many students and very competitive for potential residents. The apartment complex is located two miles from the university's campus, making it in high demand for off-campus housing. 
"I absolutely love living here. The pool is amazing during the summer and it is so convenient to have the AppalCart come every 15 minutes," said Payton Rolland, a junior exercise science major.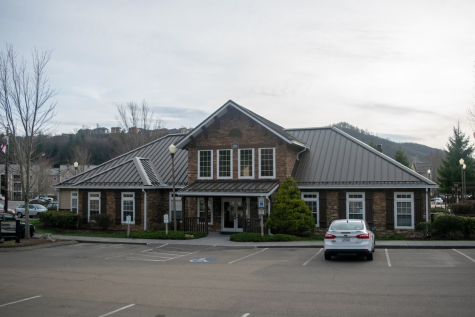 The apartment complex is located at 289 Ambling Way and is dedicated to meeting the specific needs of university students, according to the University Highlands website. The amenities offered by University Highlands include a fitness center with a weight lifting section and cardio section, sundeck, tennis, volleyball and basketball courts, computer lab and printing and many more. 
"I love using our fitness center, there are so many treadmills and elliptical machines, it makes it easy to stay active as a college student because I don't always have time in my busy schedule to make it to the gym," Rolland said. 
University Highlands offers two-bedroom and four-bedroom apartments, which are fully furnished and include utilities such as a washing machine, dryer, dishwasher, refrigerator and microwave. The apartments also come with cable TV and an entertainment center. 
The apartment complex also offers roommate matching so students can apply to live in the apartments without already having roommates lined up. Students fill out a questionnaire during the application process and the University Highlands staff matches new residents with suitable roommates. Rent per month for a four-bedroom apartment at University Highlands is $575 and is $635 for the two-bedroom apartments starting next leasing year. 
"I really like living in the highlands because you get so much for a pretty decent price," said junior management major Becca Harrelson. "The front office staff is always so nice and helpful, I wouldn't want to live anywhere else." 
Parking is also included in residents' rent and the complex offers free guest parking in the visitor lot.
Best Rental Company: The Winkler Organization
By Trey Blake
With the 40th anniversary of The Winkler Organization opening, it was only right they were voted Best Rental Company in Boone for the third year in a row. After decades of service to App State and Caldwell Community College students, it's a no-brainer decision for people looking for close-to-campus housing. 
With 16 properties being within walking distance of App State campus there is a huge reason why it's supported by many. It doesn't stop at distance though as their website says over 91% of their tenants have recorded a "good" to "excellent" experience and that their one goal is "helping you find the perfect place to call home. Your experience is still our top priority."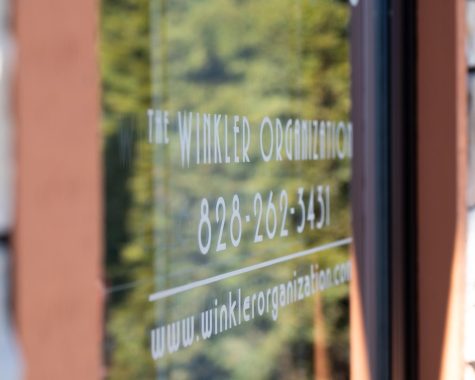 One amenity the organization provides is its discount cards. They provide discount cards to their tenants to 15 restaurants and businesses in Boone, including 10% off at Mellow Mushroom, buy one entree get another half off at Red Onion and 15% off all food at Stick Boy Bread Company.
"The cards are amazing," former resident Kyle Gamariello said. "I mean you're telling me I can get discounts at the Come Back Shack or Blue Deer Cookies? Sign me up." 
 With 1,000 bedrooms in 25 properties surrounding Boone, there are many options to choose from the organization. The variety inside the properties is immense, there are one or two beds in places such as 494 Lofts or the Cook House. Appalachian Manor sits firmly on the east side of campus facing Dogwood and Cannon halls and is only a 50-yard walk from campus. The Cardinal Apartments find themselves the farthest at 1.7 miles from campus, but with a multitude of five-star reviews and the complex having the cheapest rent within the organization, there's value to be found in every Winkler property. 
While the discount cards and short-distance walks to campus are nice, The Winkler Organization offers complimentary housekeeping services to every location. 
"The housekeeping services were the best part," Gamariello said. "Moving out here after being at home for so many years with my parents was a big change for me and my cleaning habits, but the complementary housekeeping kept me in line and I couldn't be more thankful for it."
After being open since the 1980s and servicing young Boone residents attempting to find their footing, The Winkler Organization finds itself the runaway option for being Boone's number one rental company.
Best Place to Live Alone: King Street Flats
By Jack Jackson
If you're looking to live alone with access to downtown, look no further than King Street Flats. Located along King Street and across App State's campus, it's voted the Best Place to Live Alone in 2023. 
King Street Flats provides a vibrant community with comfort and convenience for all residents. 
"Enjoy all the comforts you need and none you don't — privacy at home and community within reach," mentions their website.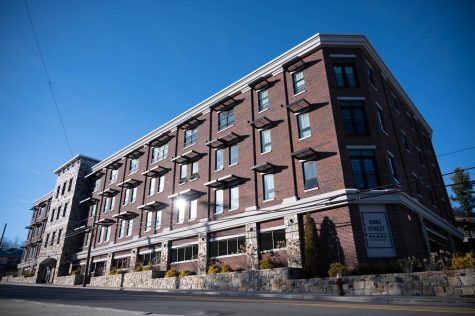 With easy access to the heart of downtown, you can reach App State, Blue Deer on King and the main AppalCart terminal with a two-minute walk. In about five minutes, you can reach the Walker College of Business at App State. 
Within seven minutes, King Street Flats provides access to Espresso News, Neighborhood Yoga and Melanie's Food Fantasy. Finally, in approximately a 10-minute walk, you can reach the George M. Holmes Convocation Center, Mellow Mushroom and the Schaefer Center for the Performing Arts, among other desired locations along the way. "Out of the box living. All the luxuries one would expect from curated living," said their website.
Despite the price of renting an apartment, King Street Flats provides all the amenities needed for a successful school year. Americans with Disabilities Act accessible-compliant options, alongside internet, heating and cooling, all-in-one washers and dryers, General Electric energy-efficient appliances and furnished kitchens make out-of-the-box living easy. Additionally, with secured entries, covered bike parking storage, mailing services, professional maintenance services, car parking and elevator services, King Street Flats meets the needs of all Boone residents. 
The belief of well-considered design equating to a well-designed life alongside thoughtful and convenient details provides all the layers needed to feel at home. With King Street Flats, 11 different floor plans varying from 395 square foot studios to 528 square foot apartment plans, there are plenty of options when  choosing how you stay. 
"KSF is built on an authentic blend of old and new. One vision is to encourage a vibrant downtown and easy access to the Appalachian State University campus. King Street Flats realized the vision with an attractive mixed use of commercial and residential buildings on West King Street and townhouses on Wallace Circle combining for one of Boone's best neighborhoods," their website mentions.
Best Pet-Friendly Complex: The Finmore
By Kurt Zottl
For Best of Boone 2023, The Finmore has come out on top for the Best Pet-Friendly Complex for a person to live with their furry friend. 
While most apartments in Boone require no pets in their complex, The Finmore prides itself on having pets in their facility. 
The Finmore, a newly established apartment complex opened in 2021 located about one mile from campus, features a big outdoor play space where pets are able to run around in a large area of space. There is also a patio located on the second floor if your pets are looking for a place to relax in the sun.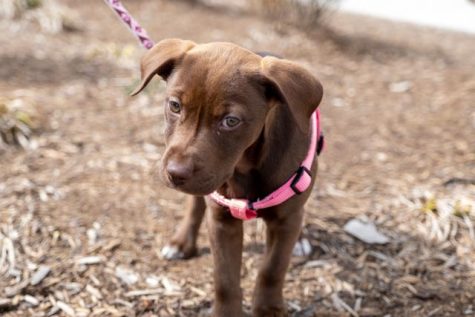 Additionally, if you go to the front desk with your dog, the staff will provide a treat.
"Give your pets the life you both deserve! With a dog park, and being just minutes away from the Greenway Trail, The Finmore has both of you in mind," stated The Finmore's Instagram page. 
Kendall Jabakoski, a Finmore resident, lives with his shepherd Labrador dog and has nothing but good things to say about The Finmore and the amenities they provide for his dog. 
"I believe the Finmore is an absolutely perfect complex for people with furry friends," Jabakoski said. "From having an amazing staff who gives treats to your pups to having a dog park in your backyard and endless walks up and down Shadowline Drive."
Just about a ten-minute walk from the complex are the State Farm fields as well, where residents can take their pets to run around, walk on different trails and give their pet a great outdoor experience. The State Farm Field features a 24-acre sports complex, six recreational fields, picnic shelter and much more. 
Residents are only allowed one pet per apartment, and must pay an additional $25 a month on top of their rent to own a pet. There is also a one-time fee of $200. 
"All of the amenities make up for a perfect pet-friendly environment," Jabakoski said. 
All of the apartments for the 2023-24 leasing year are currently sold out, but the application still remains open online for the future.
Best Place to Take Parents: Blue Ridge Parkway
By Chance Chamberlain
In the heart of Appalachia, a 469-mile stretch of scenic highway has attracted visitors since its completion in 1983. 
The Blue Ridge Parkway spans the Appalachian Mountains, connecting Shenandoah National Park in Virginia to the Great Smoky Mountains National Park in North Carolina. Just a short drive from Boone, it makes an ideal weekend getaway or day trip spot, and has been voted the Best Place to Take Parents in 2023.
"I think it's a great way to show parents Boone's greatest features," said freshman music education major Shelby Arnold. "It shows that while Boone is a small town, it's also beautiful and unique."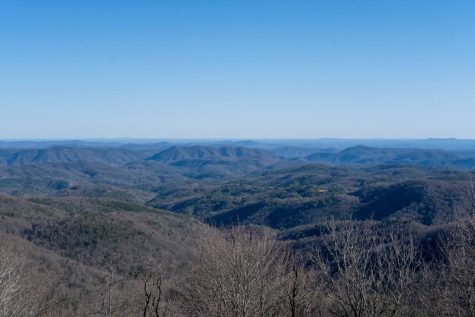 The Blue Ridge Parkway offers breathtaking views of the surrounding mountains and valleys, especially during the fall when the leaves turn brilliant shades of red, orange and gold. Parents can take a leisurely drive, stop at scenic overlooks and explore the many trails and picnic areas. Along the parkway, there are plenty of opportunities to enjoy the great outdoors, including hiking, biking and camping.
For those who don't know where to start, sophomore electronic media and broadcasting major Savannah Brandon points out two particular overlooks to check out. 
"The Blue Ridge Parkway is a great place to go with parents, particularly Thunder Hill overlook and Rough Ridge," Brandon said. "The beauty of the mountains is such an amazing thing to share with family."
An additional highlight of the Blue Ridge Parkway is the numerous historical sites and cultural attractions. Visitors can explore the region's rich history, including visits to the Cherokee Indian Reservation and the Blue Ridge Music Center. For art enthusiasts, several galleries and museums showcase the work of local artists.
In addition to its natural beauty and cultural attractions, the Blue Ridge Parkway offers a variety of dining and lodging options off the various exits in the small towns and regions the parkway winds through. Families can enjoy farm-to-table cuisine at one of the many restaurants in nearby towns or opt for a cozy bed and breakfast or cabin rental along the parkway.
Overall, the Blue Ridge Parkway is the perfect destination for families and students looking to explore the beauty and history of the Appalachian Mountains. With its scenic drives, outdoor activities, cultural attractions and dining and lodging options, there's something for everyone to enjoy.
"I think it's a great way for a student to show a parent why they chose App outside of the school," Arnold said.