"Big Sale" at Legends sees solid turnout
The annual "Big Sale" in the Legends parking lot was in full-swing Saturday morning as students and townspeople alike came to rummage through the stacks of electronics, apparel, and household items.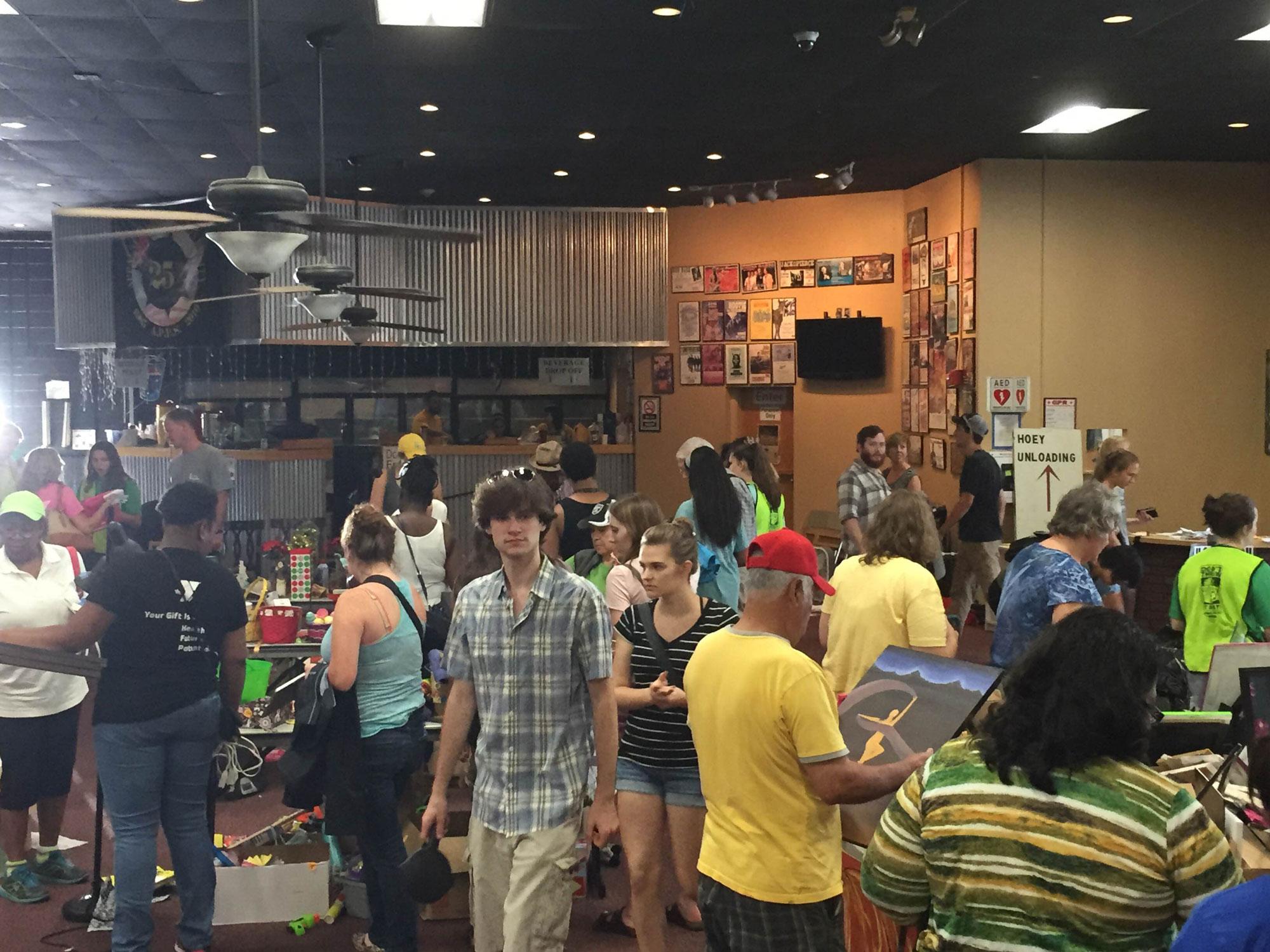 Students stormed the doors of Legends at 8 a.m. last Saturday to buy low priced amenities and food.
"It's just the typical Big Sale," second year graduate assistant Hydeia Hayes said.
This is Hayes' second year working the Big Sale, and she says that she plans to continue working the sale after graduation.
Hayes said she enjoys working with parking because of how intense it is.
"When we leave, I would say that we have sold probably about 75 percent of our things," Hayes said.
Although preparation for this sale had been in progress for multiple days leading up to Saturday, volunteer workers were still working to set up products for the ensuing sale as early as 6 a.m.
Food items were quickly depleted early in the morning as both townspeople and students cleaned out the various boxes containing canned and dried food.
"I would say it's probably about seventy percent of town people buying the food." biology major Simon King. King worked in the food section of the Big Sale Saturday.
"First thing, people age 60 or above came and took everything, it was surprising,"  King said. He said that some of the canned food was purchased by one lady to give to charity.
King said the majority of students purchased Ramen noodles.
According to King the profits from this sale are spread between three organizations: Habitat for Humanity, the Hunger and Health Coalition, and the Alternative Services Experience here at Appalachian.
Habitat for Humanity intended to use the money to purchase energy efficient light bulbs intended to save $700 per month in electrical fees, while the Hunger and Health Coalition purchased energy efficient refrigerators.
Sophomore transfer students Cedric Ryans and Leo Carrasco experienced the Big Sale for the first time. Both purchased various appliances such as discounted brooms, trash cans, and fans for their dorms and for their roommates.
Although both came to the sale for various products, something in particular stuck out to Ryans and Carrasco: the presence of townspeople.
"This place is very convenient," Carrasco said.  "Except the towns people. I thought this would only be for students."
Some students came to the sale with a list of supplies, while others just came to browse. On the latter end of these students, undecided freshman Collin Jewell decided to come to the Big Sale to just look around.
"I found this mug and it has frogs on it," said Jewell when asked if she found anything interesting.
The Big Sale lasted until 2 p.m Saturday. Products not sold at the sale were donated to
charities.
Story and photo by Samuel Ingles, Intern News Reporter