Appalachian continues to hold state record for blood drive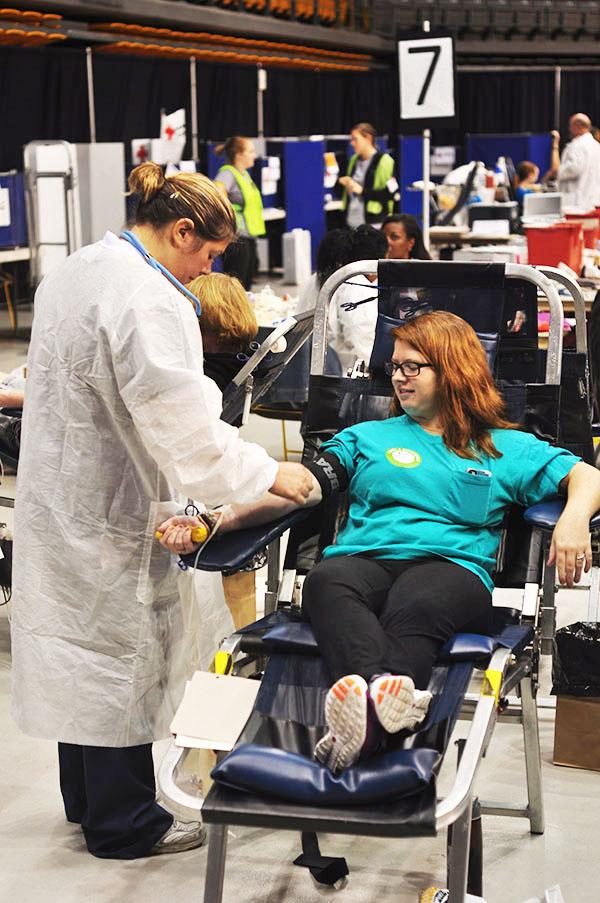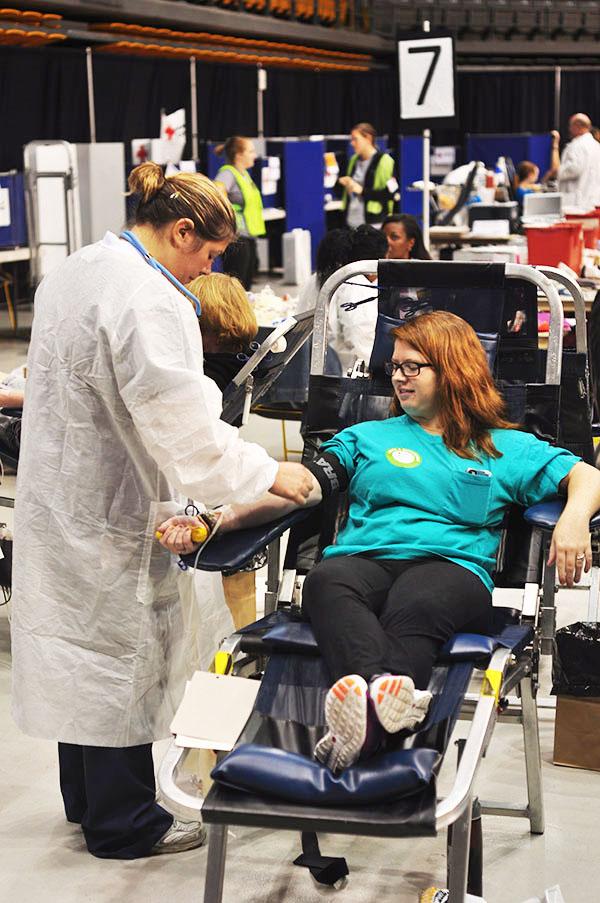 This years' annual blood drive set a new university record, collecting 1,315 pints of blood Wednesday.
The Red Cross, working with Appalachian volunteers, collected 1,037 pints of whole blood and 288 double donations in 12 hours.
The blood drive is the start to homecoming week.
Better organization was a key effort this year said Kate Johnson, the advisor for the blood drive. Johnson organized volunteers, sign-ins and the donated food.
"It's very different than last years' blood drive," Johnson said. "We have a lot less appointments made and we actually cut the number of appointments we were allowing."
Students had to wait multiple hours last year so they cut the number of appointments this year, Johnson said.
"Because we do have some no-shows for those appointments we do take a lot of walk-ins, just not more than we can handle," Johnson said. "However we do have the Red Cross staff in order to process, in theory, as many donations as we had last year."
Johnson said people from other universities come to see Appalachian's blood drive because it is "well respected and very large."
"The secret is in the students," Johnson said. "They take giving back very seriously and it's almost just expected that they will give back. There's something about the Mountaineer spirit that you can't really nail down why the drive is so special, but it is nonetheless."
Senior music performance major Johnson Ramsaur said the blood drive is what "sets Appalachian apart from many other universities."
"The way that students show up, stay and wait is unlike many other blood drives the Red Cross puts on," Ramsaur said. "I think that it is just a testament to the morale of the student body and the competitive spirit in order to strive to continue to beat our own record."
Appalachian had the biggest university blood drive in the country last year, and strives to repeat each year, Ramsaur said.
Junior public relations major Shady Kimzey said felt she has "gold" in her veins.
"I have O blood so I feel like I should give some of it back," Kimzey said. "I think ASU has a great response for anything service related. We are a giving campus."
"It seems to be really well organized," Keagan Massie, a first time donor and undecided freshman said. "It feels good to be a part of it."
Story: ANDREW CLAUSEN, Intern News Reporter
Photo: JOEY JOHNSON, Staff Photographer