The Appalachian Popular Programming Society will hold the first-ever Boone DJ Blowout on Wednesday at Legends.
Four local DJs, selected by the APPS Club Shows council, will each play 35-minute sets, with a range of music genres from rap to electronic.
The DJs will be Gary Pietryk, senior appropriate technology major; Scott Rodesiler, sophomore physics major; Zachary Bayha, sophomore graphic design major; and Scott Steward, junior recreation management major.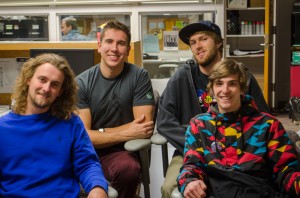 "We wanted to showcase and celebrate the local DJs we have here in Boone," said club shows chairperson Addison Wemyss. "We will have two tables on stage, and after the first DJ plays his set, the second DJ will come to a table and play into the mix. It will be continuous."
Wemyss said the council did not hold one particular DJ in mind, though the council members encouraged a number of local DJs to apply.
Pietryk said he heard about the competition after attempting to gain a spot opening for a show at Legends.
"I emailed Legends trying to get a gig there," Pietryk said. "I saw the DJ Showcase on the schedule just in time. I spent five days recording a mix three hundred times over to make it perfect. I sent it in, and I got an email the next day saying I had been accepted."
Also known as DJ High Top, Pietryk played at multiple venues in Virginia before his transfer to Appalachian State University. He describes his mix as a combination of his own taste and attention-grabbing songs – all done in his own style.
"I grew up on music," Pietryk said. "So when I listen to songs in my head, I know how they will sound out loud together. I might have an electronic song and a rap song, which few might think to mix, but they flow well and sound really good in a mashup. I'm really interested in mashing up songs, more so than just DJing."
Rodesiler has been mixing for a year and previously played at multiple venues in Charlotte, such as the Chop Shop and Neighborhood Theatre. He learned the math behind the craft from a local Charlotte DJ.
"My style ranges," Rodesiler said. "For [this showcase] I will stray away from the known electronic songs. A lot of DJs I hear are repetitive, and that's fine, but I find it to get kind of boring and so I like to keep a varying flow."
Wemyss is happy to support the local and growing DJ scene with this event. Both Pietryk and Rodesiler encourage the students and the community to come out for the event, not only for self-promotion, but for the advancement of the DJ scene as a whole.
"I really want this show to happen again," Rodesiler said. "DJs are well known as long as you can get the people to come out. I'm not necessarily well established in the DJ community here, but I'm fairly well known, and as long as events like this keep happening, the people will sustain the scene."
The doors to the event open at 9 p.m. Tickets for Appalachian students are $4 in advance, and $6 at the door.
Story: Kelsey Hamm, Intern A&E Reporter
Photo: Morgan Cook, Photo Editor